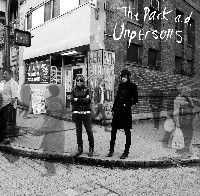 "Fuck You! You get to review Pack A.D." - K. Davies
That outburst says it all. End of review. Now to write a longer review to meet length requirements.
Unpersons will be album number four and the overall tempo of the music seems to get faster and faster since Tintype was first released. Not speed metal fast, sorry folks this type of fast is more like A-bomb fast. Slow enough you know it's coming but fast enough that you can't get out of the place before the other patrons pack you in. Then comes the shockwave. Yup. Tobacco ash fallout. Stagger home.
Unpersons, is it a theme? I don't know but we have double exposed photographs, song titles such as "Haunt you," "Body parts," and "Rid of Me" as evidence of this theme. Lyrics about messy relationship failures, ill treatment of this unperson, well you can figure it out.
So much sound from two people. Vancouver has more than two people so they could find more people if they wanted to. But no, it's only two of them. Maya, the way she wails away on the drums with her drumsticks I'm glad she's not a riot cop. Besides, those drums along with Becky's guitar amp speakers really are sonic cannons. Only two of them. Maya has been known to perform trepanation on drum heads. Becky plays a guitar that must be stringed with suspension bridge cables.
Why do Pack A.D. Albums get heavier and harder? I think it's in a music junkie's quest to reach that ever harder to achieve fix of a tinnitus high.I know I've got mine.
By the way, has anyone eaten at Foos Ho Ho restaurant.
By David Tymoshchuk
Sep 27, 2011
[
reviews home
] [
list reviews
]
comments powered by

Disqus
More Reviews By David Tymoshchuk
More Reviews For Mint artists