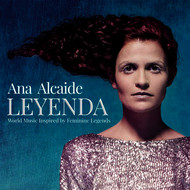 Spanish singer, songwriter and instrumentalist Ana Alcaide's world album Leyenda is Spanish for the word 'Legend'. Closing my eyes and listening to the intro track 'Tlalli' transcended me straight into the Avatar dimension (not the Shyamalan nightmare, no). With heavy drums and a stunning yet low vocal range, she sets the first track as what would sound like some sort of indigenous tribute.
The track 'La ondina de Vacares' had an exceptionally catchy chorus, and the folk instrumental influence also seeped its way into other tracks such as 'Diosa Luolaien'. The title track on this album returned to that very stripped indigenous sound. With light harps and a humming opener, the track captivates the listener into some sort of timeless era. The fifth track on this album titled 'La mujer muerta' appeared to have a Bollywood influence in the vocals, which was found to be a pleasant surprise on a world album created by a Spanish artist. The purely instrumental track 'Folia De La Primavera' and 'Elenion' takes the listener into an almost medieval-romantic period. Enchanting, to say the least. A similar 'goose-bumpy' vibe was found on 'El puenta de San Martin', where Ana's vocals were overlapped with a much deeper, masculine voice. Interesting to find a masculine presence on an album inspired by worldwide feminine legends. The switch-up of the beat halfway through the album caught me off guard, and was damn enchanting. Perhaps my favorite track on this project.
Like the entirety of the album, the closing track was also eclectic in its influences. Although I am not entirely familiar with the feminine legends Ana was inspired by to create this album, it definitely has the vocal and instrumental range to suggest that there were multiple stylistic influences on this album.
Favorite Track(s): El puenta de San Martin'
Least Favorite Track(s): Elenion
8/10
By Showering Thoughts
Sep 5, 2016
[
reviews home
] [
list reviews
]
comments powered by

Disqus
More Reviews By Showering Thoughts