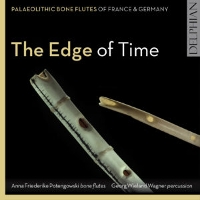 Flautist Anna Friederike Potengowski wanted to go back to the very beginning of known human musical language. In 2010, she began studying what is known about paleolithic bone flutes and to speculate what techniques people at that time may have used to play them. The result is The Edge of Time, part four of the European Music Archaeology Project (EMAP) recording series, released on Delphian Records.
On the recording, Potengowski plays reconstructions of ancient flutes, including a flute made from the radius of a whooper swan, and one from a mammoth ivory tusk ( both discovered in the Geißenklösterlen caves, a part of the Swabian cave system in southern Germany, c43,000 years ago), and one from the radius and ulna of a griffon vulture (Isturitz cave in French Pyrenees, dated c30,000 years ago).
As she says in the liner notes, she can only offer a guess about how these flutes were played, or what they may have sounded like. Depending on the type of bone used, she has developed two blowing techniques. In one she holds the flute at an oblique angle to the corner of her mouth, a method which gives her the ability to bend the pitch and timbre of each note. The second method involves resting the flute resting on her lower lip, which results in more consistent tuning.
Six tracks on the CD are solo flute compositions or improvisations by Potengowski herself. Percussionist Georg Wieland Wagner composed another six tracks, made up of natural noises that might have been available to Palaeolithic people (stone slabs, flints, dry grass, water, shells, and voice). Modern percussive instruments such as the marimba and vibraphone are used on just one track on the CD. The CD also features an adaptation of a 20th-century piece, John Cage's "Ryoanji", as well as a composition by Rupert Till, director of the University of Huddersfield's contribution to EMAP.
By Catherine Fisher
Sep 10, 2017
[
reviews home
] [
list reviews
]
comments powered by

Disqus
More Reviews By Catherine Fisher