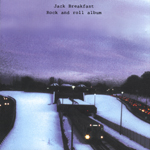 Rock and Roll Album
Troubled Cat
(
)
Rock and roll has become a term that is used to describe so many different types of music, and in itself has so many sub-genres, that it's hard to know what to expect when you hear something described as "rock and roll." That's why when I picked up Jack Breakfast's Rock and Roll Album, I wasn't really sure what type of sound would come out of the speakers. What did come out was a wonderful blend of folk guitar, laidback piano, soft vocals and brushed drums.
Rock and Roll Album is the second full-length release by scotch-loving bartender and Toronto independent artist Jack Breakfast. The album is filled with quirky love songs and is leans mostly towards soft indie-pop. His vocal melodies are like those of Stephen Malkmus, while his tone is reminiscent of Modest Mouse's Isaac Brock. On the album, all of the instruments are played by Mr.Breakfast himself, which makes me wonder what happens when he performs live. The album is also self-produced, and it definitely feels that way, but it does not hinder the overall impression of the album, in fact it actually complements his musical style nicely. Although at times I found the vocals a little monotonous, Jack Breakfast kept up the energy in the music and won me over with his sentimental love songs. The whole album is something that you'd listen to over a cup of tea on a rainy day - it's something relaxing and meant to be enjoyed like that.
Breakfast's songs have a boyish charm to them that make you feel instantly connected with the music and help you to paint a picture of the starving artist as a scotch-loving young man.
RECOMMENDED TRACKS: "The Dukes of Eglington", "Typewriter Song", "Gold In The Hills"
- Kyle Cunjak, CHSR Radio, Fredericton, NB
By Kyle Cunjak
May 23, 2002
[
reviews home
] [
list reviews
]
comments powered by

Disqus
More Reviews By Kyle Cunjak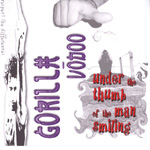 Gorilla Voodoo
Under The Thumb Of The Man Smiling
(Self-Released)
Jul 14, 2002