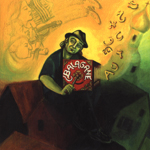 The new album by Jeszcze Raz (pronounced Yesh-che Raz) is a masterful collection of Polish, Jewish and Middle Eastern sounds. Though there are a few slow songs in the traditional styles, most are upbeat and are heavily influenced by the more "modern" styles of jazz, blues, and folk.
To get a better understanding of the music, it helps to look the background of Paul Kunigis, the man behind the band. Paul is half-Jewish, was born in Poland, grew up in Israel, and went to a French Catholic school. As a child, he listened to Polish, Gypsy and Jewish traditional music at home, and to the popular French, British and Middle Eastern songs elsewhere. He began singing and playing bass in his teens, but his talent only became evident after moving to Canada, when he took up the piano. A trip to Louisiana allowed him to explore his interest in the blues, after which he settled in Montreal and was struck by French-Canadian culture. There, in 1995, he formed Jeszcze Raz, which features a line-up of talented Canadian artists with equal interests in music from around the world.
All of these influences are present in the music of Jeszcze Raz. In addition to the previously mentioned styles, you can hear elements of traditional French-Canadian music in "J'aimerai Te Dire", and in "Swetlana" - a love story sung in French and Polish. Another track, "3 Pajaci" combines Dixieland jazz with Polish melodies and includes a solo trombone, while "Alte Zachen" is a clarinet-laden Polish jazz song. More traditional songs are "Yahayouni", a Middle Eastern love song, and "Mamaleh", an Eastern European Jewish klezmer song.
RECOMMENDED TRACKS: "3 Pajaci", "Yahayouni", "Alte Zachen", "Swetlana"
- Colin Wilson, CHSR Radio, Fredericton, NB
By Colin Wilson
May 15, 2002
[
reviews home
] [
list reviews
]
comments powered by

Disqus
More Reviews By Colin Wilson
More Reviews For Audiogram artists