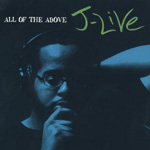 J-Live
(
)
All of the Above
Coup d'Etat
(
)
In an era when hip hop's mainstream has become flooded with excessively serious, ridiculously materialistic MCs, penning endless rhymes with minimal metaphors and a steely determination to describe their watches in painstaking detail, J-Live, a junior high English teacher from Brooklyn, has managed to inject both intelligence and levity into the much-maligned genre.
On All Of The Above, J-Live alternates between being concious and topical and just plain goofy, flexing his well-above-average lyrical skill on every track. On "How Real It Is," Live advises against "trading book smarts for street smarts" and plays with our expectations, threatening to "keep all my enemies outlined in chalk/ on the blackboard." Still more impressive, however, is "Satisfied?" where Live attacks the stifling of debate in post-Sept. 11 America. On a more personal level, he also shows repect to the ladies on "Like This Anna" and sheds light on his upbringing on the autobiographical "A Charmed Life." On a lighter lyrical tip, J-Live shows his love of language and wordplay on "MCee" and "Happy Belated," and combines Slick Rick-type storytelling with Clue: The Movie style alternate endings on "One For The Griot."
Thankfully, J-Live manages to avoid the mediocre production that plagues so many otherwise excellent albums by lyrically-minded underground MCs. The beats range from complex and jazzy on "A Charmed Life" to stripped down, old-school b-boy sounds on "All In Together Now." The creeping bassline on "How Real It Is" will have heads nodding for years, and "Satisfied?" is a slick combination of '60s soul and reggae.
All Of The Above is yet another of example of the brilliance simmering in the underground hip hop scene. Hopefully J-Live will follow the path of fellow underground geniuses like Dilated Peoples and Talib Kweli and succeed in stealing some urban radio airtime that would otherwise be wasted on the new Big Tymers record.
RECOMMENDED TRACKS: "Satisfied?", "How Real It Is?", "One For The Griot", "A Charmed Life"
- Chris Dart, CFBU Radio, St. Catharines, ON
By Chris Dart
May 23, 2002
[
reviews home
] [
list reviews
]
comments powered by

Disqus