An Interview With As The Poets Affirm
By Anne Sulikowski
1 of 2 Next>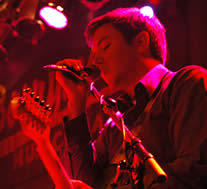 Anne: Why do you work as hard as you do at this [the music] and to what end?
As The Poets Affirm: I think we work so hard because we are able to identify the rewards of pursuing music as a career. I think people often get distracted by looking too far ahead and their momentary vision and goals get blurred. We understand that the little things like flyering, meeting deadlines, and showing up to gigs on time make all the difference. Music for us has always been about doing the right thing. If people can recognize how the "small" steps contribute to the whole then the idea of success takes on an entirely different meaning.
Anne: There is more going on in the independent arts scene right now than ever before. Computers and the internet have broken down all borders and now everyone is doing everything all at once. How can an artist stay fresh or stand out in such a chaotic crowd?
ATPA: It's not easy to stay fresh with so much going on. The most simple answer I can give would be to bring as much of yourself into the music as possible. If you're a unique person it will certainly shine through in the music. With so much going on these days I still wonder why the majority of musicians seem bound by some imaginary rulebook. People should approach music like they would approach a kangaroo with white sneakers, a shotgun, and a crustless peanut butter sandwich - with extreme caution, curiosity and a willingness to disagree. That's how an artist can stay fresh.
Anne: Do you think any real focus will or could be brought to the currently hectic arts scene? Do you feel that it would be a positive or a negative thing?
ATPA: I don't think that focus is going to come anytime soon and that's fine with me. There are a lot of new things coming out of this hectic energy to surprise popular culture. I don't doubt a more unified arts scene would change the way things are done but I think the multitude of acts and the disarray of musical styles today speaks to the times.
Anne: How many Poets does it take to screw in a light bulb? Seriously.
ATPA: It takes all of them. Everything we do is completely dependent on each member. On the rare occasions where we've had to play a show or have a practice a member or two short things just don't go as smoothly. Our style is one that is so orchestrated that as soon as something is missing everything else seems to unravel. We don't deal with surprises well.
Anne: What role do you think your music plays in the arts community?

ATPA: I do think our music plays a significant role in the arts community through attempting to change what's perceived as instrumental or "post-rock". From what I've seen a lot of large music ensembles today are very improv or jamband oriented, which can be an amazing experience when done right, but we try to set ourselves aside from that by keeping everything excessively rigid and structured. A byproduct of that when we perform is the anticipation and anxiety we feel from depending on everything being perfect. It creates this tension that comes out in the music and hopefully heightens the experience. On the other side of things I feel we, as a group, also play a significant role in the arts community by attempting to mesh "scenes" or crowds together through mixed-genres shows and by combining other art forms with our own to create something new.

Anne: If you could change one thing about the state of the music industry what would it be and why?

ATPA: Today, what's played on the radio and the television all sounds the same to me because I think it's all approached the same way, with the same end always in mind. Everything is meant to be cross-marketed to create the most amount of revenue and keep the masses pacified. You have a couple of different demographics and for each of them you have at least one major "artist" with several albums, a reality show, a clothing line and a blockbuster hit or two. Then there are the posters and the ridiculous stadium "concerts" with everything committed to DVD just in time for Christmas. Once the ball is rolling there's the protégés or sisters that come out that "they" (the industry) try and pull the exact same thing with. Anyways, what I'd like to see change on the airwaves would be the switch from industry fodder for the kids to actual art for the art lovers. I have no real problem with cross marketing ( Wu-Tang forever!), but I just feel the intent over the years has become increasingly Orwellian.

Anne: Explain me the concept involved behind the name "as the poets affirm". Are most of your track and album titles borrowed from poems?

ATPA: When we were trying to choose a name for the group the music we were writing seemed very classical to us. Not classical in the sense of classical music, but classical as in "old world". The music was up to date, but had a feeling or approach similar to 60's Bop or Hitchcock films. With that in mind we turned to the literature that had inspired us to create and found something we felt reflected the nature of the music. A poetic being doesn't have to be strictly someone who writes poetry. Anything in life that is beautiful can be poetry. The name is really just homage to all those wonderful things. We have gone on to name a larger portion of our music after paintings or poems or just things that occur in nature.

Anne: So who actually started this music project, how was it different back then and how did it evolve into what it is today?

ATPA: The original group was just acoustic guitar, cello and drums. None of us had ever seriously attempted composing music, so it served as a learning experience. More people joined and the learning continued. A big part of writing music in this group has always been about challenging ourselves; seeing what we were capable of doing and trying to push that further. At the start we would take ideas from other sources (i.e. literature) and build off of that. We would sample poems or films like a DJ would sample breaks. Our upcoming album still relies somewhat on this approach, but it will be the last. The next album will be 100% of it's own self.

1 of 2 Next>