Some Hustling This! Taking Jazz to the World 1914-1929
Mark Miller's newest book looks at the early history of jazz
By Jim Dupuis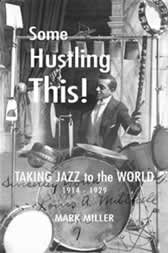 Some Hustling This! Taking Jazz to
the World 1914-1929Mark Miller is the pre-eminent jazz critic and historian in Canada. His newest book, Some Hustling This! -- Taking Jazz to the World, 1914-1929 (2005- Mercury Press) traces early jazz musicians who took jazz beyond the American borders to Mexico, Canada, Europe, the Middle East and even Asia from 1914-1929.As a freelance journalist and jazz critic he wrote some 4000 articles for the Globe & Mail from 1978 until late 2005. He has contributed both articles and photos to Canadian Composer, Coda, Down Beat and Jazz Forum and many other publications worldwide. He is the author of several books on jazz: Jazz in Canada: Fourteen Lives (1982), Boogie, Pete & The Senator: Canadian Musicians in Jazz, the Eighties (1987), Cool Blues: Charlie Parker in Canada, 1953, Such Melodious Racket: The Lost History of Jazz in Canada (1997, Mercury), and The Miller Companion to Jazz in Canada and Canadians in Jazz. He is a champion for the forgotten people in jazz history and does exacting, laborious research using rare and difficult to access sources. The result is books that would interest the jazz fan and academic, alike. At this point in his life, Miller tells us that he is "retired," but with two more books on the go and more book ideas taking shape, it will be a busy retirement.
Earshot's Jim Dupuis caught up to Mark Miller at his home in Toronto on a recent Sunday afternoon and asked him about Some Hustling This!.
MM: Basically, it's an effort to trace the early travels of the pioneering jazz musicians, who took the music to various, other parts of the world. We're talking about American jazz musicians, here, of course; although, in the past, all the other books I've done have been about Canadians, so this has been a departure for me. And, I've gone back to 1914 to a drummer in New York named Louis Mitchell, who took a band to London in the summer of 1914. I've kind of followed his exploits in London and later in Paris and I've drawn in all, certainly the other American musicians who went to England and then to France and later to various other parts of Europe and some who went to the Far East and Australia and Russia and South America and so on. They came, in fact to Canada, too, because Canada is part of the world and is abroad, in terms of where these pioneering musicians came from.
JD: So, why did you decide to write this particular book?
MM: Well, I have a certain fascination for jazz musicians, who have been kind of overlooked, or, forgotten, or were never remembered in the first place. These folks, by virtue of leaving the states, dropped right out of jazz history. So I've been searching to retrieve them and try to give them their due.
JD: You obviously did a lot of research. What source of information did you find to be the most valuable, or was any one source more valuable than others?
MM: I would say that the African American newspapers were probably the most valuable because they would trace or report on various black musicians, who were working abroad. The musicians themselves would send back letters or

These folks dropped right out of jazz history. So I've been searching to retrieve them and try to give them their due

whatnot to the newspapers to say, "Here we are. We're a big success. We're playing in Paris … or Shanghai, or Manila, or something like that" and give a bit of detail about what they were doing and how they were being received. So, that was a sort of almost first person account that was very valuable to me and it gave me a sense of where to start looking in the local newspapers, in those areas, so for example I knew that someone was playing in Shanghai in 1926, then, I went and found the Shanghai newspaper. There's actually one in English of the two. I couldn't get the other one. I was actually able to track down the ads for the appearances in Shanghai and it was actually a cumulative process in terms of the research.
JD: That's a lot of work. I was fascinated by the Chicago Defender. You've mostly answered my next question. I was going to ask you about it. Could you tell our listeners what the Chicago Defender was and what kind of items appeared in it.
MM: Ya. In fact, what it is. It's still going. It's a weekly, still. In that period, not as early as 1914, but starting as early as 1917 it began to run a page or two or show biz news. Not specifically jazz, but everything to do with African American show business. It's kind of like the Dead Sea Scrolls of jazz research. It's just amazing what's in there in references to people and ads. You can do a lot of tracing of people's careers. I've used it for a lot of different projects, not just this one. This is, in fact, just a weekly newspaper that serviced the African American readership. It was a national paper in that it had a national circulation and wasn't just read locally in Chicago and it had correspondents in various place throughout the States and they had correspondents overseas as well who would send in letters, reports and so on. It's just a wealth of information, and it's not the only newspaper of its kind. There's another one called the Indianapolis Freeman, which has the same kind of information going back to the turn of the century. The Freeman went out of business in the mid twenties and the last copy that you can get your hands on is about 1920, but that to was quite valuable to me in piecing together the backgrounds of some of the musicians who went overseas.
JD: Why did you choose this time period—basically, the beginning of World War I to the Depression? Why that era?
MM: Well that's when the first wave of musicians went over. If you get into the thirties, then you are getting into people like Armstrong, Ellington, Coleman Hawkins and Benny Carter, and I think Fats Waller was over there—we're talking about Europe, now. That's kind of known history. The period before that is unknown history and as I was saying before, that's the kind of stuff that intrigues me. I like to go back there and retrieve people. You know, that's what happens with jazz history; as we get further and further from the early years, the history gets streamlined. So if we talk about early trumpet players, we talk about Louis Armstrong, but you know there were more trumpet players around than that. I think we need to be reminded that there was a Jabbo Smith [wiki] , Red Allen [bio], Reuben Leeves and Tommy Ladnier [wiki], and people like that. I guess it's one of my causes that I champion and I try to flush out that early stuff as we begin to lose it in our contemporary minds.
JD: You seem to frame the book around a gentleman named Louis Mitchell [bio]. He's a drummer. There seems to be a fascination with drummers, by the writers of that era. The reviews that you have chosen often focus on the percussion and drummers. What's the reason for that?
MM: I think in the very earliest days of jazz, it was the drummer that made it a jazz band. I'm talking about jazz, before it was kind of codified in the mid twenties by Morton and King Oliver and Armstrong and folks like that. As you know the really early history of jazz is pretty murky and we don't have a sense of how things quite shaped up. There was a time when the word jazz was used very freely to describe a kind of performance process which was exaggeration and a departure from what was on the written page. It wasn't necessarily improvisation, as such. I think it was the drummer, as much as anyone, who exaggerated the most and took the greatest liberties with the music and invariably, because of the visual aspect and because of the great noise that they generated—you know it really was noise—they're the ones who drew the attention of the people who were trying to write about the music. You know, critics being critics, we sometimes go for the obvious rather than the subtleties and certainly the drummers would have been what were obvious in those bands in that period.
JD: I believe you mentioned somewhere in Some Hustling This! that the drummers were up front, not in the back, like we have them now, right?
MM: Ya, well I remember the first time I heard Art Blakey and the Jazz Messengers, I was sitting about three feet from his bass drum and he was right at the lip of the stage. It kind of varies from drummer to drummer, but in that period drummers were very much to the fore, both sonically and visually. And its funny too, when you look at photographs of drummers from that era—there's one on the cover of the book—they have all sorts of paraphernalia that they are playing, and it's remarkably similar to what the avant-garde Europeans drummers of the seventies, eighties and nineties were playing; all sorts of things that would just make sound. They had traditional parts of the drum kit, but also metal and thunder sheets and who knows what-all-else, anything for an effect.
JD: On the cover of the book there's a photo of Louis Mitchell and his set-up and it includes a shovel.
MM: Well actually, more accurately a spade. He had a band in 1917 that was called the Seven Spades. Louis Mitchell was African American, so the word spade had a very specific meaning there, and not one that we can or should use now; nevertheless, his use of a garden shovel as part of his kit was one way of deflating the harsher reality of what that word meant.
JD: Yet, it seems the names of many of the bands would not be used today. Simply not politically correct.

Jobbo Smith, one of the early musians
profiled in Some Hiustling This!MM: Actually, just a couple that were active in that era in Europe and few more in the States. Generally it was fairly temperate. One of the points that I make is even in using a name like that, The Seven Spades, the musicians were in on it. It wasn't necessarily put upon them. It was a way for them to—almost--advertise themselves, because in that period, especially for European audiences, African American musicians were known and liked for their performances—for their raucous nature and their spirit and vivacity and the syncopation and the rest of it. So, it would be to the musician's advantage to let an audience that perhaps had never heard of them before to make it known that this was an African American band. And as awkward as that sounds now, it probably worked for them then.
JD: Of all the groups you looked at when you were doing research for Some Hustling This!, who did you find to be the most fascinating?
MM: That's a really good question. Sometimes people ask me, more in my role as a critic, "Who's your favourite musician?" I always say that critics don't have favourites. It's funny, I almost have that feeling here. I was captivated by various stories. (Louis) Mitchell's is one; Franks Withers is another, the trombone player. Withers' wife, Mazie Mullins is another, again, a woman, who is not a part of jazz history, save for the fact that she was Fats Waller's early mentor in New York. She seems, by all indications, to have been a remarkable musician—playing piano, because she taught Waller—but was also a trombone player and a saxophone player—quite an arranger and died very young in Paris. She was someone, that I kind of took a shine to as a researcher.
JD: Now, Some Hustling This! is published by Mercury Press in Canada and is available in most bookstores?
MM: That's right. I would think that it is available in all the chains, like Chapters and Indigo. Alternatively, if you just go to the Mercury Press web site, which is themercurypress.ca there is a link there to Northwest Passages, which is another company that is selling the book online.
JD: It's a wonderful resource for jazz history. And, speaking of wonderful resources for jazz, I know many jazz people have The Miller Companion to Canadian Jazz. I'd like to thank you for putting that out. When are we going to have The Miller Encyclopaedia to Canadian Jazz?
MM: I don't know. I looked at the Companion to being that. I'm not sure, when you say "encyclopaedia", how would it differ?
JD: Oh, by about six volumes (laughs).
MM: Oh, I see, a lot more complete. I don't know that there will be. I kind of thought about doing the 2nd edition of the Companion, but at the same time, I seem to be moving forward with book projects. I've got a couple in the works right now and a third in the back of my mind. I don't know if I'm going to come back to the Companion or not. That remains to be seen.
I did [The Companion] for a very specific reason. I thought, at the point, that I was going to start moving away from documenting Canadian jazz and Canadian jazz history and I wanted something that would allow me to draw everything together, almost as a swan song. I have indeed have moved on with Some

I think in the very earliest days of jazz, it was the drummer that made it a jazz band. I'm talking about jazz, before it was kind of codified

Hustling This, to early American history, and one of the projects I'm working on now is a biography of Valaida Snow [bio], who is in Some Hustling This!—another American musician—and one of the other projects I'm thinking about doesn't have anything to do about jazz at all. So, I'm trying to move forward with these things, not to keep repeating myself.
JD: Ms. Snow was the character that I found most fascinating in the book. Every time her name came up, I was keeping track in my mind of where last she had come up and where she had gone.
MM: Yes, it's an amazing story. Hers is an amazing story. It really is. Now that you mention it, I was obviously captivated by her, to the extent that I have decided to take on the task of doing a biography.
JD: I just did a Mardi Gras show recently. It's very sad-- what happened in New Orleans last year. Do you have any comments about that? What's been happening down there, etc.
MM: It seems to me that the story there is one of politics and ineptitude and all those sorts of things. I don't know that I have anything to say about it from a jazz point of view. At the time, after Katrina hit, my editor from the Globe was keen to have me write some piece about the great loss to jazz, but I didn't really have anything to say. It didn't quite hit me that way—the way that it seems to have struck other people. Certainly the loss to American culture is significant. I guess the way I feel about jazz and New Orleans, is that its contribution to jazz was something that was made many, many years ago. I don't know that the Marsalis's aside, you can really speak about New Orleans' significance to jazz as jazz is continuing to evolve now. That's not to diminish anything that the folks in New Orleans are going through, it's just that to try and put it in a larger cultural context, I just kind of came up empty handed when I was confronted by the request from my editor and in fact I turned it down.
JD: Understandable, ya.
MM: As you may know, I'm no longer writing for the Globe, but there is no connection with that (laughs)- between the two.
JD: No, no. I understand. You retired from the Globe & Mail after writing some 5,500 pieces, I believe?

Valaida Snow is the subject of Miller's next bookMM: No, that's a little high. That's a figure taken off a database, for all the times the name Mark Miller showed up in the database, but they weren't all me. It's more like 4,000. What I am working on, right now is a selected writings book, for this fall, which will cherry pick some of the things I did for the Globe and like a lot, still. So that will be coming out with the Mercury Press, sometimes in the fall.
JD: You've done a lot of writing over the years. We've been talking about your newspaper gig. Do you miss the newspaper gig at all?
MM: No. It's only been two months, but no. That had run its course. You know twenty seven years is a long time; especially to do something on a freelance basis and in that time a lot of things changed. The jazz business changed. Jazz changed, and that's fine, I'm all for that. The jazz business changed. It has become a lot more corporate than it was—certainly more than when I started—the newspaper changed and the media in general changed and I changed. It just got to the point that we all drifted off into directions that weren't entirely compatible and I'm quite happy to be not doing that and kind of devoting my time to the various book projects that are in front of me.
For more information visit http://themercurypress.ca/nonfiction/SomeHustling.htm