Reviews for Okkervil River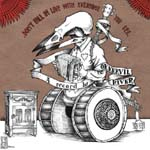 Okkervil River
Don't Fall In Love With Everyone You See
Finding a home in Texas by way of New Hampshire, Okkervil River sound like Ozark savants with lineage to Anton Chekhov, strumming away their broken, exiled souls with acoustic guitars,concertinas, and moonshine.
But I'll be...
read more...
By Stephen Dohnberg
Apr 27, 2002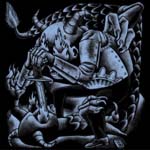 Okkervil River
Black Sheep Boy Appendix
New Hampshire-born, and Austin, TX-raised Okkervil River combine bits of sad, minor-key weirdness with strong songs - in both writing and emotional power - on their recent mini-album, Black Sheep Boy Appendix. The weirdness is... read more...
By James Hayashi-Tennant
Mar 10, 2006
Okkervil River
The Stage Names
The name
Okkervil River
has been known to a select few, but
The Stage Names
just might cause the river to rise. Hell, even just the opening track has the power...
read more...
By James Hayashi-Tennant
Sep 28, 2007