Reviews for Elizabeth Shepherd
Elizabeth Shepherd
Heavy Falls The Night
Elizabeth Shepherd has a number of Juno nominations for her keyboard work in the jazz field. Classically trained in Canada and France, she has headlined her own tours and has played keyboards for the Latin...
read more...
By Jim Dupuis
Mar 22, 2010
Elizabeth Shepherd
Rewind
For her most recent album Rewind, Elizabeth Shepherd chose songs that she had "learned and loved and have grown with over the years." She was pregnant with her first child and wanted to keep busy...
read more...
By Jim Dupuis
Mar 27, 2012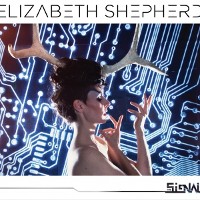 Elizabeth Shepherd
The Signal
Elizabeth Shepherd's fourth album The Signal is a testament of ingenuity, progression and womanly strength wrapped in layers of jazz, pop and hipster groove.
Shepherd employs her ability to underpin smart lyrics with the...
read more...
By Shelley Gummeson
Oct 3, 2014