Reviews for Bobby Dazzler artists
The Brothers Cosmoline
Songs of Work and Freedom
Dan Kershaw and Dave Pedliham grew up with the sights and sounds of Detroit TV and radio - not the sort of influence you might expect would produce a 5-piece Toronto roots ensemble. This unlikely...
read more...
By Dale Shekooley
May 16, 2002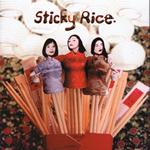 Sticky Rice
Take Out
In terms of representing a perfect fit when it comes to a band's chosen name, Toronto's Sticky Rice are one certifiable arch-example.
Consider the instant mental connections. Sticky: denotes a difficulty of removal; something cohesive...
read more...
By Mark Hamilton
Apr 27, 2002
Tetrezene
Lake No. 5
Tetrezene come at their music via a fine Canadian tradition: drone rock. Ever since Godspeed You Black Emperor! crawled out of Montreal, this country has been producing drone, space and noise rock like there's no...
read more...
By Steve Marlow
Apr 27, 2002