How I Spent My Summer Vacation, or The Vancouver International Jazz Festival 2006
This year's Jazz Festival had very full slate of local and international acts and the kind of strong attendance that bodes well for the future.
Words and Photos By Jim Dupuis
The 21st annual edition of the Vancouver International Jazz Festival brought forth a bevy of musical talent in a wide variety of genres, although jazz is still the primary focus. City bars, restaurants, parks, streets, malls, concert halls and studios hosted thousands of musicians from many corners of the planet. Beautiful weather and the scenic wonders of Vancouver added to the ambiance and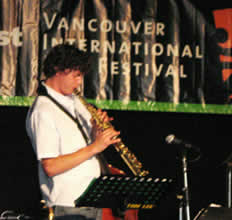 Evan Arntzen of October Trio at the Roundhouse.large crowds attended many of the events. The Coastal Jazz and Blues Society reports " This year's TD Canada Trust Vancouver International Jazz Festival was a spectacular success with overall attendance of 504,000 people. The sound of music could be heard from all corners of Vancouver as the Festival presented over 400 performances at 40 venues throughout the city; including 154 concerts free of charge. " Here's a snapshot of some of the performances I attended
The Vancouver International Jazz Festival was held from June 23rd - July 2nd at various venues throughout Vancouver. Venues vary from the prestigious Orpheum Theatre to concourses outside large malls to outdoor stages on Granville Island and at David Lam Park. Historic Gastown is closed to traffic for an entire weekend to accommodate the performances. It is a truly international festival with musicians from all over Scandinavia, France, Australia, and of course, Canada and the US. While primarily a jazz festival, you could still find your share of blues, gospel, various forms of Latin and world music and even a touch of country/roots music. So what does all this cost, you ask? Well, you could spend the entire time at the festival and not pay a cent in admission and still hear top notch music, and a wide variety of it. On the other hand, the top priced acts were Tony Bennett at $105, Elvis Costello and Allan Toussaint at $92.50 and Dr. John at $55. Most of the shows in The Centre in Vancouver for the Performing Arts averaged around $35. Neko Case was $30, Paquito D'Rivera $40 and McCoy Tyner on the high end at $50. Most Commodore Ballroom shows were around $25 as were the ones at "The Cultch." (Vancouver East Cultural Centre), The Ironworks, The Western Front and the Performance Works on Granville Island had most shows below $20. The real bargains, during the week, were the free shows at Granville Island at a couple of locations, The CBC and Pacific Centre. Gastown is the place to be on the first weekend with two full days of free music on 4 stages. On the last weekend it all moves to David Lam Park at the bottom of Yaletown and the adjoining Roundhouse facility with 3 venues. Many clubs and restaurants had varying prices for the jazz festival.


Norwegians The Zanussi Five in Gastown on the opening weekend.The 2006 festival was blessed with gorgeous weather, which brought large crowds to the Gastown and David Lam venues. Early on Sunday in Gastown, Tasla played a set that brought forth a fusion of East Indian music, blended with modern instruments to an adoring crowd. Just up the block, a young, local pianist, Amanda Tosoff and her group played a proficient set of contemporary jazz and standards. Dashing back to the Maple Street stage, my friends and I caught the legendary Montreal bassist Michel Donato and his European Quartet, containing Europeans and Quebecers living in Europe. A sax-trumpet duo provided the power and Donato and his drummer laid down tight rhythms to an appreciative audience. One of the focuses of the Vancouver International Jazz Festival for 2006 is on Nordic jazz, and the next band-speaking of power-The Zanussi Five, pretty well blew the place away with a reeds section consisting of an alto, tenor and baritone sax and represented Norway's jazz scene with honour. The last act of the day in Gastown is billed as the Mystery Groove Band; another way of saying it's going to be a surprise. And a pleasant surprise it was, as Australia 's The Cat Empire turned out to be the Mystery Groove Band. They played most of the tracks off their Two Shoes release, including "Hello" and "Car." The swelling crowd jumped, danced and sang along. I was sitting in an outdoor patio next to the stage, and coincidentally being served by an Aussie waitress and taking in all the music and atmosphere. By the time their set ended the crowd seemed to cover the entire cordoned off area in Gastown and some estimates had Gastown with over 110,000 people attending over the weekend.
During the following week I caught a wonderful set of mainstream standards by the Hip Pocket Trio, consisting of Tyler Hornby on keyboards, Jodi Proznick on bass and Adam Rohrlich on both saxophone and guitar. Wes Montgomery's "Road Song" and the pretty ballad "My One and Only Love" were highlights. Some of the more interesting performances on Granville Island were by Vancouver 's Chris Gestrin Trio and the German/Norwegian/Swedish trio of Muller/Kornstad/Nordeson who put together some incredible sounds with their bass/saxophone/drums combination.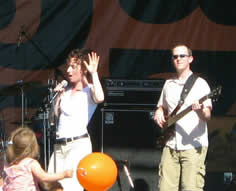 Olam at David Lam Park.Also, some of the members of the Inhabitants, including trumpeter J.P. Carter played an eclectic set under the name Aeroplane Trio played at the Granville Island Market stage with False

you could spend the entire time at the festival and not pay a cent in admission and still hear top notch music

Creek in the background and tourists and seagulls all around.
My annual jazz buddies, Don and Lily and I caught two of the major performances. At The Centre we marvelled at the playing of the Cuban sax player Paquito D'Rivera, the man who took over Dizzy Gillespie's band after his passing. D'Rivera is not only a virtuoso musician, but he is a consummate showman and a crowd pleaser. He had a few lines about recent US immigration policies and Latinos interspersed between wonderful solos from his alto sax and clarinet. Admirably, the opening act lead by Toronto bassist Roberto Occhipinti showed that Canadians could lay down a Latin groove, too. We also attended the Belmondo Brothers (France) with 85 year old American tenor/clarinet/oboe player Yusef Lateef at The Cultch. Most of the show consisted of solos being traded back and forth between the brothers' band and Mr. Lateef. At one point in the show Stephane Belmondo pulled out what appeared to be a large conch or sea shell and made wonderful sounds, while Lateef played them back on a wide variety of instruments. The show ended with a dedication to John Coltrane, composed by Lateef. It truly was a magical evening.
Canada Day found us at David Lam Park and The Roundhouse on another beautiful day in Vancouver. Mimosa, with vocalist Rebecca Shoichet and Karen Graves on sax and flute played a set of Latin music that got the crowd dancing. The electronic/noise duo Fe-Mail scared some little kids away with their indescribable sounds and electronic noises. Others sat in awe as they worked with equipment that looked like it came from a mad scientist's lab. Showing the diversity of the festival, the same hall later featured the Tena Palmer Trio, who had a wonderful rootsy quality and a completely different audience. On the same day performances by the October Trio, featuring the writing of Josh Cole, the saxophone of Evan Arntzen and great rhythms of Cole and Dan Gaucher on drums showed that the future of jazz in Vancouver is in

Mimosa 3 outdoirs at David Lam Park
in downtown Vancouver.

Rebecca Shoichet of Mimosa 3.good hands, while the legendary pianist Bob Murphy played with grace and eloquence, letting us know that the past and present is still alive and well. A klezmer band, Olam, brought to mind an Eastern European wedding and the act Ache Brasil included a demonstration of the Brazilian martial art capoeira.
No-one is going to like every act they see at such a large festival, but there are so many options available, that you are bound to find something you like and at a price you can afford. It is commendable that there is mix of music genres and genders. Also, there is a wonderful selection of international, national and local talent. My only regret is that I didn't make time to catch any of the blues or gospel acts. Oh, well. Just think it's only 49 weeks to the next Vancouver International Jazz Festival, and I'm sure I'll catch some then.