Criminal Intent
Tokyo Police Club keep it lean and post-modern on their debut A Lesson in Crime
By Andrew Lee
They're just like us!
No, the members of Tokyo Police Club don't get photographed sipping non-fat frappuccinos from green straws or buying Cheese Noodles barefoot at the gas station.
But they are a quirky quartet of nerdy Trekkies from Toronto's 905-region, which delightfully endear them to me. These boys from Newmarket are already garnering praise from indie taste-makers, becoming bosom buddies with hip label-mates Magneta Lane, and it's only been three months since the release of their first EP, A Lesson in Crime.
Graham, Josh, Dave, and Greg are just like you and me, aside from producing a critically acclaimed EP and getting signed to Toronto label Paper Bag Records, of course. They wake up late, some work at Value Village, and, judging by my conversation with Graham, they're pretty good guys too.
Three of the four Tokyo Police Club members met in their fourth grade class for gifted students (read: pocket protectors). At the time, I bet none of their mothers would have guessed that their nine year old boys, while playing with Star Wars cards in their sweatpants, were scheming to grow up to become one of Toronto's latest buzz bands.
The group's hirsute keyboard/vocalist, 'Wolf Man' Graham, is a charming rep for Tokyo Police Club. What pleasantly strikes me about Graham is that he doesn't pretentiously play the role of indifferent scene-star and idolatry is never beneath him.
Describing his ninth grade clothing style, Graham says, "I would try to rip off Jonny Greenwood from Radiohead as much as I possibly possibly could." And Graham unabashedly praises Okkervil River as "one of the most genius bands I've ever heard in my whole life. And I've been listening to them almost exclusively over the last little while." It's refreshing to hear youthful enthusiasm.
I'm sure internet-bound fans of Tokyo Police Club would also like to know that, yes, rock stars Google themselves too: "At first it was cool. I was like, 'check it out!' But when you read too much positive press about yourself, it's just weird."
But it's not all good press.
To the minority of haters who call Tokyo Police Club a derivative pastiche of indie rock, Graham retorts, it's "not that we aren't ripping off lots of other bands. I feel like our music probably is really derivative, but every time people say that, they missed the whole point. They say we're ripping off The Strokes and we're trying to rip off Radiohead or something. So I guess we're really bad at being derivative."
Nevertheless, A Lesson in Crime is a great first taste of what's to come from this young band.
Speaking to their modus operandi when producing this EP Graham says, "we have a thing in our band. It's less so now, but at the beginning it was an obsession with never having any fat anywhere. If you listen to the record, there's always something happening. There's not a lot of room to breathe, which we like. It's an advantage, I think. So, when we were making the EP, we almost neurotically went at it and tried to cut out any sense of fat that there could possibly be. So we were left with just the most basic, purest, songy-thing that we could come up with. We didn't want anything that anyone would ever want to skip over or fast forward through."
Perhaps their lean cutlet of music is the reason Tokyo Police Club has throngs of energetic fans that love to dance.
"For some reason, every time we've started playing, we've always had people dancing … I think that we have a lot of fun on stage and we certainly never try to disguise the fact that we're having fun. May be the audience sort of catches onto that and they participate in the fun themselves. Or may be it's just the music. I have no idea. But I'm really glad it happens," says Graham.
The boys are currently writing for their upcoming full-length album in between day jobs and an ever-expanding tour. Since the album is in-progress, the band has "absolutely no idea what direction the album is going."
But they don't want to get caught up in what Graham calls that "weird cycle of consciously trying to get away from the sound of your last recording," which was generally enjoyed, "but also consciously trying to stay close to it … So, we're just going to make music that excites us and that we like to make. May be it's going to sound exactly the same. May be it's going to sound completely different. But we'll like it and we'll hope that other people do as well."
Tokyo Police Club's lyrics, MySpace, and website are sprinkled with irreverent jouissance and pseudo-postmodern imagery of squids and robots. In this spirit, Graham realizes that "right now, we're in our starting stages. We're playing the Rock 'n' Roll. I just want people to feel happy, that they've gotten their money's worth out of a show. Or remember it and go home and tell their friends"
Graham also notes with humble reservation, "I don't know if we're at a point where we're doing this now", but after audiences listen to Tokyo Police Club, "I want people to feel the way I feel after I listen to an album or see a show that's really important to me. I can't really describe it. It's just that weird otherworldly, transcendent feeling that you can only feel after listening to music that's really really wonderful and amazing."
As a final note, I'll leave you with an interesting factoid about Newmarket to ruminate: Canadian music legends Glass Tiger, who also sprang from this suburban sprawl, began their lengthy careers named 'Tokyo.' Coincidence? I hope not.
Tidbits:
Andrew - What were you guys like when you were nine?
Graham - Woohoowhoo. I was, and still am, a BIG nerd with sweatpants and Star Trek and stuff. And now I watch Star Trek and I wear jeans. Josh was one of the cool kids. I mean, he wasn't a big troublemaker, but he was mischievous. He wasn't afraid to push the limits a bit. Dave… I don't know. I don't want to diss Dave because he's not here. But he was kind of geeky as well. He wasn't too geeky. Me and him were friends back then. We got together and hung out at his house, watched Star Wars, and played Star Wars cards and stuff. We're all kind of nerds deep down, but in the early days, Josh was better at hiding it than the rest of us, I guess.
---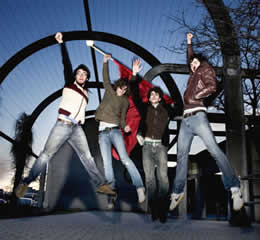 Things seem to be looking up for Tokyo Police Club.
Graham on how he would like TPC fans to perceive their sound:
"I'm hoping they'd recognize the songs themselves, because a lot of times, people throw us into that dance-punk category. I think that's a disservice to the songs that Dave's writing. They're really good songs no matter how you slice them. They have really good melodies and stuff. I hope people will recognize the melodies, the chord progressions, and the melodic parts more than that the song has some beat that you can groove to. Although that's good too, if you want to groove, then you can do that."
---
Andrew - What's the first thing that comes to mind when I say Greg, Josh, and Dave?
Graham - Greg is hilarious. Josh is so cool. And Dave is tall. Not that I don't have anything better for Dave. That's just the first thing that comes to mind.
---
Graham - That's what we strive for - postmodernism.
Andrew - There's no direction in your band, whatsoever.
Graham - Exactly, we just play different instruments every time. It's just an accident that we even made songs.
---
Graham on the Ontario school system's Gifted Program:
"I think it's pretty bogus"
---
Tokyo Police Club on the web: