Catching the Vibe: The Matthias Lupri Interview
Jim Dupuis talks to Matthias Lupri and gets the scoop on the vibes, scary movie music and flower eating cats.
By Jim Dupuis
Many unique musical instruments have been adapted for use in jazz. One such instrument, the vibraphone, has been around since the 1920's and has proven to be a success story. The vibraphone, sometimes called the vibraharp or simply the vibes, is a musical instrument in the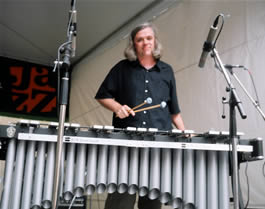 Matthias Lupri plays the Vancouver JazzFestival
in June 2006 (Jim Dupuis, photo)percussion family similar to a xylophone. Yarn or cord mallets are used to strike the metal bars. There are rotating disks in the resonators that produces what was thought to be a vibrato sound. While the instrument's name comes from "vibrato", this is actually a misnomer, since the effect is actually tremolo, not vibrato (vibrato being a modulation in pitch, not amplitude). In any case, the tremolo sound is now perceived as dated, and many modern vibraphonists eschew the effect altogether. As jazz has evolved, so has the use of the vibraphone in jazz. Early on, Red Norvo and Lionel Hampton incorporated it into their repertoire. They primarily featured it as a solo instrument and it contributed little to the harmonic accompaniment of the songs. Milt Jackson used it with the Modern Jazz Quartet. Cal Tjader and Tito Puente brought the vibes to Latin jazz. Early vibraphonists used two mallets to play the instrument. Modern vibraphonists such as Stefon Harris, Bobby Hutcherson, Mike Mainieri, Gary Burton and Matthias Lupri, use four mallets and the most common four-mallet grip used on the vibraphone is the Burton Grip named after Gary Burton. The vibes have now joined the modern jazz rhythm section as an accompaniment instrument. A good example of this is Steve Nelson who plays with Dave Holland. Other times they are still the featured instrument, as with the Matthias Lupri Group, but he also uses them to accompany the array of talented musicians he plays with. Lupri is a graduate of life on the road. He was a drummer with rock and roll, blues and country bands in Canada and a graduate of the renowned school of music, Berklee. I recently chatted with him about how he uses the vibraphones, his cat and his new CD Metalix, from his home in Boston.

JD: I got to see you at the Vancouver International Jazz Festival in 2005. I really had a good time hearing and watching you and your band play. It was a lot of fun. To start of with—you are a vibraphonist—is that what it's called?
Matthias Lupri: Yes a vibraphonist. It's kind of a strange instrument, to some people, you know. It's often confused with a xylophone, marimba, glockenspiel—sort of a mallet keyboard instrument, kind of a mixture between percussion and piano. You play it with mallets. The vibraphone has a pedal, kind of like a piano, so you can sustain notes, which the xylophone, marimba, glockenspiel do not have. So, it adds a bit more to the jazz sensibility.
JD: Ya, I guess it's been kicking around since 1921, from what I read. It was kind of a novelty act thing until Lionel Hampton took it over. Is that more or less true?
ML: Yes, somewhat, Red Norvo and the early guys, who played a lot of xylophone in the vaudeville days--they'd have these vaudeville acts and they'd play a lot of xylophone parts. Somebody came up with a metal version of the xylophone and put a pedal on it so it sustained longer. I think Red Norvo was the first and then Lionel Hampton got into it, so it kind of evolved that way.
JD: I never could place whether it should be in the percussion or the piano side. In fact when I saw your website and it mentioned it as a percussion instrument, I thought, "Yes of course it is." But in my mind, I had always placed it with the piano.
ML: The piano is actually considered a percussion instrument, because any instrument that you hit to make a sound is considered percussion and a piano—once you touch a key, it throws a hammer which hits the note, so technically it is considered a percussion instrument.
JD: I'm learning something today. Not too old to keep learning.
ML: (laughs) … in general terms it's not considered percussion, but you know.
JD: Ok, you have a real Canadian connection. From what I understand, you were born in Germany, lived in Kansas for a while and then moved up to Alberta.
ML: I'm basically more a Canadian than anything. I grew up the majority of my life, there and have firm roots there.
JD: What parts of Alberta did you grow up in?
ML: Basically in the Calgary area. I grew up in a small acreage outside of Cochrane. I moved there in 1969, I believe it was, and stayed there until the 90's.
JD: So, you were in a lot of rock and roll and blues bands and that kind of thing?
ML: I was a drummer for many years. I went through the school programs and graduated, being a drummer and started playing in blues, country and rock and roll bands. Eventually I made my way to college because I really wanted to learn how write music and understand music more. I was sort of had that "druministic" approach where I was a drummer, not a musician and I really wanted to learn everything about music. I felt that I needed had to learn how to compose, etc. and that's where I was introduced to the vibraphone. So it led me in that direction. I heard a Gary Burton record, Times Square, with Roy Haynes, great, phenomenal drummer, Tiger Okoshi on trumpet, Steve Swallow on bass and Gary Burton on vibes. It just totally turned my head around as to how the vibes could actually sound like and I started going gung-ho with the vibes at that point.
JD: Did you ever try to incorporate the vibes into a rock and roll band?
ML: To some degree I did that. When I was on the road, early on, I actually took my vibes with me, while in a rock band, and I practiced my vibes in my hotel room. We thought about using it on stage, but we never did. It just wasn't the right type of band for that, but down the road we started doing more stuff in other groups, when the acid jazz scene came out. That was sort of a mixture of rock and roll and jazz.
JD: Now, the vibraphone has been used in a lot of different ways. You mentioned vaudeville and I mentioned it was a novelty instrument at times. How do you see your use of the vibraphone evolving? I recall seeing you and I think you were using a bass bow on it and doing some neat things. How do you see it evolving over time?
ML: Ya, well the vibraphone is also used in classical music and jazz and various film scores, etc., so there are different ways of approaching the instrument. I started fiddling with electronics on it.

I've been trying to clean my head out a bit, because I've been so many years in music that sometimes you just need to sort of have silence to lay that foundation out again.

I was influenced by Mike Mainieri, with the band Steps Ahead and he did a lot of electronics with vibes in the 70's and 80's, so I was influenced by that, a lot. I just started fiddling with that and it just opens up more colors and palettes when you have those options. It's just more fun to get into, and I started using a bow on it. Using a bow on the vibes is quite rare, too. You mix that in with looping techniques and you can get some really incredible sounds. It still augments the palette for jazz. You're still playing your harmonies and rhythms, etc. but you can still add these soundscapes on top, or beside or in-between, or what ever you want to call it, every once in a while. You add a different dimension and colors to the music.
JD: Matthias, you compose for the vibraphone and for the new CD you also compose for the sax, alto flute, clarinet and everything else—it's amazing! I'm assuming—in the playing—do you purposely leave space for improvisation for each instrument within the structure of a song?
ML: Definitely.. You know, writing for jazz, like on the new CD Metalix, a lot of stuff is written out more than usual, too for the melodies and certain parts and kicks, etc., shifting rhythms. Yet, you can still write things in simpler terms. Basically, I try to do a less is more approach, where you create a map of the composition where the players can really see what's going on, yet you are not tied to it so strongly on every note. So they can improvise within the structure that they see. It really adds—and it sort of took me a long time to get to that point of understanding how to write that way and it becomes clear to let the band know what to go for as a group. It's part of being a leader to get the right players to come together to make it happen with the music and that's sort of the aim.
JD: What's the best time for you to compose? Do you have a certain time? Do you get up on a Sunday and have a pot of coffee and do it? How does it work with you?
ML: Composing is really strange. It sort of goes back and forth in cycles in various ways. Sometimes you get up in the morning and have a cup of coffee and bang you go. I mean basically the idea is to go with the inspiration when you have it. That's the best. Where ever that does show up. Sometimes you just wake up in the middle of the night and you really can't sleep and you know that something is in your head and you have to get that written down so you don't forget it and write it down or record it quickly. Usually what it is—is that there might be thirty or forty seconds, or five bars or ten bars of something that you've come up with in your head. That can happen three, four, five times, very inspirationally on one tune for parts of the tune. Often the rest of it is just more work ethic that you have to get to. You have these inspirational moments and the question is "How do you join that together?" and make that the statement that you really want it to be. So it's really a combination of inspiration and work.
JD: Ya, that does make sense. So you have a new CD out called Metalix. I've been listening to it for the last couple of days. We just got it in and I love it! There's some really neat stuff on it. Do you want to tell us a bit about the new CD?
ML: Sure, this is my fifth CD and all my CDs have been, pretty much, original music. I've been going with that approach and I haven't been doing any standards and stuff. On my fifth CD there's Donny McCaslin on tenor saxophone, flutes and there's Myron Walden, alto saxophone, flutes, bass clarinet. Myron plays with Brian Blade's group, the fabulous drummer who plays with Wayne Shorter, a lot and Donny McCaslin was recently nominated for a Grammy. He plays lots of great music on his own, too. Nate Radely on guitar, a bunch of guys from NYC, and Thomas Kneeland on acoustic bass and Jordan Person, a young drummer I met at Berklee. They're all in NYC right now. That is the core group that I have been playing with for quite a number of years now. The horn players have been changing around a bit, too. The previous album (Transition Sonic), we had Mark Turner and Cuong Vu and actually the CD before that "The Same Time Twice" I had Mark Turner with Kurt Rosenwinkel, which was a lot of fun and Reuben Rogers and Greg Hutchinson, so the last three albums have really been a lot of fun. Metalix, we did this whole tour of Canada and we played in Vancouver at Gastown, We had a great time there.
JD: It was a lot of fun.
ML: Ya, half the tour was with Donny (McCaslin) on sax and the other half was with Myron on sax. We went all across Canada, did Montreal, a really fun gig there--a huge stage. We went to Amsterdam and played at the North Sea Jazz Festival in Europe. It was great. We did some gigs back in the U.S. again and then we went and recorded this album. It's sort of a project I like to take where we sort of tour, play some new music, mixed in with some old music and then record a new album when the group has some time to settle into the music, so it all sort of gels as a group--more.
JD: I love the CD. There are parts that just blow me away. You can listen to it as an evening--like a concert or you can take parts--tunes separately and they stand alone well, too. It's kind of interesting that way. Like I said, there's no two ways about it, some of it really kicks ass--what is it?--cut six--"Glass Stairs"--oh-oh!
ML: (laughs)
JD: I liked parts of it that brought to mind Halloween time. There are some sounds in there that could fit in quite a scary movie--
ML: Ya, ya.
JD: --and could be used for that sort of thing. I also like the way you set it up with Metalix as a prelude, Metalix Deja Vu at the end and Metalix in the middle and all the other touches, including a funeral for your cat, I guess? (Both laugh).
ML: She's still alive, actually.
JD: She got flowers, but didn't die. (laughs). It got me thinking--maybe she was a goner. I wasn't too sure about that.
ML: "Flowers for Mary Jane", very inspirational, and the cats, you know, always chirping up a storm around here. They sit by you and watch you write. She likes to eat flowers, too, you know. I've been trying to approach more of a suite--writing in a suite form, like you say, where there is a full evening of music, so when you listen to it, it sort of all flows and each song has a connection to the next and there's sort of a story being told with the whole CD and hopefully there's a story being told with each tune in itself. Hopefully, there's a story in each solo and that's how it all gels. You know, writing music and playing music is like a book. It has an introduction, bringing in the characters, explaining the characters, build to some kind of climax and have a conclusion. With chapters in a book, that is sort of how I approach writing and composing on a CD. I do something of that nature.
JD: Ok, how can we get your new CD, Metalix?
ML: It's in some stores. I saw it in Vancouver when I was there. Then, with the record industry, who know where it's going. You can get it on I-tunes and people who are doing the I-tunes thing can type in my last name "Lupri" and I'm pretty sure you can find it that way.
JD: Any web access?
ML: Ya, you can just go to matthiaslupri.com or type in "lupri" in Google and you can buy it there, also, Amazon.com and all the major internet sellers. It's a crazy business. So, I've been keeping at it and I'm presently writing new music for my next project. I received some grant money from the Canada Council so I've been working away on my next project called "Suite Unknown." It will be another suite, with more darker edges to it, too and hopefully I'll come out later next year.
JD: That was my next question. When are we going to see you?
ML: Hopefully it will be at the next tour--this coming 2007. I've been in touch with a lot of festivals and there is some good interest, so hopefully we'll be back.
JD: That's good to hear. So, you're teaching at Berklee, and you are a graduate of Berklee, too, aren't you?
ML: Yes, I am. I actually do more management, now than teaching or anything. I work in the Percussion Department and that keeps me busy, too.
JD: I'm going to ask you the last couple of simple questions that I ask everybody. Maybe this one's not that simple.
ML: Sure.
JD: What is your first music memeory? What is the first time that you can remember hearing music and what was it?
ML: (laughs) My first music memory. Wow. I think I can tell you my first inspirational time I heard music. I think I was in Bragg Creek, which is a small town just outside of Calgary. I was there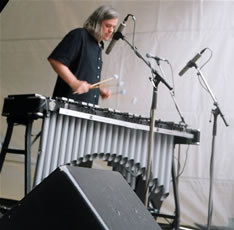 Matthia Lupri started out as drummerbe moving
to the vibraphone.with my parents and I think it was winter time. I think we went cross-country skiing and there was a singer in a lounge, where we came in for some hot chocolate. It was a guy with an acoustic and I can remember him singing tunes. I think he was singing John Denver tunes, like "Sunshine on My Shoulder" and stuff like that. I just remember him sitting there and like wow, it was just the stuff he was singing and the words really resonated with me. It was very inspirational and one of my first memories of being in awe of music.
JD: I had friends visiting a few years ago and they had young children. They were from a small town in Northern Ontario. We went to a concert at a local coffee house in Kamloops and I can still remember the look on their faces. They were really amazed, although, if I remember correctly, the band was pretty good. So I understand that someone young being exposed to live music for the first time is a pretty cool experience and they think, wow, this can be done.
ML: Ya, ya, ya. It's just the way the music resonates in the soul--until you have that first experience you don't realize the power of music.
JD: Ok, Matthias, if we hit the button on your CD player, or whatever you use these days, what would be in there right now?
ML: I've been listening to various things--more of the classical music. I've been listening to some Keith Jarrett. He has some solo albums out, some newer ones. I've been really getting into some Debussy and some solo piano by John Cage and Philip Glass. Once in a while I'll plug in some rock and roll and various new jazz that's coming out and every once and a while play some Kurt Rosenwinkel or somebody like that and sometimes I prefer just silence and go on a bit of a music fast. I've been trying to clean my head out a bit, because I've been so many years in music that sometimes you just need to sort of have silence to lay that foundation out again.
JD: I think we all need that once in a while. We tend to have too much of a soundtrack to our lives and some is just mindless noise being on.
ML: Ya, that's the thing. There's a thing where music just becomes background. I have to watch that with myself. It has so much more power to me that I don't treat it like that too much, you know.
JD: Thanks for talking with me.
ML: Thanks for having me.