The Two-Wheeled Obsession of Nich Worby.
"Music to Make the Passengers in My Car Blush. There was a lot of Prince on that one."
By Andrew Lee
Henry Ford never imagined Nich Worby, a quiet singer-songwriter, humorously fixated on bicycles, stumbling barefoot off of his assembly line a century after he created his first Quadricycle. Actually, other than the inane wheel connection, Nich's only association to anything named Ford is Tim Ford's eponymous record label.
Based in the sleepy town of Brantford, the many people who call this artist collective and all-ages venue their alma mater is mighty impressive, including members of Toronto twee pop faves Ohbijou and The Bicycles. And the latest musician from its ranks to receive accolades from Steel Town to the Thousand Islands is Nich Worby.
I recently caught the quietly awkward musician at his LP launch party at the Grad Club in Kingston, which the librarian rockstar and bandmates, Ayaz Kamani and Matt Kicul, call home between tours.
Worby's first full length album, Oh, How?, was released last month on the Ford Plant Recording Co. It began as a four-song cycle inspired by tales that his own grandmother used to tell him, which "were obviously fabricated, like grandmothers are wont to do," Worby says. "It was originally going to be on a 7-inch and Ohbijou backed me up on that. There were lots of strings and it was really mellowed out bedroom folk. But then I decided to make it a full length."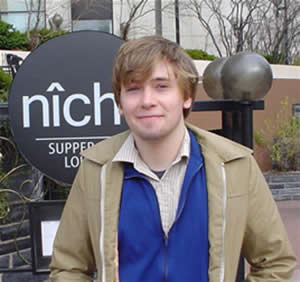 Nich Worby
Working in a basement apartment in Parkdale, "Ohbijou and I sat down, listened to the songs and figured, 'Oh this would be great right here. Or this would be really fun to do.' At one point, we rigged the staircase of the building and decided it would be really fun to have a marching song. So we got a whole bunch of people over and had them march on the stairs. There were all kinds of trumpets and things like that."
Nich is no stranger to working with a revolving door of talented artists, having moved around Ontario for school and freelance book stacking at local libraries. His band's latest lineup comprising Matt Kicul (bass and glockenspiel) and Ayaz Kamani (drums) currently goes by "Nich Worby", but the soft-spoken front man says that he doesn't like to be a solo act.
Worby used to play in The Majesties, but he says, "the more and more I played by myself, the more I realized I don't enjoy it as much as playing in a large band. And when we worked on the record, there were always people contributing ideas and it was much more fun being around different people. I'm also really shaky on stage, because I get really nervous and it was always good to have all those other people there, standing by me."
Aside from the moral support, Nich's friends also help out with his ground-up DIY model of music-making. "The first stuff I did, I made the CDs myself, my friends made the art work and we pieced things together. This is my first formal release and we're still making packages ourselves. It's still pretty much done by hand." Even now, Worby and friends have been working their fingers down to nubbins sewing together the burlap covers of Oh, How?.
Worby's affable nature and entrepreneurial spirit are best framed by the efforts of his Brantfordian peers. The singer-songwriter has great respect for the Ford Plant and how much it has done for local artists and the Brantford community.
He admires that "it's cool those guys at the Ford Plant and everyone in Brantford have taken a place and instead of giving up and moving to Toronto, they built what they wanted right at home, and now people are coming to them."
Worby also affectionately describes the Ford Plant as the only venue he knows of that "has civic renewal of the downtown community on the agenda. It's really cool that they're cultivating

The more and more I played by myself, the more I realized I don't enjoy it as much as playing in a large band

an arts community that was fledgling before. You would used to go down there and be surrounded by all these abandoned buildings and boarded-up storefronts surrounding them. Now they've started to build all these new projects and new businesses are flooding into the community."
The quirks of Worby's music, which include references to bicycles and the Cosby-Poitier classic "Ghost Dad", speak to many people's childhood lives. But it's in the sense of camaraderie with his fellow artists that Worby has fostered in Brantford and Kingston that really sets him apart from the pack.
Q&A:
Give us the abridged evolution of the Nich Worby experience.
I've played with a different line-up for almost every show I've ever played until recently. Most of my friends who play music live in different cities and I'm always moving around. For a while I had my Kingston backing band and my Brantford backing band. I never really had time to practice with either of them so I started playing by myself. It was easier. Matt Kicul has been playing with me for about a year now though. He's played bass, guitar, drums, and glockenspiel at some point. He's really good at rounding me out and he doesn't mind driving very often. It's been good. Now we have Ayaz on drums. It'll feel good to have more of a consistent live show. Who knows?
I'll probably end up moving again soon and have to start from scratch.
Why don't you wear shoes?
I don't wear shoes because I can't get comfortable onstage otherwise. For some reason it's just comforting to make real contact with the surface you're standing on... even if it's sticky from all the other bands' spilled drinks.
What are your current musical fixations?
For some reason I can't stop listening to Roy Orbison. When I was a kid it was the type of music your grandparents would listen to. You could find old tapes in thrift stores and gas stations. It's so strange to think that you could pick up something so gut-wrenchingly gorgeous with a pack of smokes and some lotto tickets.
What kind of art blows your mind?
These days I'm really into things that are embroidered. I'm really into anything that takes a lot of time and a lot of skill. My mom told me once that I was born an old man. That's turning into a half-truth. I think I'm becoming an old woman.
What's the gig you remember most?
When I was in high school I played a show with a band underneath a strip club in Simcoe. Half the people in there must have taken the wrong entrance and probably wanted their money back. The other half of the audience was comprised of friends of the other band on the bill. They were a metal band. They hated us. The only plus side was that there was a fog machine and a light show. I wish someone took pictures... Even if someone did it'd be pointless. I made the lighting guy release the fog machine so many times that you probably couldn't even see us unless you were 4 feet away.
What is the most awesome/awful thing that you've ever experienced at a gig?
This one time my mom showed up to one of my shows. She didn't tell me she was coming and I totally choked on stage. It was such a "Ready or Not" moment.
I felt like Busy Ramone when she played at her family reunion with her band in front of everyone... only if she totally choked.
Who've you opened up for that's gotten you really excited?
Calvin Johnson, from Beat Happening and the K Records founder. I was so excited because most of my favourite bands were involved with K Records at some point. I was just excited to meet him and to play in front of him was such an honour. I was really intimidated by him.
What would be a career high for you?
I'd be really ecstatic to write a song for another performer. I write songs every so often for artists I like but I'm always too shy to share it with them. It'd totally blow my mind if I could write a song for Rod Stewart but I'm probably running out of time. I don't know how he can keep singing like that at his age.
What do you like/dislike about yourself?
I procrastinate a lot. When I used to sell handmade cds I would be making them at sound checks or sometimes even right in front of people before I would go on.
What was the theme of the last mixtape you made?
"Music to Make the Passengers in My Car Blush." There was a lot of Prince on that one.