In a Sentimental Mood with Ian McDougall
Veteran player is still going strong with a new album and a busy schedule.
Jim Dupuis
1 of 2 Next>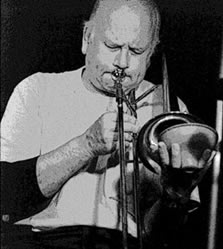 Ian MacDougall has a new album
out and tours regularly.Ian MacDougal has been playing jazz for almost 50 years. His newest CD In a Sentimental Mood is the seventh he has released as a band leader in the last ten years. In 2003 he retired as Professor Emeritus from the University of Victoria after many years teaching trombone, composition and jazz studies. Since beginning his career with a tour of the UK in 1960 he has been a regular fixture on the international and Canadian scenes. MacDougall recently had the chance to sit down with !earshot's Jim Dupuis
JD: I hear that you are about to release a new double CD called "In a Sentimental Mood," and obviously it's going to be the music of Duke Ellington and Billy Strayhorn. Do you want to tell us about it?
IM: Ya. It's really a special project for me. We recorded it last October (2004) when Neil (Swainson, bass) was in town. We recorded it in Vancouver and it's the same guys I'm bringing to the concert. We'll be playing some tunes from the CD as quintet during some spaces within the orchestra time. It's a wonderful repertoire of music written by Duke Ellington and Billy Strayhorn. We've done a few special, little things to some of the tunes to sort of put our little stamp on it. It's a double CD. I believe the packaging is really beautiful. My wife and I produce our own stuff. We put out more dough for this one than we ever have. Most of that's in the packaging, to tell the truth and the production. We're quite proud of it. It's a beautiful album, both in terms of the packaging and playing. The rhythm section is just sensational. They were an inspiration to me—just playing with them. They'll be featured quite a bit during the concert, as well as myself.
JD: How can we get the CD?
IM: I'm going to bring a bunch with me and I hope you buy a thousand of them (laughs).
JD: Other than that, is there a web site?
IM: Yes, it's ianmcdougall.com, you can get them there, and certainly in Canada please contact us directly (e-mail address is on the website) because we deal through a credit card company in the U.S. called CCNOW, but the postage is much cheaper in Canada and Canadians pay in Canadian dollars, so if you are going to buy from Canada contact me and my wife at the e-mail address (barb@highspeedplus.com) and you will save by not going through the CCNOW business.
JD: Okay. I think most people are pretty computer literate so they'll figure it out. Now, you've played with large orchestras, big bands, quartets, quintets, etc. What is your favourite size of group to play with?
IM: You know I still get a kick out of playing lead trombone in a really good big band. I was the lead trombone player for Rob McConnell's Boss Brass for 30 years or so and I loved doing that and I still love doing that although the opportunity doesn't arise that much anymore. I also love to play with the groups that I have, my sextet with the guys that I mentioned and with Ross Taggart, a fine tenor sax player and pianist as well. The guys are pretty capable of breaking down into various groups depending what the budget is or the situation and the venue, and so forth. I enjoy playing the trombone if I'm playing good music and I'm playing with a good bunch of guys and that includes playing brass quintets and trombone quartets and trombone trios within the so called legit, as I call it, as opposed to the classical idiom. I'm pretty eclectic. I love to play and I hate practicing. I try to play as much as I can, but of course it is not all that easy these days. The music business is not as busy as it used to be for anybody, certainly not if you play what I call the real instruments—the ones where you blow or you bow.
JD: Ok. If it was at your place right now and I looked in your CD player, what would I find?
IM: You'd probably find that Ellington record (his new CD In a Sentimental Mood) as I play alond to keep my chops in shape. You'd certainly find in our house—because my wife Barbara is a very fine violinist who graduated from UBC and Juilliard—so we have a lot of all kinds of music. My wife is a big jazz fan, too. She must have been or she wouldn't have married me. I don't know, she must have been crazy to do that. We could have anything. We both like Frank Sinatra and Tony Bennett and Sarah Vaughan, and Ella for sure! Ella Fitzgerald! We have something in that genre on the old CD player quite a bit, bit we still use that thing that goes around, you put that needle on it—what the hell do you call it? I don't know.
JD: (laughing) Record player. I've got three of them. Three turntables all hooked up. All usable.
IM: Oh, good. You can play some good stuff there.
JD: Yes. I check out the second-hand stores, where people donate their records and I've picked up some of the Boss Brass with you on it—lots of stuff from the 60's and 70's seems to be still findable
JD. So, you used to be the head of the Jazz Studies Department at UVic (University of Victoria). Are you still teaching there?
1 of 2 Next>