The Salads: "We're Good For You!"
A bit of maturity hasn't slowed down the party rawk of the The Salads
By Scott Wood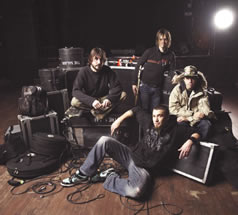 The Salads: tossed and dressed and
ready to goWhen I tease Darren Dumas, the frontman of The Salads, about opening for the Presidents of the United States of America on a big Australian tour, he breaks into the opening of the PUSA's 90s superhit hit "Peaches." And he is just a good-natured dude like that. Always a smile and a chuckle. Dumas is the kewl—but sorta-goofy—guy everyone wants as a buddy. After a show, Salads fans storm the stage and rub his head like their favorite little brother-buddha and Dumas eagerly laps it up.
The Salads have been known as a straight-up party-rawk band. You probably have heard their song "Get Loose"—it has been everywhere from a Labatt's beer commercial to Queer As Folk. They didn't get any free beer from Labatt's but they "got paid" Darren tells me while chuckling. So I ask him which character on QAF he feels most connected to—and I ask knowing that almost every Salads video has featured high school cheerleaders and/or a midget. "We're happy to be placed anywhere. I haven't seen the show so I don't know." He laughs. "Let's say our drummer is gay so you should ask him." When I ask Dumas which character on QAF drummer Dusty Luxury is most like, he laughs again, "Whoever is the most flamboyant." We laugh and I tell him that he is lucky Luxury is not here. "It's ok." Dumas reassures me, "I can take him." And this is The Salads: non-stop good-natured fun.
The first single "Growing Up" off their latest release The Big Picture signals a bit of a change for the band. They have decided to mature—a little. In the past three years, most of the band has moved in to places with their girls and Dumas got married. So now that they knew more people would be listening to this release, Dumas reveals, "I wanted to say some things that meant something" and "we wanted to put out a record that was really rockin'"
But fans don't need to worry, The Salads haven't forgotten their roots. "You'll see. The silly drop-your-pants-rock will be back!"
No interview with the band would be complete unless I asked

It's probably one of the silliest names ever, but when people hear it, it sticks in your head.

'the name' question. Dumas laughs as I bring it up. Most band names evoke an aesthetic of the group and their sound. At first, the Salads almost conjures the image of four guitar-strumming anorexic girls. When you google the name you find many lovely cesar salad recipes.
Dumas is used to the question and in fact the band have several answers. There is the 'safe' answer—given to mainstream media outlets, like E-Talk Daily. Do you remember that Simpsons episode where Homer sings to Lisa, "You don't make friends with salads?"
The real reason, from Dumas: "It is a pot reference. When the guys were in high school and livin' together, one guy would sit at the door with a salad bowl and collect hash n' weed n' stuff. And at the end of the night they would roll a 'salad.' So the guys were all sitting around in a basement, stoned, and one guy said, 'Man wouldn't that be funny if you called your new band the Salads?' [The guys in the band answered,] 'Yeah man it's so stupid we're gonna do it!'" Thus The Salads were born.
Dumas admits, "It's probably one of the silliest names ever, but when people hear it, it sticks in your head. When you go out for dinner, you are gonna see Salads—you can't escape us!"
But they do get asked the question a lot and Dumas can't always be truthful. "Kids come up to us and ask, 'why do you call yourself the salads?' We can't say, 'It's cuz we're potheads kids!' so we say 'It's cuz we're good for you!'