Himalayan Bear Sings of Laughter, Pain, and Crushing Dread
Victorian and Chet guitarist Ryan Beattie's stunning solo effort
By Jeff Friesen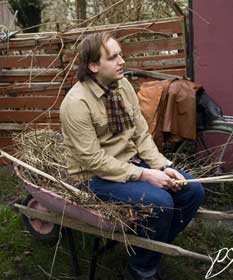 Himalayan Bear is a different beast than
Beattie's main musical project in Chet"We got quite drunk on Vodka with members of the Latvia National Opera that night and almost missed our flight out of [Russia] the next day. That is, if it weren't for an angry German booking agent yelling 'come on Ryan, we don't have time for this dilly dallying. Get on the bus!' A hangover caused me to laugh uncontrollably while my head was splitting with pain and crushing dread."
Ryan Beattie, a Victoria-based songwriter who performs under the moniker Himalayan Bear, has a gift for story telling. While saying little to nothing explicitly about his music, Beattie's reflections on experiences such as this are at the very essence of what makes him such a great artist, as conveyed on his recent disc Himalayan Bear… Attacks the Brilliant Air. This is a songwriter with a stunning capacity to elaborate on his surroundings, seeing situations that may be glanced over by others as rare moments of beauty. This is a songwriter that is able to see moments, in all their fragility, to be full of enticing contradictions, and illustrates this in his music in sometimes unsettling, yet always picturesque ways. In short, listening to Himalayan Bear is exactly like laughing uncontrollably while having a head that is splitting with pain and crushing dread.
Himalayan Bear began as a side project for Beattie as he felt as though he wanted something to work on outside of his main project Chet (a four piece band Beattie formed alongside his brother). In 2006 he released his first album as

Beattie is a songwriter with a stunning capacity to elaborate on his surroundings

Himalayan Bear, Lo Lonesome Island. Unlike the epic nature of the Chet releases, Lo Lonesome Island was much more subdued album, carrying a lazy Northwest beachfront aesthetic with it. It was a stripped down album that served as a wonderful foil to the larger and more extravagant albums being put out by Chet.
However, in 2007 with a spring tour alongside fellow Victorians Frog Eyes and the release of his second album …Attacks the Brilliant Air, Himalayan Bear appears to be turning a corner of some sorts. "That tour gave it a sense of seriousness to me. There were people that knew the record and came to see me play. I've anticipated recording another album ever since. Still, having a band is way better. Guy with a guitar gets old pretty fast"
One of the ways in which this newfound 'seriousness' plays out on the new record is through the sound of the record. On …Attacks the Brilliant Air Beattie expands the instrumentation to include saw, clarinet, dalrube, accordion, cello, and drums, giving the album a more grandiose feeling to it than Lo Lonesome Island. With …Attacks the Brilliant Air, Beattie's "guy with guitar" thing is now infused with an occasional splash of instrumental variety.
The overall sound of the album is absolutely stunning, as Beattie is constantly creating a dark and disquieting aesthetic to the album, simply through how the instruments sound on the recording. How the album was recorded, what makes it sound the way it does, is just as important to what eventually ended up being on the record. "The main reason for the way the songs are structured was the location we were recording. My friends Kate and Ben use to run a bookstore in Victoria that had 25 foot ceilings. They let me record there at night and I had a long time to do it. It sounded so beautiful in there, especially the organ. I ended up adding these long droning

It sounded so beautiful in there, especially the organ

passages simply because I enjoyed listening to the room. The space conducted the performance and ultimately arranged the songs."
The end result of this process is that through …Attacks the Brilliant Air, Himalayan Bear has been able to create a captivating song cycle which feature songs that, both lyrically and musically, conjure up beautiful textures and imagery. Whether it's through the long drones of "A Light Grows Brighter…" the sporadic free-form nature of "Empty Tigers or the Roaring Sea?" or the decaying ballad "The Lost Love" these songs carry the listener to unforeseen and enjoyable places.
What's most exciting about all of this is that Beattie seems to be far from finished. You get the sense while listening to the album that this is unfinished business. And Beattie seems to agree. "When I get home from tour, I'll be starting a Himalayan bear record with my bud Tolan who has a studio in a cabin in his back yard. He's recorded most of the Frog Eyes, Chet and Carolyn Mark albums. Chet is going to release an album on the San Francisco label Absolutely Kosher. Frog Eyes tours in the spring as well as Chet."
As great as both Lo Lonesome Island, and …Attacks the Brilliant Air are, Himalayan Bear has yet to even hit his stride. With his knack for elliptical storytelling, and his fascination with sound, Beattie is an artist full of potential. We can expect more music from Beattie (both in Chet and Himalayan Bear), which is most exciting to hear.