!earshot picks for 2007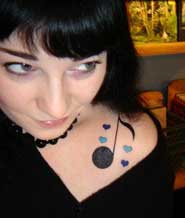 Bryndis
I'm Bryndis! I edit the charts for !Earshot. I have done shows off and on for CFUR Radio in Prince George, but at the moment I'm on hiatus because I just opened my own record store, Meow Records (www.meowrecords.ca).
Other Picks: The Alberta Report
Jazz Notes
Tell the Band to Go Home
Wednesday Evening Jazz
Meow Records

TOP 3 RECORDS OF 2007
1. Of Montreal – Hissing Fauna, Are You The Destroyer? – (Polyvinyl)
Hissing Fauna… is a pop masterpiece! I put this album on time and time again and it never bores me. So much energy and attitude, wonderful.
2. Panda Bear – Person Pitch – (Paw Tracks)
This album kicks ass over the new Animal Collective and many other albums in 2007 for so many reasons. The best reason, is that I like it way more.
3. Sunset Rubdown – Random Spirit Lover – (Jagjaguwar)
After two listens, I was hooked. A rich offering that challenges the ears, and then rewards them big time.
MOST UNDER-RATED RECORD OF 2007
Caribou – Andorra – (Merge)
This album deserved way more attention. Critics loved it, but I didn't hear many people raving about how great it is.
MOST OVER-RATED RECORD OF 2007
Bjork – Volta – (Atlantic)
On the opposite side, this album was panned by critics, but many people around me wouldn't shut up about how "amazing" it is. I completely disagree and Volta was one of my major heartbreaks of the year, along with Cat Power.
BEST LOCAL RELEASE OF 2007

This is really hard, Prince George had a lot of goodies this year. These are some of the best ones:
Hey Everyone – Broken Horse – (Meow Records) http://www.myspace.com/heyeveryoneband
This one was the first release on my label. I love the songs, I took issue with the sound quality and the band and I battled it out over email. Haha. But in the end, it's their record and it's a great batch of songwriting and beautiful melodies. I had them open for Chad Vangaalen when I brought him to town and it was a great fit.
The Arbitrarys – Anticipation Is Our Destination – (Independent)
http://www.myspace.com/thearbitrarys
Fantastic girl/boy duo that make music with a combination of cello, guitar, piano and vocals. Catchy as hell once you know the tunes.
The Transmogrifiers – The Transmogrifiers – (Independent)
http://www.myspace.com/thetransmogrifiers
They refer to themselves as "cock juggling rock." Who am I to argue?
Jeremy Stewart – Jeremy Stewart – (Independent)
http://www.myspace.com/jeremystewartmusic
Weather, African American spirituals, punk rock, Canadian poets, singer/songwriters…these are things that inspire Jeremy in his writing. His new album is a good marker of that.
Fatal If Swallowed – Fatal If Swallowed – (Wake Up Dead)
http://www.myspace.com/fatalifswallowed
Fancy yourself a fan of punk? Get this! Hard to capture how awesome they are live on just a cd, but it's pretty close.
The Concerns Of Royalty – The Concerns Of Royalty EP – (End Of Ego)
http://www.myspace.com/theconcernsofroyalty
Two guys, many instruments, lots of lush music.
BEST PERSONAL C/C RADIO MOMENT OF 2007.
CFUR getting its official FM license. No more "developmental" restraints!
MOST ANTICIPATED RECORD FOR 2008
Portishead, although I'm still not convinced it's gonna happen.