Catching Up With Campbell Ryga
Good Things Come to Those Who Wait 20 Years
By Jim Dupuis
Campbell Ryga and PJ Perry are long time friends and have both been featured in !earshot before. They are both awesome alto sax players and have piles of accolades and honors to prove it. So, the idea that they would get together to make an album is not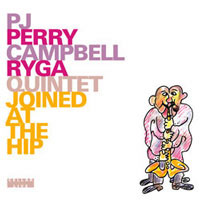 Joined at the Hipso unusual. But wait a minute. Is it not a little strange to have a jazz album where the two headliners play the same instrument? How are you going to know when one or the other is playing? Question, questions, questions. As it turns out Cam has the answers and they involve Cory Weeds of the Cellar fame (also an !earshot alumnus). When last I talked to Cam he was reveling in the joy of being a first-time father of a baby boy. Now he's got two of them and the background noises of two rambunctious and very happy little fellows provided a nice backdrop to our conversation. If it's possible, Cam is doubly happy with his family and he's very pleased that he finally got to do a project with a close friend. This project had been the topic of conversation without results for around twenty years. When it was finally accomplished, the result was the CD Joined at the Hip. It was recorded at The Cellar Jazz Club and Restaurant in Vancouver by The PJ Perry Campbell Ryga Quintet. The band consists of PJ Perry on alto (Edmonton), Campbell Ryga also on alto, Ross Taggart on piano (Lower Mainland), Neil Swainson on bass and Terry Clarke on drums (Toronto). As PJ was out of the country Cam graciously offered to fill me in on the story. Read !earshot's previous article on Campbell Ryga.
JD: You have a new CD out with your old buddy PJ Perry. It's called Joined at the Hip. Would you mind telling us how that CD came to be?
CR: It's something we had been thinking about doing for quite a few years and kind of toyed with the idea in the late '80s. Like any good album the first things you start to think about is how to present it and what the album's name might be. I actually thought that the album was going to end up being called Bird Droppings, which was our original idea for a title, sort of a tribute to Charlie Parker with a sense of humor to it, but it ended up being called Joined at the Hip, because over time that felt like a far more appropriate title. PJ and I have had our chances to go out and tour over the past number of years and it just started feeling more and more that eventually we were going to start documenting things, so lo and behold that's what happened. So that's the basic idea of it. We basically had been thinking about this for a good 15 years in advance.
JD: So this ended up being recorded live, didn't it?
CR: It did.
JD: And you recorded it at Cory Weeds' Cellar Live jazz club?
CR: Yes we did it at Cory's club and did it on Cory's record label and basically Cory was the guy who kind of put together the concept and

It's a really pure recording and it's a documentation in real terms of what actually happened.

facilitated getting Neil Swainson (bass) out and Terry Clarke (drums) out and PJ (alto sax) for that matter. So everything was nice. It's a very quaint club. It seats 85. Usually a band get two night in there; one or maybe two; but Cory let us have three nights in there so we could take the best of what happened over that weekend. What I thought would happen, happened, which was we ended up keeping everything from the third night because as things evolved it definitely starts to make it so that it feels better and feels much more like a unit. We had a chance to go through some original material by PJ and by myself and by Ross Taggart, great piano player and obviously a wonderful saxophone player, too. So, we had some wonderful contributions in there and I think that it all turned out great.
JD: Yes, it most certainly did.
CR: Thank you.
JD: Now, what I found confusing is that you have two alto sax players in the band. I've met you two guys a number of times and I know that you guys do a lot of kidding and stuff. Did you have a friendly competition every now and then to see who could blow each other away, or what?
CR: You know what I don't really ever feel like that. I feel like what we end up doing is inspiring each other. If one of us is having a particularly good evening it doesn't dissuade the other guy from going "What's the use?" It basically makes the other guy get into the spirit of having that kind of energy. I think of it as more like we end up fuelling each other up in a most beautiful way. I think that in the old days that kind of thing was more common, but now days we just enjoy the chance to play together and we have a great mutual respect on and off the ice (laughs). So we really have a lot of fun and we ended up talking more about this album and what we were going to do with it, more than we ever played. You know. So once we got the feeling of it together and how it was going to evolve and the excitement of having the guys come in from Toronto and having Ross involved; it just took over from there and that's what's beautiful about this. It's a really pure recording and it's a documentation in real terms of what actually happened. Ya, I've heard that people get confused about the two alto (saxophone) concept and Cory in his wisdom separated PJ to the left channel and me to the right. I know that people have much fancier stereos than that now, but there are two ballads on that album. I play "Everything Happens to Me" and PJ plays... "I took a trip on a plane ...", what's that now? "I Can't Get Started" (laughs). So those are the two where neither of us are playing on each others ballad, so you can get a real concept of the sound that each of us are trying to achieve and after you've got used to that I think it is more readily attainable as to who is playing what and where.
JD: This is a really pretty CD, I mean, just beautiful music on here. You mentioned the originals. About the cover tunes, how did you go about
choosing them? What was the criteria for that?
CR: You know what happened, with respect to that, we ended up recording a lot more than what's on there. As far as the final choice of what went on there, I really didn't have a say about it, but I was pleasantly surprised with what ended up there. You know, I have a rough cut of everything before the mixing stage and I think that whatever would have happened, could have happened and I'm pretty satisfied with what turned out. Had we done some different tunes, I think it would have been the same feeling anyway.
JD: The choices of tunes are wonderful. I like the composers; Hoagy Carmichael and Johnny Mercer; Ira Gershwin and Vernon Duke; Charlie Parker of course. When you get the alto boys together you just have to play some Parker. That just makes for good choices on this CD.
CR: Okay.
JD: One question, Mr. Ryga. "Line for Art"--is that talking about Art Blakey, Art Pepper, Artie Shaw?

Campbell Ryga: PJ Perry and Ryag had been
talking about recording together for 15 yearsCR: "Line for Art", you know who it is? Art Van Dam.
JD: (laughs) The only one I didn't know.
CR: You know what, that's because my great friend out of Los Angeles, who I've had the pleasure of playing with, Frank Morocco, whose a wonderful jazz accordion player--he's the one who has made a very distinguished career out of being a Hollywood studio accordion player and he has written a lot of original music. "Line for Art"
is based on the tune "All the Things You Are" and that is his tribute to Art Van Dam and that's the story of that. I chose it, because usually when I play with Frank that's one of the tunes we do, so ...
JD: I know that you can get the CD of The PJ Perry Campbell Ryga Quintet Joined at the Hip through Cellar Live and CDBaby. Are there any other places you can get it?
CR: I don't know (laughs). That's a good question. I know that there is a lot of American interest in this CD and it's readily available down there, too. With respect to the recordings I've done on other labels, this seems to be more widespread and I think Cory (Weeds) is looking at wider distribution and he's looking at what's happening in the Far East and the States, so I know that he has made a big push to get this CD out to these places. To be honest I don't really know what's happening but I do keep hearing from people that are very, very far away about having enjoyed the album, so that's pretty cool.