The Jodi Proznick Interview
This month Jim Dupuis finds out that fat cats are inspirational and there's a whole lot of ways to define foundation when he chats with Vancouver bassist Jodi Proznick.
By Jim Dupuis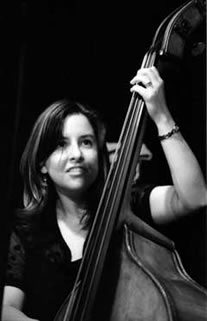 Bass player and band leader Jodi Proznick
hasjust released a her debut album.Bassist Jodi Proznick has garnered a number of honors in her young career, but she is surprisingly mum about it. In 1993 she won the General Motors Award of Excellence as one of the top young musicians in Canada. In 1998, Jodi was the winner of the IAJE "Sisters in Jazz" Competition which brought her to New York to perform with Ingrid Jensen and to Detroit to open for Geri Allen. Also in 2004, Jodi won the Galaxie Rising Star Award of the Vancouver International Jazz Festival with her own group, the Jodi Proznick Quartet. Yet, she is happy to talk about the talent in her band and the sense of family that they have together. She is an intense bass player and often her long hair covers part of her face as she plays, but she's not really hiding. She gets a wonderful "large" sound out of her bass and truly swings when she's on stage. On stage the bass does the talking for her. Off stage she proved to be an intelligent, engaging conversationalist with an analytical mind. She laughs happily and frequently. A few days before Christmas we chatted about fat cats, keeping the joy in children's music education and her new CD Foundations.
JD: You have a new CD out called Foundations, and we'll get to that later. Some of the people around here would like to get to know a bit about you, so why don't you start off by telling us about your background.
JP: Sure, I'm the daughter of a music educator in the BC Lower Mainland. I started playing piano when I was three. I got into dance and theatre as I got a little bit older and a lot of singing. Basically we just had a musical house. We had a lot of art making and music making and plays and creative things going on. My brother and sister are both musicians as well. My family was all about music and my Mom was incredibly supportive of us and involved in all of that, so eventually I got into high school and got into my Dad's program at a school called Semiahmoo Secondary. At the time there were a lot of people that went through that program like Jillian LeBeck, Amanda Tosoff, Rob Hamilton and J.P. Carter; a lot of people who are on the scene here in Vancouver went through this program that Dad was in charge of. So I got in high school and played oboe for a year, and didn't like it. It was too hard. I could already read music and he needed a bass player in the grade nine stage band, so I thought he doesn't know who to play bass and that sounded good to me. I hadn't seen too many girls or women play bass other than the Go-Gos (laughs) or the Bangles and I thought, "Hey I kind of want to play that instrument. It's kind of a cool instrument and it's a little different. I don't want to play flute or oboe and it'll be a little different." So I started playing it. I was about thirteen and it was electric bass. That year I went to the Lionel Hampton Jazz Festival in Moscow, Idaho and saw the Ray Brown Trio play. We were third row and there were thousands of kids screaming for this music. It was so joyful and so amazing. It wasn't like it was right then that I knew I was going to be a jazz musician, but I became absolutely joyful seeing him play and the bass became the absolutely coolest thing ever. Yeah, just continued playing through high school. I didn't take lessons or anything. I had lots of previous music experience with the piano, but just played for fun and that turned into music scholarships after my high school career. It was always coming from a place of joy and fun and community, which led to McGill University and just kind of history. It was kind of music choosing me and bass choosing me, I didn't really choose it. I don't know if that makes sense to you Jim, but that's what happened.
JD: It makes a lot of sense in that the bass chose you,

I was hoping that this album was a celebration of the bass

because there was an opening and you figured you'd give that a shot. It shows some get up and go, in that you didn't play the instrument but were willing to see how it would go.
JP: Ya, and I love it. The bass is just the best, isn't it, to play. It's just so much fun, so much fun. So from there I graduated from McGill with my Bachelor of Music.
JD: What year was that?
JP: I graduated in '98, so I was there from '93-'98. I started playing quite a bit in Montreal with my teachers and my peers, having a great time musically. But there was a bit of a pull-back to the west coast. I'm a west coast girl and my parents are here and I met this great guy, who is know my husband and is a phenomenal pianist and in my band. I made the choice to move to the coast and live in one of the most beautiful cities that I've ever been in.
JD: (laughs) Tough choice.
JP: Yeah, it was. People thought, "Why aren't you going to New York or Toronto?", but something was pulling us to the coast and we followed our heart. So we hopped in a truck, drove here and have been playing here ever since. We've just been having a great time in Vancouver playing with the people here and out of town guests. It's been amazing. Yeah!
JD: I read about you going to McGill. In Montreal, who did you play with that I might know?
JP: Probably Ranee Lee. You'd probably know her. Also, a guitar player named Greg Creighton. He's kind of one of those unsung heroes.
JD: Under the radar, kind of?
JP: Very much so. He's brilliant. I worked with him five nights a week and a vocalist named John Labelle. He also has some national recognition. He did a fabulous thing--and I also worked with Janis Steprans--he's one of Vic Vogel's players and has been in that group for years and years. I played with Christine Jensen. I don't know if you know Christine and Joel Miller. I played with them. Yeah, and the university professors from McGill. I played with Andre White and Kevin Dean. Those are the ones that are coming to my head, oh, and I played one gig with Michel Cusson from UZEB (laughs).That was really cool (laughs).
JD: That's good. It obviously was a good education and it's great that you got to play with people like that. I think that the funny part is that they also learn from you. You think that you are young and learn from them, but you would also have new ideas.
JP: Well I've never been lacking energy and if there's one thing I can say that I bring to the table when I play is that I'm always up for it, you know. I think from Greg's point of view. In Montreal he heard me a lot and I was just ready to play all the time, you know and young and eager to learn and wanting to play and all that energy, so youth can bring that to it ; although, I don't know where I sit now at 31 (laughs). I'm not really youth.
JD: I go to the Vancouver Jazz Festival every year and I've seen you in a number of different bands and just missed you one time. I think it was on Vancouver's Granville Island and you were just packing up to go to another gig. You were busy and what was the other gentleman's name that was playing the sax and guitar.
JP: Adam Rohrlich.
JD: He's another one who is under the radar. Holy Hell is he ever good!
JP: Yeah, we play with him every Sunday at the Dockside Restaurant with Gabriel Mark Hasselback.
JD: And Tilden, I've always like his music. The CD that he put out in 2005 was a really good CD. (Cellar Groove). You and Tilden play on each other's CD's, and I've noticed you have again. Now, this CD, The Jodi Proznick Quartet and it's called Foundations. Is there anything behind the title?
JP: Well we had a hard time coming up with the title. There's a lot of going back and forth between Tilden, Cory (Weeds) and I trying to come up with something that really fit. Actually it was Tilden that suggested this. Trying to come up with a one word that exemplified who we are as musicians and where we are at right now.
I think it's a multifaceted title. Obviously the bass is the foundation of any ensemble and it's a bass player's album, so that's sort of the obvious. I wanted to celebrate the relationship that I have and that we have with each other--the four of us. Steve (Kaldestad, sax) and Tilden (Webb, piano) are both best friend from high school. They both ended up at McGill doing undergrads and Masters. They grew up in Regina, together. Jesse (Cahill, drums) is from the west coast. I met him when I was in high school and we went to McGill together and know he's my sister's partner. My sister was also at McGill with us and of course, Tilden and I are married, so Jesse is basically my brother-in-law and he was Tilden's best man at our wedding. It's kind of this thing where we not only do we love playing together, but we are really like a family and that's foundational in life, too.
Also, we had really great foundations in music education. We all came through great music programs and really strong high school band programs. We went to a really fine music school (McGill University) to do our postsecondary. That's foundational, too. Music education is something I really celebrate as well. Bringing music education to kids in an inspired way that allows them some space, that allows them to be who they are and yet gives them a really good foundation in music and doesn't suck the joy out of it. I was hoping that this album was a celebration of the bass, but not as a foundational instrument; not as a solo instrument per se, as much as it is, I'm an accompanist first and as a band leader the majority of my time is accompanying so that's foundational, in my concept as a

I'm at home and writing and I kind of wanted to do this sort of New Orleans street beat feel and I realize I'm watching my cat moving.

bass player--one way a bass player can function.
So that's were the title kind of comes from, but it's also the first album, of who knows, maybe many. It's just a word that has a lot of weight to it. It can be looked at from many different angles, so--I'm kind of all about that (laughs).
JD: That's good. That's a good answer. I read the liner notes that Cory wrote and write off the bat he used the dictionary definition of foundations and I was going to start off this piece with defining foundations and Cory did it already (laughs). So I can't use it and be cool like that.
JP: (laughing) Yes you could. I'll tell everybody you came up with it.
JD: Well I guess I can't now (laughing). Maybe I'll just edit this out and nobody will know. Well we are talking about your new CD and as we mentioned it is The Jodi Proznick Quartet titled Foundations with Steve Kaldestad on tenor sax, Tilden Webb, piano, Jesse Cahill, drums and of course Jodi Proznick. As I'm listening to the CD I'm going this one kicks and this one kicks and I can't say that any one is better than the other they all kick. I enjoy the CD and I enjoy it for what it is. I really like the arrangements. Did Tilden do all the arrangements or did you share the duties?
JP: Tilden did the arrangements on Help Me and Washing of the Water. I wanted to do that tune.
JD: The Peter Gabriel tune?
JP: Yeah, and obviously my originals are mine and his original is his own arrangement and I came up with the arrangement for the Lucky Thompson tune (Dancing Sunbeam) and "All Too Soon" we just basically played the tune.
JD: Don't mess with The Duke.
JP: No Duke wrote just beautiful songs. You don't need to add anything to it.
JD: It is beautiful. You really swing. You could have played in the 30's or 40's with a big band. You swing. It is so nice.
JP: Thank you.
JD: You can tell that you want to swing.
JP: Yes, I do.
JD: It does show in your playing and it really comes through on the CD and at the recording level I want to complement Cory on, because he also did the same thing with the October Trio, you can hear the bass player. It's not just a beat hidden in the background on all the musicians and I like the quality of all The Cellar Live stuff.
JP: Yes.
JD: Now one thing about you BC girls--I mean women, what's with you and Joni Mitchell?
JP: (laughs) Well you know what? The Joni Mitchell tune was put on--we did a gig in Vancouver with a vocalist who did a Joni Mitchell tune, it was Christy Grace. Years ago Tilden had whipped up that arrangement of "Help Me" and I've loved it ever since. It's a great melody. I love Joni Mitchell, but I also just love Tilden's arrangement. So it was more that, than needing to put Joni Mitchell on my album. Do you know what I mean?
JD: Yeah and I'm glad you did.
JP: It made sense for the album, too and actually I think it came off really well--that one. It came off so strong I decided to use it as the opening track because I thought it offered a nice introduction to the rest of the album. It just sets the tone--kind of thing.
JD: You wrote a song about your cat, "The Duke of York." I love that song. You know they use to have a cartoon about a cat named Garfield and they had that music as he strutted around. To me your cat must have a bit of an attitude, like that. I get that out of that song. It's pretty cool. Tell us about it.
JP: (laughing) Ya. Thank you. Well my cat is a big boy, a very big boy.
JD: Mommy feeds him too good.
JP: Well he was actually my best friend's cat and she went off to travel and we adopted him or were foster parents for a while, because we had just lost our little cat, Tasca, who we brought back with us from Montreal. Anyway we adopted him and he was big. He was probably 24 lbs. when we got him and he's probably grown to 27 or 28 pounds and when we took him to the vet he went off the last number they had on the scale.
As I was preparing for the album and writing the music, I was taking this class at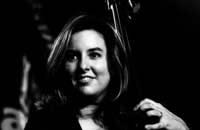 Although Foundations is her first album with
her own quartet, Jodi Proznich has played
on recording with many other groups.Simon Fraser University in embodiment inquiry--to make a long story short it is sort of about you stopping and noticing things and drawing art from your environment--what you see, what you hear, what you smell, from what you are sensing with your body. I'm at home and writing and I kind of wanted to do this sort of New Orleans street beat feel and I realize I'm watching my cat moving. He has this way of walking down the hall--it's like "doo-doo-ta-doo" and he's just kind of bouncing and his bottom kind of swings and his belly swings back and forth (laughs) and this song just kind of came out and it is a tribute to York. He is a lovely, very, very, big, boy. People love that song and when we play it live I tell them how big he is. I'm a little embarrassed by it, but at the same time he's like a character that exists in my life that I get to share songs with. He's lovely and he's a joy in our life.
JD: Your influences, bass-wise especially, with the tune "R. B.'s Line," shows that you have quite an affinity for Ray Brown. Who else influenced you in playing the bass?
JP: Ray Brown is definitely the first guy and then I'd say Paul Chambers, really big time and Oscar Pettiford—there's a Lucky Thompson tune on the album (Dancing Sunbeam). So I was influenced by Ray Brown, Paul Chambers for sure and Ron Carter. Ron Carter to me, on all that Miles (Davis) stuff he exemplifies that foundational bass thing. He's the centre of the wheel and the spokes all hand on to him, and yet he's able to contribute in interesting ways. But, he's very grounded and very centred and reliable, so he's a great influence as well. I really love Dave Holland, too and my respect for him is in his ability to compose. He's pretty amazing.
JD: I saw him last year (actually 2005). It was quite wonderful.
JP: I've only seen him play live once and it was with Herbie Hancock's New Standard Band and it was amazing. But I've listened to him, especially the stuff he does with Kenny Wheeler and Music For Large and Small Ensembles is one of my favorite albums and the way he plays on that is so beautiful. Ya, and Explorations and all those good albums—he's been a pretty big influence as well. I like Sam Jones, too and all those unsung heroes of the '50's and 60's Blue Note albums. You know, I don't play anything like him, but I love Gary Peacock and the Keith Jarrett Trio is amazing. Under certain circumstances it is really neat to be a counterpoint line and those guys definitely play with a sort of melody—you know. It's just amazing. So those are my big influences.
JD: They are all pretty important people and I understand how that could filter down. Well, I've got it in my hand so, I've got it, but how do my listeners get the new CD.
JP: Well they can go to cdbaby.com or they can go to cellarlive.com and if you want to do it in a convoluted way, (laughs) you can go to my website which is jodiproznick.com. You can go to the links section at the contact page and that will get you linked up to whatever you need. You can also listen to a few of the tracks online if you want to have a listen first. You can see some of the other albums that I have had the privilege of participating on.
JD: Thanks for speaking with us.
JP: I will and thanks Jim. Take care, everyone.