Robert Pollard Gone Solo
Indie-Rocker Launches on a new Journer... Kind Of.
By Jeff Friesen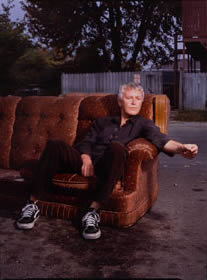 With the breakup of Guided by Voices,
Robert Pollard is now officially working
as a solo artist.Pop music has been blessed and cursed with an abundance of iconic figures attempting to go solo. While there have been numerous examples of triumphs in this regard, such as Neil Young, Brian Eno or even some early Iggy Pop, there have been equally as many failures. This is simply a testament to the difficulty of continuing such an endeavor.
Looking at Robert Pollard's first year as an 'official' solo-artist, it is clear that the former Guided by Voices front man is on the right path. With the release of the exceptional From a Compound Eye at the beginning of 2006, and this falls Normal Happiness, coupled with what looks to be a promising next year, Pollard can be seen as a prime example of how to go solo.
One of the primary ways in which Pollard has been able to maintain his fans interest with his solo works, has been his willingness to not separate himself too sharply from Guided By Voices. Prior to their breakup in 2004, much of Pollard's solo material was seen as part of the bands own catalogue. The two were considered interchangeable as Guided By Voices songs were often being performed alongside Pollard's solo material. Pollard has been able to embrace what has been successful with Guided by Voices and express this in his solo material. This remains the case with his more recent material.
Yet, with From a Compound Eye and Normal Happiness, Pollard's music seems to be going in a new direction as well. As he put it in a recent interview via email; "the decision to enter into a solo career was a conscious attempt on my part to become more 'active' in the studio as an instrumentalist. It was a little more democratic before." This, in addition to a more significant role given to producer Todd Tobais, has resulted in new potentials arising in Pollards music.
With his recent releases, Pollard appears to being shifting to a more personal focus with his lyrics. These are albums chalk-full of elements of self-examination tackling such themes as spirituality, boozy hedonism and even some meditations on the struggles of middle-age life. "I think it's only natural when you become an 'individual' entity as opposed to a collective energy, the music takes on a more personal nature or internal focus." Done consciously or not, this self-examination has given Pollard's lyricism new life, adding to what was already a steady and intuitive lyricist.
This thematic shift in Pollard's lyrics has coincided with a shift in an increased interest with experimenting with song structures. "My songwriting is now more spontaneous, natural, unforced. Wherever a song goes, I allow it to take that direction, or take a turn if it is so inclined. The entire process must not take more than 5 or 10 minutes. I then take much more time polishing it up… It could take a month or two."
One such example of this flexible approach to song structures is Pollard's recent work with string instrumentation. His upcoming release Silverfish Trivia will start and finish with two string instrumentals. "I wanted to give the album the presence of a film, like an opening and ending credit roll king of thing." In addition to this, the use of strings will add another dimension to Pollard's art. The use of strings "appeal to emotions on an intrinsic level, not in a literary sense. It takes less effort as a listener. Also, I guess one gets tired of being banged over the head with power chords after a while."
One of the byproducts of this increased emphasis on being more 'active' in the studio is that Pollard has found less time to perform live, and has recently decided

My songwriting is now more spontaneous, natural, unforced.

to stop touring altogether. Given the fact that Pollard has spent the last decade developing a charismatic, mic-swinging frontman persona with Guided By Voices, this move is a significant one. "I've been doing it for 25 years. I'm 49 now. It's getting harder to re-energize myself physically and psychologically for each successive show on a tour. I love it when I hit the stage. It's the rest of the day that's a drag." With this increased focus on experimenting with songwriting, Pollard's passion has relocated from the live stage to the recording studio.
Fortunately this has resulted in an increase in Pollard's already prolific output. 2007 will see the release of Silverfish Trivia, in addition to working with The Takeover's Bad Football album, four releases for Record Company Records, and Crickets – The Best of the Fading Captain Series 1997-2007, a double disc and book to wrap up the extraordinary series.
Going solo may be, for many artists, merely an attempt to coast for additional years on their former glory. Fortunately Pollard is much too smart for this. With the release of From A Compound Eye, and Normal Happiness, Pollard embarks on a new journey. One that, although in a similar vain as Guided By Voices, appears to be taking the iconic indie-rocker in promising directions.