Purrs & Hisses from Meow Records
By Bryndis Ogmundson
Purrs:
Elvis. I've never been a huge Elvis fan, but lately, I adore him. I think I fell into that trap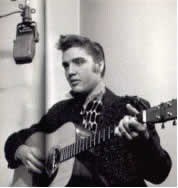 Hotness.where I didn't care about Elvis because we are supposed to care. But I was an idiot. Elvis is awesome. I want to elope in Vegas and have an Elvis impersonator oversee the ceremony. It'll 30 years in August since his death, what are you doing? I am hosting an impersonation contest. The winner receives $100 in gift certificates to my store.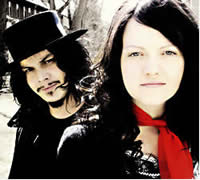 Cool again?I'll be preparing a great spread, with "blue suede shooters," "suspicious wines," and my fiancé's favourite, "you aint nothing but a hot dog" (hot dogs, d'uh). It'll be a great time. So, on August 16th, show a little rockabilly respect and eat a fried peanut butter and banana sandwich for Elvis Presley.
In today's musical world, I'm loving that new They Shoot Horses Don't They? I don't care what pitchfork says about it, it's pretty cool. Also, I had given up on the White Stripes, but I think Icky Thump is bringing them back around.
Hisses: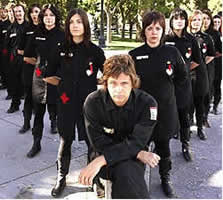 Ditching the robes meant ditching the point.These hisses are based on one listen. SO, they could warm up to somewhere between a hiss and a purr, but for now, they are hisses.
Polyphonic Spree. Does anybody care anymore? The Fragile Army, in my mind, was supposed to be dramatically different and groundbreaking. Instead, it's a big monotonous snore. It sounds like a collection of b-sides from the first two albums. And Spoon, for cat's sake, not good. Granted, I was making sushi at the time and only half paying attention, but a great song snaps you out of what you're doing and makes you pay attention. There was nothing on Ga Ga Ga Ga Ga that did that for me.
I'm at a loss lately. Please, music, do something that makes me excited. I beg you.