You Say Party! We Say Die!
From Abbotsford to the world, You Say Party! are on a roll
By Bridget Arsenault
It all started with a two-wheeler. The five-piece out of Abbotsford British Columbia began as biker gang The Smokin' Spokes and along the way morphed into the dance party now known as You Say Party! We Say Die! "We started this bike gang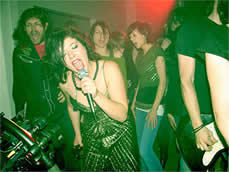 You Say Party! We Say Die! Tear it up
for a video shoot.together during the summer months," explains lead vocalist Becky Ninkovic. "But then it started getting rainy and not as fun, so we started making music in my parents' basement." That was the story three years ago when the band began. Now Becky, although still hanging out in her parents' basement [that's where she was calling from] is preparing for a trip to Prague for a music video shoot. It turns out that their director knows a puppeteer in Prague who can make a great monster, a good addition to the video for their song "Monster."

The lineup has shifted around a little since the bands' inception, but as it stands now, it's Becky Ninkovic doing vocals, Krista Loewen on the keyboard, Derek Adam controlling the guitar, Stephen O'Shea on bass and Devon Clifford pounding at the drums. Somehow biking and boredom catalyzed music making. "We all had aspirations but were not really dedicated to anything, not really in university and not in high school," describes Ninkovic. "I was at a point of my life where I was not sure what direction I wanted to go in, or what direction I was going in. We would get together and we would jam. Then we started playing shows in town, and then we started going to Vancouver to play. We found ourselves in Vancouver more and more. Then we started touring Canada and touring more. And it all just sort of happened."

Really, it all came out of no where. There were no presuppositions, no pretences. The band never planned to play outside of their own homes, let alone their own town. Void of expectations for the band, the naming process was given little thought. "There's really no exciting story behind our name. It was the title of one of the first songs we wrote and I think it would be fun. We were really sick of "the" bands names. We really didn't

The way the music world works these days - it works at this really fast rhythm. Musicians are really pushed to the limits

think we would go anywhere with the band when we came up with You Say Party! We Say Die!"said Ninkovic. "So now we get asked about it so much, so we sometimes make up stupid stories about where the name came from."

That sort of rushing through decisions regarding the band no longer happens. Before recording the first album Hit The Floor!, most members You Say Party! We Say Die! had never stepped foot in a real studio before. "Both Hit the Floor! And Lose All Time felt really rushed; we don't want that to happen with the third album," explained Ninkovic. "We want it to be our most powerful yet, and we're definitely not going to let anyone or anytime restrictions push it out of us."

During the last few years You Say Party! We Say Die! have widely circulated their dancey anthems on two full North American tours and three UK/ European tours, but the takeover is just beginning. Along the way, Ninkovic has shuffled around her writings, transforming her written form to fit the cadence of song. "When we tour it's a really good outlet for me. I've always been a writer and I've always kept a journal and now I've learned to put that writing into song form. We all come up with our own parts and we try to let each other do our own thing. Sometimes it works and we do and sometimes we argue, but we always work it out and then it's fine." As well as the words from a disagreement being pushed around the van, there's always the sound of a song. "We have over 200 tapes in our van and no CD player," described Ninkovic. "When we're on the road we go around to stores and collect more tapes."

When they're on the road, when they're playing a show, You Say Party! We Say Die! throws everything onto the table.

YSP are playing some shows in Ontario
this month before heading off to Europe
in support of their new album Lose All TimeTheir explosion of sounds, the caffeinated riffs provide a punch to every audience they grace. "I think people get a feel that we're genuinely fun, and we really love what we're doing up on stage. We want people to feel connected to the music and feel connected to us and somehow I think we're able to make that happen." Connecting with your fan base is everything, and this expectation is not only a lingering reality of the live shows, but it follows a band everywhere. With Myspace, blogging and the fast-paced interconnected world of the Internet, in general fans expect a whole new level of commitment from artists. Ninkovic is unquestionably aware of the changing dynamics. "The way the music world works these days—it works at this really fast rhythm. Musicians are really pushed to the limits. Getting to share your music with the world is a really powerful experience. We're still at a level where we can't really afford hotels, so when fans offer their place to stay we really appreciate it. Compliments are always nice. I don't really feel because I am a musician that I'm on a different plane than other people. So I really appreciate a fan contacting me to say something about a show."
You Say Party! We Say Die! have a winning formula of infectious jittery rhythms and raw spirit that consistently lead to a hell of a good time for both the band and the audience. They're holding onto a recipe showing no signs of losing its flavour. "Our last show was here in Abbotsford. We hadn't played for about a year here. There were so many kids who came out. The sound was terrible and there was a lot of feedback for the first few songs, but still it was such a good show. It felt like a huge reunion of old friends and of new ones."