Jazz Music, Jazz Club, Jazz Label: Cory Weeds Interview - Part 2
Cory Weeds is helping to keep the west coast jazz scene sizzling with his jazz club and label.
By Jim Dupuis
Jazz Music, Jazz Club, Jazz Label: Cory Weeds Interview - Part 1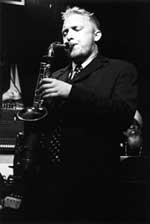 Cory Weeds Cellar Live label has
brought tremendous to attention
to West Coast jazz playersIn Part 2 of my interview with restauranteur/club owner/ recording/engineer/producer /musician Cory Weeds, we get into the intricacies of recording live music. While he is willing to go after his heroes to get them to record on his label, he strongly supports local musicians in Vancouver. He is very modest about his own playing abilities, but his work with Crash and other bands reveals that he is quite talented. Family is important with Cory and you don't have to go far to find his main influences. Here's what he had to say about recording, influences, family and who you might hear next on The Cellar Live label.
JD: The recording quality of The Cellar Live CDs is very good. I particularly like the way that you get the sound of the rhythm section, the bass and the drums to come through. A lot of other recordings have these sounds in the background, even if these people are leading the band. I've always thought that this is unfair. You manage to bring these sounds up equally. Is this planned, or what's the deal? It's something I enjoy about The Cellar Live recordings.
CW: Thank you. One of the things that I have been learning throughout this process is that when you are in a studio recording, for example Jodi Proznick's record you have a lot more control than with a live recording. For her record we have the bass a little higher because she is the feature. It's way easier to do that when you are in the studio because she's in an isolation booth—meaning that there is nothing else going into her microphone except bass. She's in a room and it's closed off so you get this really big, beautiful, round bass sound. When you are at the club you have anywhere between eight and fifteen microphones up and you have a lot of things going into the bass mike, so it's really hard to get a nice isolated bass sound because you are getting sounds from so many other places.
Now, I'd like to try to take some credit for it, because we've really had to experiment with different microphones, different microphone techniques, different microphone placement, band set-up. You know, the slightest thing can make a really big difference. It's usually the mix engineer. Once we get the record recorded we give it to whoever it might be, Ian Hendrickson-Smith or Chris Gestrin or Brad Turner, to mix the record. It's really up to them to hone in on that bass sound to get it out. Now, the better sound that I get for them, the better chance they have of really isolating that sound and making it nice and big. If I don't get a very good sound, then there's only so much that you can do. Another trick that Brad Turner taught me is that we record a bass mike—we have a bass mike that's getting sounds from all other places, but we also have it direct—you know I don't know how many people are going to know what I'm talking about, but we get a direct out, so it's coming directly from the amplifier. So, it's not a microphone it's a direct feed. Now that sound is not very good—it's very harsh. It's not a very nice bass sound, but it just gives you enough. You use just a tiny bit of it to warm up the bass, so you need that. You want your bass and drums to be really present on a live recording, especially the bass, because it's the first thing that gets lost. Horns are easy to hear. Piano is easy to hear, and drums you are going to hear in every mike; but, bass is really important.
So, we worked really hard to try to come up with a concept that gets us a really good bass sound and I think for the most part we've succeeded. There's a few records I'd like to have another crack at with the bass sound. Now, there not bad; the bass sound doesn't sound bad, but with the knowledge I have now, it would be much better.
JD: I really did enjoy the way it was done on the Jody Proznick CD (Foundations) and the October Trio's. That band seems to be a real collective and all three are given equal prominence and the sax doesn't take over, like one might suspect. The sax is usually the main instrument and I really picked that out. I like to hear all of the band—somewhat equally—at certain times. It's done really well.
It's always a musician mixing our records, like Brad Turner and Chris Gestrin. Brad and Chris get the nuances that somebody who is just strictly a recording engineer might not get. You know, the really subtle nuances and the idiosyncrasies of the instrument—Brad and Chris hear that

I just thought that this room was so perfect and if I didn't jump on it right away, it wasn't going to happen.

stuff so well, where a regular recording engineer might not pick up on those types of things. It's good that people notice it. To make records like that is expensive and it's nice to hear people come up to me and say "Wow the records sound really, really good."
The studio ones, as I mentioned are a little easier to make sound good, but the live ones—people come up and say that these records sound great. I want them to sound like you are at the club. That's what I want. So when I'm recording a live record I'm out there. If I'm not in the booth I am right in front of the stage and I'm out there in front of the stage because I want to hear how the audience is hearing it. I try to make mental notes to myself about how it sounds, so when I go into the studio to mix the record I close my eyes. If I don't feel like I'm at The Cellar, then we haven't got it right. When I finally feel like we're at The Cellar, then that's how I heard it at the club. It's a good frame of reference.
JD: Yes, it is, definitely. Cory can you give us a little scoop. Who's coming up next on Cellar Live?
CW: Yes, for sure. We just released a whack of records. We just released a live record with a group called The Night Crawlers, which is kind of a funky organ band with Jesse Cahill, the drummer, as the leader. He was also on Jodi's (Proznick) record, myself on alto, Ian Hendrickson-Smith, who's a fantastic saxophonist from New York City, Chris Gestrin on organ and Dave Sikula on guitar. Ian Hendrickson-Smith, I just released a record from him. I licensed it. It was recorded live at the Fat Cat Jazz Club in New York City. It's a great record. Then we just released a two CD compilation featuring the best of the first five years (of Cellar Live). But as far as what's upcoming, we have a PJ Perry and Campbell Ryga date—Two Altos …
JD: Really? Ah…
CW: Yes, with Ross Taggart, Terry Clarke and Neil Swainson.
JD: I can't wait.
CW: We're hoping to get that out. We always record. We don't know if and how and when we can put it out, but we always record and we have it in the can. I just sent PJ (Perry) the tracks and he's really excited about it and we're hoping that it's going to come out. I've licensed another album from another great alto player out of New York named Mike DiRubbo, who did a live record at the Cattano Club in New York City. The reason that I'm excited about this is that Mike's a great player, but it also features Harold Mayburn, who happens to be one of my favourite pianists. He is also another one of those, upper echelon, legendary, figures. It's going to be a coup for the label! We're recording another record with Bruno Hubert and his trio. That's happening live at the club on February 20 and March 1st. We haven't nailed anything down yet, but all the parties are interested and we just have to get the date. The Joel Haynes Trio, with great drummer Joel Haynes from Toronto, Jody Proznick on bass, Tilden Webb on piano and we want to bring in special guest, Peter Bernstein on guitar from New York City. We're working on getting that happening. Other than that, I've been threatening to do my own thing. I've recorded, of course on the label with Crash and The Dr. (Lonnie Smith) and the Night Crawlers, but those aren't jazz records per se. They are more funk oriented stuff. So I'm hoping that this year I get my own solo record out. I have some ideas, but nothing is set in stone yet.
JD: Someone told me that your dad is either a musician or a music educator. Is that that true?
CW: He's a musician. He's not an educator. He's somebody that got started very late in the game. He's not a professional, meaning that he doesn't rely on music for his income, but he's a fantastic guitar player and I'm really, really lucky that I have a very supportive family. My parents put me in piano and of course I fought it all the way. I kind of did my own thing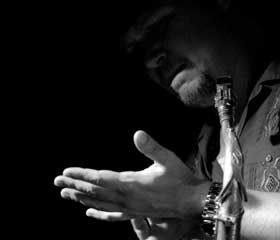 Ian Hendrickson-Smith plays regularlyat The Cellar and
helps mix and engineer releases for The Cellar Live labeland rebelled, like most teenagers do, but I kept coming back. My dad kept at me with jazz and kept at me and kept at me and it finally paid off. The famous story that I tell everybody, when they ask about my dad is that when I was getting ready to graduate I had two choices. I was going to go to business school or I was going to go to music school. My dad said if you go to music school I'll cover your first year. If you go to business school you are on your own. He probably regrets that now that I own a jazz club. I could probably use that business training, but that's a really, really rare thing for parents to be that supportive.
My mom and dad both had different visions for what I was going to become. I think they thought I was going to be a school teacher and make good money and have the summers off, but it kind of took a left turn. You know my dad made me a musician, he really made me a musician. He introduced me to jazz and its brought me many great experiences. Ya, and I get to play with him which is really a rare thing to be able to share a gift like that with your father; with your parents. People get a real kick out of that when we play at the club. We do real well, because people are amazed at that connection He's a wonderful and a fantastic musician and we have a lot of fun, for sure.
JD: It sure sounds like it. I'm going to go way, way back. This is an unfair question. What is your first music memory. What is the first time that you can remember that you heard music in your life?
CW: That's a good question. I know that the first thing that hit me jazz wise, I remember my dad played me a Wes Montgomery version of a tune called "Sundown" and that's what kind of made me go, "Oh, that's cool I like that."
JD: (laughs) Wes will do that.
CW: Ya, he did it then and he's done it continuously over my career. But definitely that Suzuki piano stuff. I can hear it now in my head--lying in my bed going, "What the heck is this stuff?"
JD: Ok Cory, how did you get from piano to sax?
CW: Well I shouldn't say I wasn't a good piano player, but I didn't have a very nice touch. I just wasn't the most sensitive of pianists. I had a cousin who I really looked up to as I was growing up. I just thought he was the coolest guy ever and he played the saxophone and I wanted to be like him, so bad. I remember we went to a Chicago concert and we went to the Julian Lennon concert in 1986. I remember seeing the saxophone players for both of those guys and I was totally blown away. I think my first saxophone teacher took me to see David Sanborn and again I was totally blown away. So it was a combination of those things and I really wanted to be like my cousin. I just sort of stuck with it. I'm far from a virtuoso and far from a gifted musician, but the saxophone came really easy to me. I often get asked, "Was it hard on your parents, hearing you squeak and squawk?" You know what, I never did. It just came very easy to me, so.
JD: Cory, as a sax player, other than your cousin, who are your influences?
CW: Do you mean like other musical influences?
JD: Yes.
CW: Well my dad's a guitar player, so my favourite musician hands down is Wes Montgomery. I grew up sort of knowing more about the guitar than I did about the saxophone. I've got more Wes (Montgomery) records than any one sax player. I had a saxophone teacher, who is no longer with us named Wayne Diggins, who was a real inspiration to me. I draw a lot of inspiration from the local players, you know, guys like Oliver Gannon, again a guitarist. Campbell Ryga was a big influence; PJ Perry, I loved. You know, I was lucky to see some stuff, early on in my days. I saw Scott Hamilton. It was one of the first concerts I saw. That's kind of weird enough--it's come full circle because it kind of came back to him. But Lou Donaldson would definitely be. He's probably my biggest hero and I got to share the stage with him yesterday for a tune and I'm still in shock.
JD: Ok, how old would Lou Donaldson be?
CW: Lou Donaldson is exactly 80 years old.
JD: I thought around eighty if he was still alive. I wasn't sure that he was.
CW: You know, a lot of people didn't know. He's semi-retired and it was quite an accomplishment to get him out here. I've been bugging him for six years and he admiitedly said he came out here just to get me off his back.
Hands down, in the six years I've had The Cellar, it was the most exciting three nights I ever had in my life. To get up and share the stage with him--I think I said--I'm still in shock. I'm quite overwhelmed--with, not emotion--but I can't believe I did that. You know, with those sort of big guys, those opportunities don't present themselves. You know, I've got up on stage with some pretty heavy people, but to get up there, while he's watching me, you know, it was quite a thrill.
You know, any of those bebop--I'm kind of a bebop/hardbop kind of a guy, so Charlie Parker, Cannonball Adderley and those guys. I love the other guys, too. I love Joe Henderson and John Coltrane, but I'm definitely in that hardbop kind of vein. I'm also very inspired by the younger guys in New York that I've met doing various things, too. But that tradition of bebop and hardbop is definitely wear my love lies for sure.
JD: You are associated with a number of your own bands, Crash, being one of them, do you still do any composing?
CW: I've never been a huge writer for a number of reasons, although I did a lot of writing for Crash and Crash is on a bit of a hiatus now because I want to concentrate on a number of other things. I have so much fun exploring the obscure tunes by other people. Writing takes a lot of patience and a lot of

I just thought that this room was so perfect and if I didn't jump on it right away, it wasn't going to happen.

confidence to take something that you've written and put it in front of a band and have them interpret it and not snicker, you know. I'm a confident guy and I just like to go out and play my sax. I worry enough about just how I sound and how I play, let alone about how my song sounds or how it's going to be interpreted by others, or are other people going to like it or are they not. I write about a tune a year. Most of the repertoire that I play is stuff that people haven't heard, but it's from some obscure record that nobody has. I really get a kick out of doing that. In fact, I'd rather do that. I have a great appreciation for writers. There's a CD that we put out by a very good friend of mine, a tenor saxophonist/clarinetist named James Danderfor. I mean, this guy's writing is absolutely spectacular, so when you got guys who can write like that and I can look through the book and play a Billy Strayhorn tune like "Lush Life," why bother (laughs)--why bother trying to write something (laughs). That's kind of my feeling, but I'm a very restless guy, so ... The writing takes a lot of patience and perseverance and I have both of those things. I have both of those things, in certain regards, but to actually sit down in front of a piano, with the purpose of writing, I can't concentrate long enough.
JD: What about time? You only have five other jobs (laughs).
CW: I don't have a lot of time and I'm getting married. I'm juggling a lot of balls, so ...
The Club:
The Cellar
3611 West Broadway in Kitsilano at Broadway and Dunbar in Vancouver
www.cellarjazz.com
The Label:
Cellar Live
www.cellarlive.com