Introducing DESPOT, the Napoleon of the Rap Game
Crime, Ralph Lauren, and Napoleon's Boney Parts
By Scott Wood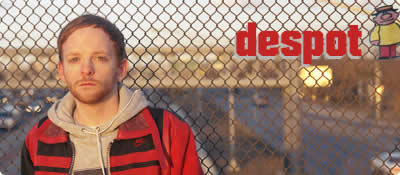 A well dressed man: Despot has a thing for classic Ralph LaurenAs I sit down with Despot, aka Alec Reinstein, backstage at Richard's On Richards, he is tired and sweaty, but riding a post-performance high.
You have probably not heard of Despot… yet.
Although, he is on tour, opening for indie instrumentalists Ratatat, he doesn't have an album out. But, he is signed to Definitive Jux records, the legendary underground hip hop label and home of El-P, Aesop Rock, Cannibal Ox and Mr. Lif.
An album release, however, is on the horizon. Despot fills us in, "Me and Blockhead have been a team sorta unofficially since 2001, and he will be producing the majority of the record, but Ratatat is contributing at least three tracks."
Blockhead is a power underground-rap producer and instrumental artist signed to Ninja Tune. And although most know Ratatat as indie instrumentalists—Despot calls them "rap kids" with extensive hip hop record collection—Ratatat also have released several killer hip hop remix mixtapes—and Despot appears on their second volume.
Suffice it to say, Despot's full length should be hotly anticipated by any underground rap fan.
Since Definitive Jux is a haven for unique underground rappers who do not fit in anywhere else, I start the interview by asking him what makes him unique in the rap game.
He is surprisingly circumspect. "A good question… I think I am probably the only rapper right now with a combover, and I think the dress code is a little bit unique. I think most of it is visual. I don't think I have much to say that is really interesting. But I think I look cool."
And looking at the guy, Despot definitely sticks out. The combover comment was no joke. Beyond that, Despot is a pint-sized, red-haired, blue-eyed motormouth on stage, looking like an angry Lucky Charms leprechaun. But still, he is very humble about his flow, considering he is very willing to call out others rappers on his Def Jux single "Crap Artists."
Since Despot likens himself to the diminutive historical Napoleon, I toss Despot some weird facts about his favorite French despot. 1) The Mona Lisa once hung on Napoloen's bedroom wall. 2) Napoleon suffered from ailurophobia, a fear of cats. 3) Napoleon's penis was reputedly bought by an urologist in 1969 for $38,000.
So how much would Despot pay for a piece of his hero?
"I don't think I really want his penis, but I would pay a lot of money for my own severed penis."
So then what he spend 38,000 for? (Assuming his own part was intact.)
"I think I would spend that much money on a vault of all of the Ralph Lauren clothing that was released from the years 1986 to 1993. I would easily spend more than that."
Then I ask him, how you got into collecting vintage Polo? Tonight he is wearing a patriotic red, white and blue Ralph Lauren

I think I am probably the only rapper right now with a combover. I don't think I have much to say that is really interesting. But I think I look cool.

sweater with a red figure jumping off into the white. Despot will answer, but first he needs to share an important fact about Napoleon that I have neglected to mention.
"It was recently discovered that Napoleon's bones were so riddled with cancer that had he not died by unnatural causes, then he would have died so hard from cancer."
Napoleon's death is surrounded by a bit of controversy. Some believe that he was murdered. Others believe that he died from the stomach cancer.
Despot is quick with his take on it. "I believe he was poisoned. I mean any man so small and so powerful should be poisoned. So I hope to be poisoned eventually."
After that, he is more than happy to relate his story about Polo…
"When I was maybe 12-ish, I met these kids who were in a crew called the Lo-Lifes… The Lo-Lifes are a division of a gang called the Decepticons that were a huge gang in the 80s in New York… not necessarily a division of it, just a deviation from it. Like a bunch of kids who left and said we just wanna steal a lot of clothes and we also wanna kill people who have clothes that we want and stuff like that."
"And they did stuff called rushes, where 100s of kids would run into Bloomingdales. Everybody grabs a stack of clothes, everybody runs out. A couple kids get caught. Divvy up the clothes when you get back. Slap on the wrist 'cuz it was the 80s. I wasn't as involved 'cuz I am only 24. I met some of these guys who are like early 40s now. They sorta took me in and gave me all these clothes that I wear now."
He proudly displays his sweater. "This is called the suicide sweat shirt, partly because you would be killed if you were seen wearing it in certain parts of Brooklyn because people wanted them so bad." Then he points at the figure on his chest. "And partly because he is doing a suicide jump on the shirt."
And Despot is intensely proud of his Ralph Lauren. During his set, a few Canuck audience members laughed at his shirt. Despot simply grinned and growled "America!"
"When I play out of the country, I sometimes like to wear some of the more patriotic Polo shirts. Just to kinda stick my

I feel a strong connection to New York City street culture. Whether it be the violent side of it-the gangs, the selling drugs, whatever - I've been involved in all that.

tongue out at wherever it is that I am. Not that I am a patriotic guy, but my clothes are extremely patriotic."
Borderlines can be arbitrary and there is only one place Despot feels any allegiance to.
"I feel a strong connection to New York City street culture. Whether it be the violent side of it—the gangs, the selling drugs, whatever—I've been involved in all that. I don't talk about it in my music at all. I'm not into the braggadocio part of that. I've been to jail. I've killed someone and I got shot. But I feel the Lo-Lifes is something that solidifies my connection with New York street culture. It's something I am really passionate about and it's something I want to continue the legacy of."
His music career is only an extension of this devotion.
"Well Def Jux… Before I was a part of it, I was a fan of all the music. Company Flow was like huge to me in 95. When they dropped their album, I was 13. I'm really proud to be on that label, because people like El-P and Aesop, they influenced me a lot coming up as a rapper. And now they are some of my best friends. As far as New York… Even though Def Jux is sorta of all over the place in terms of where people came from, I do feel like it represents something that was born in New York in the mid-to-late 90s. It was this new revolution in rap music and I'm really happy to call those people colleagues—the people who started that whole thing."
Tune in to
the interview show
with host Scott Wood, every Monday @4:30pm on CJSF 90.1FM for more interviews with your favorite indie artists. You can also listen online at www.cjsf.ca.