Another West Coast Lion: Amanda Tosoff
A fine debut from another young jazz lion from BC
By Jim Dupuis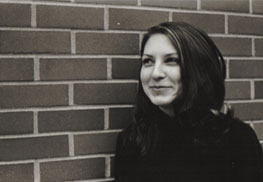 Still in her early 20's, Amanda Tosoff and her band
are already seasoned players

I love composing. I find it very difficult, but I find it very rewarding

Jillian Lebeck (pronounced Lee-beck) started imitating her big sister on the piano when she was only three years old, so it is no surprise that she became a superb pianist. Like many of "the young lions" of the Vancouver jazz scene she studied under Dave Proznick at Semiahmoo High in White Rock and proceeded on to jazz studies at Capilano College. What followed was a large accumulation of scholarships and awards, including the BMG Jazz Award and the Yamaha Rising Star Award. She attended the prestigious Berklee College in Boston on scholarships. It was an eye-opening experience for her and she took it all in stride. Since then she has played at most of the major jazz festivals and clubs in Canada, and has had recurring gigs in the Netherlands and as far away as Palermo, Italy. She has become a fixture on the Vancouver jazz scene often appearing at Odouls Restaurant & Bar and The Cellar. Along with her skills on keyboards, she has added vocals and composing to her repertoire. Jillian has released two CDs, beginning with the critically acclaimed 2003 release Living in Pieces and this year she followed it up with Songs and Melodies. Another one is expected in the near future.I recently caught up to her and we talked about Songs and Melodies, Beatle tunes, and even Michael Jackson.

JD: Tonight I'm speaking with Jillian Lebeck from Vancouver. Hi Jillian, how are you?

JL: Great Jim, and how are you?

JD: Good, thank you. Tonight, we are going to talk about your background and your career, your new album and what have you have planned for the future. First, why don't you tell our readers how you got into music in the first place?

JL: Okay, well I guess I got into music very young, just because my father and my sister are musicians. I was about three when I started playing piano. I was observing my older sister playing piano and my dad plays a number of instruments, so I kind of started teaching myself in a way; just playing piano by ear for a few years and then when I was about seven I started taking formal piano lessons with this great teacher named Christine Eschman and I studied with her for about ten years. Just classical piano and that's how I got into playing music and performing at a young age. I happened to live in White Rock (B.C.) and there's a great music program at Semiahmoo High School with Dave Proznick. He was really influential in getting me into jazz, although I played mostly trumpet, actually, at school. Ya, anyway that's how I got into it and I really fell in love with jazz and things sort of evolved from there.

JD: So, did you eventually go to college?

JL: Yes, I went to Cap (Capilano) College and Berklee College.

JD: I've heard a fair amount about both places. I've talked a lot about Cap College in the past. Berklee College kind of intrigues me. Could you give me an idea as to what a day would be like in Berklee College, please?

JL: Well, I guess it's different, depending on what you are taking. But for me, because I was there near the beginning, it was my second year of college when I went there, so for a day you'd be taking all kinds of things. I took history and harmony--those type of classes and your private lessons. There were also specialty classes you could take. For instance I was in a Cannonball Adderley ensemble and I was in an ensemble that George Garzone directed and an improv ensemble. So you do things like that and then there was also crazy things like clinics and there were tons of concerts going on all day and if you have time or a break in your schedule you can go check out for free. I saw a lot of great people. Nancy Wilson was there and she did a clinic. I saw Cyrus Chestnut and Diana Krall did one. It was just amazing. Bela Fleck came by. Ya, there was a lot to do. At night there were concerts and student concerts and there was a lot of playing to be done, for sure and a lot of regular school courses, too.
JD: I think it also teaches you to make decisions. You can study for something or go hear this performer or go play there. It sounds like that there is so much going on that it's just wild.

JL: That's true. It's amazing. It's almost overwhelming, because there is so much going on. That's probably why a lot of students from there (Berklee) move to New York before they finish their degree because there is so much going on and there are a lot of contacts and it's easy to hookup into that scene and a lot of people find it easy to evolve into the New York jazz scene from that school.

JD: It sounds like an amazing, amazing school. I'm glad that it's out there and that there are many scholarships to it. You received a scholarship to Berklee, didn't you?

JL: Yes, I did.

JD: Good, that's neat. Now, I was just looking today (Sep. 25/07) at our jazz charts and your CD, Songs and Melodies, which we recently received was #1. So congratulations. I think that's a pretty nice thing.

JL: Oh, wow, that's wonderful.

JD: It's quite a nice CD. Now this is your second CD. Your first CD was called Living in Pieces and it was out a few years ago.

JL: Yes, that was out 2003 or 2004.

JD: That was a lovely CD.

JL: Well, thank you.

JD: You've followed it up now with Songs and Melodies and it is a little bit different from the first one. What did you try to do differently this time?

JL: I guess there are a lot of things; with my first CD I didn't pay too much attention to the length of songs and things like that. We just basically went in and played, so there are a few songs on it that are really long. On the second one I had a conscious thing about not making the songs too long and you know I wanted to have a diverse mix of tunes. So if I make the songs shorter, people don't get tired of hearing the same thing and it leaves it open to putting more tracks on. This one has around fifteen tracks and we even had three or four more that didn't make it on. Also I included vocal tunes that I'd written. My first record was just covers.

JD: I guess this is your first "electric" CD, harkening back to Muddy Waters when he put a record out that went electric. I guess you are using the Rhodes and the Wurlitzer exclusively on this one, as opposed to an -- do you call it "acoustic" piano?

JL: That's right actually. Ya, that actually has to do with the studio where I recorded. They didn't have a piano, but I was happy to do all Rhodes and Wurlitzer, but it just happened to be where I was, (laughs) and my recording budget; renting a piano and things like that, so that's why it's all Rhodes and Wurlitzer.

JD: You mentioned that there are some different and interesting pieces on here. It is a bit more of an avant-garde or free jazz CD in spots. You have this aptly titled song called "Confusion" which is pretty neat. It's confusion all right, but I think it's organized confusion. Hey maybe that could be a subtitle for it, but do you envision ever releasing a CD that would be completely off the wall, or a free jazz/avant-garde kind of thing?

JL: Oh ya, I'd love to do that, for sure. If I had the means to do it and the opportunity I'd definitely. I love improvising. That tune is just an improvised tune as are some of the others. I love that kind of music. I love seeing what happens and letting everyone be free with what there playing. Ya, I think it is beautiful music, also; that style.

JD: Yes, and having people to play with like Seamus Blake and Peggy Lee, it's just wonderful. Let me tell you that you've got a lot of talented buddies.

JL: (laughs) There's some good musicians around, that's for sure.

JD: Jillian, there are lots of Beatle tunes to cover. Why did you pick "Julia"?

JL: I picked "Julia" because I find that it is not as well known. I actually hadn't heard it until I was in Holland, last year some time. I happened to hear it and I didn't know it was a Beatles tune. I was like "Wow, what is this tune?" and anyway I fell in love with the tune. I ended up playing it a lot, because I was doing a six night a week gig, so you are always adding new repertoire, so I thought this would be great, so I did this tune. I've done a few other Beatles tunes but I haven't recorded them, like "Today" or "Blackbird". You know those tunes get recorded a lot, so I thought I'd do a more obscure one.

JD: Is it true that Michael Jackson still gets the money for this (laughs)?

JL: I don't know (laughs). Maybe his lawyers get the money.

JD: That might be it too. We don't know (laughs). Oh well. Anyway, I recall Seamus Blake being an awesome sax player. How did you get these John Lennon vocals out of him? That surprised me.

JL: Ya, I know. He's a fabulous saxophone player, but I heard some music of his. I've been a fan of all of his music, but his singing especially. He had one track on the CD Stranger Things Have Happened which was absolutely gorgeous and I thought, "Wow, I love his singing!" Then I recently came across his MySpace site, with a lot of beautiful vocal pop things, rock band stuff and I thought that it was fantastic. Then I was thinking that I wanted to do the tune (Julia) as a duet and I was wondering who to ask to sing it with me. I heard that he was going to be in town. At the time we were recording for Christmas, so I asked him and he said, "Sure." So that's how it came about.

JD: It' a great song and it's a lot of fun. At our station it is getting air play from the non-jazz shows. One of the young women has an eclectic pop/alt-rock type show and she's playing it and that's very cool.

JL: That's good.

JD: It's crossing over very well. But, Beatle cuts can be a slippery slope. If you don't do them well it really shows, but, you've done it very well. It's just beautiful.

JL: Oh, thank you.

JD: Now this is a nice CD and people will want to get one. How can they get Songs and Melodies?

JL: Right now it's on I-Tunes, so it can be downloaded there. It's also on CD Baby and it's also available through my website and some other download sites, but I guess I-Tunes is the main one.

JD: I think everybody is familiar with CD Baby, too, so they have no excuse.

JL: (laughs) Ya, it's easy to find online.

JD: You've performed all over Canada and in Europe, too. How did the Netherlands gigs come about?

JL: I got called to do this gig. It was six-nights a week and it was through another musician who had played there and recommended me. Ya, I ended up going over there and I went around three other times. So, I went four times in the span of one year. I just did a bunch of playing and it was really nice.

JD: What city was that in?

JL: It is near Amsterdam. I played in a few places. One place is called Eemnes. It's a small town near the city of Hilversum and I also played at Reykjavik and it's near Rotterdam, but mostly I played in Eemnes.

JD: It sounds pretty cool. I was in Amstedam back in the 1980s. I went to a place called Club Bamboo, which was not far from downtown Amssterdam. A fairly good Dutch jazz band was playing and a woman was doing fairly good Billie Holiday style vocals in English. I went to speak with her at the end of the set and she couldn't speak a word of English, but her Billie Holiday vocals were bang on.

JL: (laughs)Oh, wow.

JD: I thought it was kind of neat. She had learned the songs phonetically. There has been quite a jazz community in the Netherlands for years and years and they have always embraced the "American" jazz form. It's cool that you get to travel. I guess that's a bonus that comes with the job. You can get into that, too. Have you also played in Italy?

JL: Ya, I did. I played in Palermo in Sicily. I did a concert there with some musicians. Actually, Paul Townsend came with me. He's a drummer from Vancouver and we played with a few musicians from Sicily and it was fantastic. They were great musicians and it was a great time.

JD: Jillian, you've played in all these neat venues. What was the coolest venue you played in?

JL: Oh, that's hard to say. I'd have to think about that. Maybe that Sicily place was pretty cool, because it was actually in an old church that had been bombed during the war so it had no roof. It was sort of in ruins, but they had re-done it in certain ways so it was quite beautiful. There were the lights and it was a very magical place.

JD: It sounds like it. Did you get lots of photos?

JL: Ya, we did. We took a lot (laughs).

JD: That's something you have to save. Cool memories. I'm going to ask you the question I ask everybody. What is your first musical memory? What is the very first time you can remember hearing music and what was it?

JL: M-m-m,that is a hard question. I think it would be when I was really young. I think my father playing would be the first music I heard, but the first recording I heard that I really liked was The Mommas and the Poppas' (laughs) "California Dreamin'". I remember it really well, as a young kid. (laughs)

JD: They had wonderful harmonies and I could see that sticking out. Compared to what a lot of people have told me that's a good one. Do you have any touring plans for the rest of the year?

JL: I've got a few things, but I'm planning to stay in town for the rest of the year, for sure. The next thing out of town would be in February. I'm playing at the Portland Jazz Festival with my quintet. We're really excited about that and we're opening for the Bill Charlap Trio.

JD: You're kidding? That's really going to be fun.

JL: Ya, we're really excited about that, but I'm staying here until then, but I'm hoping to do a jazz festival tour in the summer.

JD: Okay I'd like to thank you for speaking with me tonight. Your new CD out is called Songs and Melodies and it is available on I-Tunes and CD Baby. Let us know when you get your next CD out and we'll talk again.

JL: For sure. Thank you so much.

Check out her website www.jillianlebeck.com for more info and upcoming performances.