The Constantines: Constantly Productive
They have been together for nearly a decade and, thankfully, they show no signs of stopping
By Marc Labelle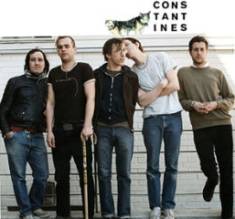 The Constantines"Actually, can you call back in an hour?" This was the question first posed to me as I attempted to call Bryan Webb, lead singer and songwriter of The Constantines, on a sweaty Sunday evening. I was informed that the previous night's concert left him feeling a little rundown. Strange, seedy assumptions began pouring through my mind; a quick peek at the band's website informed me that yesterday's show was in Las Vegas. Had Sin City's fangs poisoned him with its tempting and sweet but all-too-corruptive venom? Sitting on my bed, pen professionally poised over my pad, I dialed that number again, knowing all too well from all the twisted, unmentionable, mental visions I had concocted, that somewhere in Salt Lake City, a sleep-deprived, manic and probably delusional, singer of a Canadian rock n' roll band was going to be on the other end.
After an anxious hour spent in limbo, I finally have Bryan Webb on the phone: an affable, sincere, and, quite frankly, rather lively man. He immediately apologizes for the wait, insisting that it was, sure enough, "a long, long night". I can sense a tinge of hesitation in his voice and so I pry, hoping for some sort of sinister confession. It seems that, after playing an outdoor venue in that heavy Vegas heat, he hit the slots. Jackpot, I think to myself, this is how it always begins. "I won twenty seven dollars on one dollar", he proudly boasts, "I felt like I had beaten Vegas". Then, feeling like a true winner, he rode his bicycle around until sunrise. This, in all its innocence and charm, thus concludes the tale of Bryan Webb's "long, long night" in Nevada.
Kensington Heights, the band's fourth full-length album, has garnered both critical and popular attention, having spent a long, comfortable stay at !earshot's number one position. "Campus radio stations are pretty dear to me," explains Webb, who, between 1997 and 1998, worked as the music director for CHRW in London. "It was one of the best jobs I ever had," he reveals, with a hint of pride and nostalgia in his voice.
Like 2005's Tournament of Hearts, the title of their new album references something Canadian: the former, a female

Writing is the way I understand the world

curling championship; the latter, a tribute to Toronto's Kensington Market. "It's a place where I lived for three years and had everything I wanted in a community", declares Webb. Unaccustomed to big city living, he was cautious about moving to a metropolitan area, but soon discovered this "small, freaky community" which reminded him of his cherished home of Guelph, Ontario.
"Writing is the way I understand the world," he explains. Looking back on his substantial body of work, Webb has come to a realization: anger is short lived; songs of celebration and of love have a longer life. Webb attributes this change to maturity. "It's a fortunate thing", he remarks about analyzing old lyrics, since it "presents something about yourself".
Even though The Constantines have been together for one year shy of a decade, the band members, Webb included, find means to evade the comfortable, monotony of consistency: numerous side projects, including the beloved Neil Young tribute band, Horsey Craze, allow for, what Webb refers to as, "a balance of ideas" and "a reaction against what we're working on."
Nevertheless, The Constantines need not fear a predictable existence any time soon. In addition to European and Canadian dates in the fall, the band can look forward to a few shows in Australia and Japan. "We've never been there before but Arts and Crafts seems eager to send us there".
After my initial fears of encountering some sort of depraved, screeching banshee, Bryan Webb lived up to his reputation as a hardworking, polite, and sincere man. The Constantines do not show any signs of relinquishing; "we finish works," explains Webb, proudly, "not projects". As one of his heroes once sang, "it's better to burn out than to fade away" – and thankfully we can currently rule out both options for Webb and his brothers in arms in The Constantines.
I asked Bryan Webb to share with us his top 5 albums/bands of 2008 (so far):
1- Red Pens
2- Silver Jews
3- Clip'd Beaks
4- Quest for Fire
5- High Places