The Resurrection of Rebel Emergency
After getting caught in the crossfire of tragic and unbelievable circumstances, Rebel Emergency emerge with a new look, a great sound, and an eye to the future
By Shelley Gummeson

RoddySoul crowd surfs at a live showRoddySoul, the lead singer for Rebel Emergency, surfs the crowd as outstretched hands eagerly grasp the board. The final notes of Rebel's single, "Wander Far Away", mingle with the vibe of the people, so that the band and the crowd are swallowed up in one big swell.

I had to sing Panic's parts and I was terrified thinking about it

Rebel Emergency has captured a wave, and are primed for the next big one.
Life is looking pretty sweet for Rebel these days. Roddy, Geoff, Neil, and Jeremy have just returned home to Toronto, after a recording session in New York with Grammy Award winning producer Commissioner Gordon. 'Commish', as the band fondly refers to him, is a producing genius who has worked on projects with Lauren Hill, Santana, Amy Winehouse, Joss Stone, and many others. "It was great," says Roddy. "I think we're more energized now. Things have been really positive these last few months. We sound better than we ever have, and it's just the tip of the iceberg for us."
It was not so positive just a few short years ago. The dream and the contracts went up in smoke as Rebel Emergency saw their former front man, Tony Panic, get snatched by the DEA, a day before they were to appear at a big UCLA

Rebel Emergency self titled EPshow in Los Angeles. It was a case of Panic's pre-Rebel past catching up to him. Roddy shares his memory of that day: "We were in a sound check and the feds busted in. The TV camera came first and I thought it was a joke, like Candid Camera. The police came with their guns pointed at us and I didn't think it was fake anymore. Then, they just took him away."
Rebel had first met Panic in 2004, when they were invited to record at the infamous John Shop Studio in New York where Panic was

We sound better than we ever have, and it's just the tip of the iceberg for us

an engineer and musician. Jamming with him on a dance hall beat one night, they got the voodoo happening and came away with a fresh new sound, that caught a lot of ears-including that of Commissioner Gordon. Armed with a Gordon produced album and a groundswell of popularity in Toronto, Los Angeles, and Jamaica, the band created an undeniable buzz with their soulful, rock-reggae music. The touring trail led to the showdown in California where the unthinkable happened. Upon the sudden and shocking departure of their band member, Rebel Emergency drove to Los Angeles under a haze of disbelief, uncertainty and introspective silence. They were faced with performing a show for 3,000 to 4,000 people at UCLA while their dreams were falling apart.
It was in Los Angeles that Rebel Emergency showed their true grit, professionalism and talent. "We still had to focus on the show, because it was a big one for us," says Roddy. "I had to sing Panic's parts and I was terrified thinking about it. I don't know…we just pulled it off and the UCLA crowd loved it and invited us back."
Rebel Emergency flew home, and in a blur of months, quietly slipped from the radar.
"We were in kind of a limbo just

Geoff gets into a solowondering what the next move was", Roddy says. "I really don't even remember the first few months. We played a few shows, but had no real direction."
As only fate could dictate, the turning point came when a friend had the band's music playing in his car. The passenger in the car, a music manager, asked who these guys were. Roddy explains, "This guy named Chez, who is now our manager, heard us and got interested.

We believe in each other, we care about our music and we care about our fans

I kind of credit him for saving the band. He had a plan to slowly rebuild and gave us direction. He said these were great songs and we needed to re-record them without Panic's parts."
Rebel Emergency went back to realizing the dream, travelling to New York, to rework some songs. "You know", says Roddy, "People loved that album and the songs are too good just to be set aside. We took seven songs from the last album. Seven of the ones that I felt I could do the vocals and still maintain the integrity of the song, and made that into a self titled EP that is now available on iTunes. Lots of things are happening and we're real excited and optimistic now, for sure." The creative spark that existed at the beginning, when they were just 3 guys with guitars and a dream, jamming in a dirty basement, is still there.
Today the Rebel lineup is solid. For awhile they endured Spinal Tap like moments with drummers that disappeared.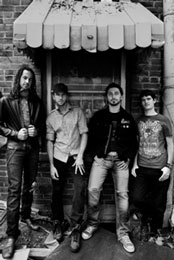 Rebel Emergency is looking to the futureRoddy laughs, "We had like eight drummers. Jeremy is our drummer and is from South Africa. He's stuck around for the last couple years and he's a member now. There's Neil, we call him "Yakabucci", he's our bass player and he does a lot of the business as well as some of the creative stuff like the artwork. Geoff is the lead guitarist, and we're going to get him to do some more singing on the next batch of songs." Geoff enjoys engaging in occasional good natured one- upmanship with Roddy, which makes for dynamic live performances. "And there's me." Roddy, who plays guitar and provides the lead vocals, is true to the soul in his name. They are all rebels.
Together Rebel Emergency has a fresh synergy and music that connects with people. The band has been through hell and back but has remained close to their truth, by surrounding themselves with a tight family of positive people whom they trust.
Rebel is currently working on some exciting new songs with Commissioner Gordon, and look forward to releasing a new album and performing for their fans at shows like Toronto's recent 'WakeStock'.
RoddySoul says, "We believe in each other, we care about our music and we care about our fans."