The Brad Turner Interview
Turning has no trouble defending the importance of the trumpet
By Jim Dupuis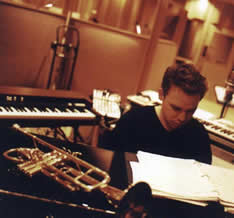 Vancouver's Brad Turner has made a name for
himselfas a trumpet player, composer, band leader
and with Metalwood,a band member.If it can be done in the jazz field Brad Turner has pretty much done it; whether it is in the recording studio or the performance arena or the education field. As a leader, Brad Turner has released six albums. Five have been with his quartet; who incidentally have been together for around fifteen years. The most recent CD being Small Wonder and the 2005 release What Is won Best Jazz Album at the 2006 Western Canadian Music Awards. In 1997 and 1998 Brad won Juno Awards for Best Contemporary Jazz Album recognizing his work in the internationally acclaimed electric jazz group Metalwood. Brad has won the National Jazz Awards for Jazz Trumpeter of the Year (1999), Jazz Composer of the Year (2000 and 2002), and Brad was awarded Musician of the Year for 2005. He has producer and mixer credits on many recordings including some of the Cellar Live recordings. A classically trained trumpet player, with a post-graduate degree, he was on the faculty of Capilano College for many years and now teaches privately. He's graced the stages of the Orpheum in Vancouver; the Place-des-Arts in Montreal, and many other. He is a much sought after session man and recently has filled out the roster for the Chad Makela, Dave Robbins and Amanda Tosoff groups. He's a triple threat with trumpet, keyboards and drums in his repertoire, but he generally concentrates on the former two. The diminutive Turner might be considered a small wonder himself, but in our recent conversation he let me in on his own 'small wonders' and he threw in some brass education at no extra charge.
JD: I've got you listed as trumpet player, keyboardist, composer, drummer producer, recording engineer, and educator. I could go on a bit more but I think that's about enough (laughs).
BT: That's more than enough, ya.
JD: I'll start of with a timely question. The great Oscar Peterson died on Dec. 23rd. Did you ever meet him or hear him live?
BT: Actually, yes. I think I saw him live, twice. The first time I was just a young guy and a member of a band called Fifth Avenue and we had just won the Alcan Jazz prize, back when there was that contest. Vancouver drummer Paul Townsend was the leader of that band. We went back to Montreal and got the opportunity to open for Oscar Peterson at the Place-des-Arts. I got to sit really close by. In fact I got to sit beside Gary Burton, which was pretty neat and we got to watch Oscar Peterson play. I had heard him many times before that and was a big fan as young guy and a piano player; but, seeing him live in that venue and sitting so close and really getting a view of his hands and watching him play—I really didn't know what to think after that. It changed my idea of how one might approach playing the piano and I'll never forget that.
JD: I can believe that. Did you guys also win the award for the best performance at that Jazz Festival?
BT: Ya, that was part of the Alcan prize. We went out there and were picked as being a stand-out ensemble. We're talking late 80's—'88 or 89' and I'd have to pinpoint that as one of first experiences I had that really set fire under me to want to do that for a living. I was going to college and studying trumpet and actually studying classical trumpet, but that happened and we went out there and had that experience, it really changed my whole outlook on what was possible and what I might want to aim for as a musician and as an artist.
JD: That's interesting. So, after that you ended up going to the University of Western Washington and the University of Northern Texas.
BT: That's right.
JD: Jazz studies?
BT: Well, at Western Washington as an undergrad I was mainly studying classical trumpet. I did a double major, there. I did a jazz degree, too. It was a smaller program so most of it, with the exception of a few grade courses we got to take, most of it was self-study in a way and my main focus was classical trumpet. I had a great teacher there, Dr. Wayne Gorder, who I think, now teaches at Kent State in Ohio and after that I graduated. I was thinking I might take some time off, but on the advice of my father, he said, "If you want to do a graduate degree, now is the time because if you start playing and touring around, you may never want to go back to school again." So I thought, "I want to do this," and it was a really good decision. Going to North Texas was really beneficial for me and I had a wonderful time there and everybody that I had the privilege to be in contact with was great; the faculty and all the students. It brought my playing level up to the point where I was much more prepared to tackle the challenges of being a professional player and I came back to Vancouver in '92.
JD: Why the trumpet?
BT: Well, initially as a young boy the first instrument I started taking lessons on was the piano. I started studying playing the piano when I was seven. I was also really fond of playing the drums. My uncle Vince Ricci is a long-time

I am not belittling the technique of the saxophone at all. There are a lot of other things that go into that. But, to play the chromatic scale, the full range of the trumpet, can take you decades.

Vancouver musician is a drummer so I really had a lot of fondness for playing the drums and banging away on the ice cream buckets that I had set up. My mom tells me I used to do that when I was really young. But when it came time to be part of band class in school there was no piano in the concert band and as far as drums there was no drum set, but snare drums. My grandfather Fred, who is 91 now is a trumpet player from way, way back and I kind of thought I'd like to play that instrument, because that's what he played and he still plays, actually. He gave me my first trumpet, which was a cornet. I was quite a small, little guy when I was young and my arms were pretty short, so the cornet has the bell a little closer to your face, so it was easier for me to manipulate. So he gave me my first horn and I still have it and still play it. Ya, I started playing trumpet when I was ten, then I could be involved in band. That was in the fifth grade and we had a little band and I just kept on going from there and I just kind of took to it. I don't know why. I guess it was just part of the family thing hearing my grandfather play trumpet and my uncle, Tom, was also a trumpet player, so I guess it came naturally.
JD: Now here's the essay question for fourth year (laughs). No just kidding. In From Canada alone there are some remarkable trumpet players: you, Ingrid Jensen, Guido Basso, and Kevin Turcotte. Most people with even a minor knowledge of jazz could probably recognize the names from the past Louis Armstrong, Harry James, Chet Baker, Miles Davis … all trumpet players; yet, some say that the trumpet has been eclipsed by the saxophone in jazz. Would you comment on that?
BT: Well (laughs) not from my perspective. I love saxophone. I love hearing great alto players, soprano players, "bari" players—I'm around them all the time. It's a very different instrument—the saxophone and the way that you make music on it is a very different process and all I can say about playing the trumpet and all those people you mentioned Kevin and Ingrid and Lina Allemano—great players; Canadian players—Guido Basso and there's many more—people who have been able to learn how play the trumpet, I have a lot of respect for them. The greatest of greats, you named Louis and Chet Baker—there's Freddie Hubbard, the list could go on—Dizzy… It's an instrument in some ways that's so hard to make a sound on the stupid thing. It takes you so long to learn how to do that. I guess it goes for brass instruments in general. I am not belittling the technique of the saxophone at all. There are a lot of other things that go into that. But, in order to play the chromatic scale, the full range of the trumpet, whatever that might be, your range is relative to somebody else's I guess, can take you decades. To hear the great players playing today, Ingrid is one of my favourite players, today and she's always been a hero of mine. To be able to do that—to say in people's minds that the saxophone has eclipsed the trumpet, I guess I would counter that by saying that you can get to things a little bit earlier on the saxophone, musically speaking than you can on the trumpet because of the technical limitations that the trumpet presents to you. It's just a very difficult instrument to learn how to negotiate, let alone make a good sound on the thing, like I said, let alone make a sound on the thing, just playing one note. To make a good sound takes you a long time so I have the utmost respect for anyone who's doing their thing and making a living and being an artist on the trumpet. I'm a fan, so. It's a difficult instrument.
JD: That's a wonderful answer. I was hoping I would get something out of you (laughs) and I succeeded.
BT: Oh, ya (laughs).
JD: Now, I'm going to ask about the flugelhorn. It seems to be appearing a little more often that it had in the last while. What's the difference between the trumpet and the flugelhorn? I have a picture of them both and can easily look it up, but would you tell me the difference in the playing, etc.
BT: All right. There's a physical difference in the way that they are built. The flugel horn itself belongs to the same family as the French horn or the euphonium or the tuba. It's a conical instrument, so basically the tube of the thing gradually gets bigger—widens. So what that does is that it emphasises the low end sound. So turn up the bass on your stereo and turn down the treble a little bit, so that's what the flugel does. The trumpet is a cylindrical instrument, so it was in the same family as the trombone and the baritone horn. It's the same diameter tubing all the way until the bell starts to flare out a little bit, so it emphasises the high end sound a little more—more of the treble and mid range kind of sound. So, the two of them stand together. They work very well together; kind of like two different singers in a chorus. You know, the baritone singer who has a good range and the sort of tenor who kind of sings in the same range but has a little bit more in the upper end. When you play them, the flugelhorn tends to be a little bit weird in the upper register, so you don't hear people really squealing away on the flugelhorn, too much. You want to exploit the really nice, big, dark, low and kind of warm sound of it.
JD: Oh, that's why, ok.
BT: Yes, the trumpet is a little bit more—you can—well obviously there are people in the world who play ten octaves higher than I can and it has the potential to play very high. It's just a question of design.
JD: I just thought of a name that we missed—Maynard Ferguson. He could play quite high, couldn't he?
BT: Ya, he could. You know what. The other day I was listening to a record with Dinah Washington singing and Maynard Ferguson, Clifford Brown and Clark Terry playing; three trumpet players. You know what? Maynard Ferguson holds his own. He sounds fantastic. This was way back in the day, playing bebop and sounding great. He never defaults to—he has that extra gear if he wanted to use it, but out of respect to the setting he was playing in he didn't. I was just listening to him and he sounded just great. Ya, he's one of the greatest of all trumpet players of all time, for sure.
JD: When I hear your trumpet, I may catch the odd phrase that sounds like Miles Davis and maybe Ingrid Jensen, but mostly it sounds like Brad Turner. Who are your influences and how did your sound evolve?
BT: For sure, you know, I'm standing here in my music room and looking at a huge beautiful picture of Miles Davis playing his trumpet. He may be—if I had to pick from someone that would have to be my overall hero, I guess it would be him; not only because of his great trumpet playing and stylings and writing ability, but his band leading abilities. Back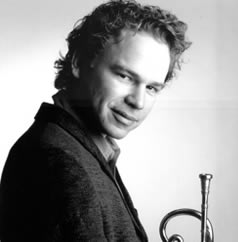 "I try to write things musically thatI want to express,
but also you can't really gowrong by highlighting
what you think as a composer are the high points of
the skills of the great artists thatyou get to play with."when I was a young guy as with a lot of us we'd get our hands on that record Kind of Blue and listen to it and for me, back in those days I was studying classical trumpet and I loved the trumpet playing, but what really, really got me were the compositions; the way the record sounded; the production of it; the different musicians in the band; and reading a little bit more about it at that time and finding out that he had handled those players and put that band together and was very picky about that. You know, I think for me, as a trumpet player, I would have to name him at the top of the list holistically. All around he's my favourite, but Freddie Hubbard, you know, Woody Shaw—good grief Woody Shaw, Tom Harrell—once again I could take up the rest of your evening by naming off names, but there's little things that all of these cats have done right up to the present day players like Ingrid, and Lina and all these young players. Dave Douglas is another person I really like to listen to. I like to hear anyone on the trumpet who seems to be able to communicate their own personal ideas. I'm also a fan of technical trumpet players who seem to be communicating things they learned from somewhere else, but I'm really, really moved when I get the impression that that particular trumpet player, whoever I'm listening to at the time is really expressing themselves on that interest, just because I have a fond respect for anyone that plays the trumpet. Well you know Kevin Turcotte is also at the top of the list. He's someone who every time I hear him I think, "That's Kevin!" I can hear him coming through the trumpet, and that's no small feat.
JD: I looked on Earshot today and your new CD called Small Wonder with your quartet is #1, so congratulations on that.
BT: Ya, thank you very much.
JD: You composed every song on Small Wonder, which is on the Maximum Jazz label.
BT: Yes, I did.
JD: Do you have to be in any specific mind frame when you are composing to get your best work? How does that work, anyway?
BT: Well first of all I'm lucky to be able to say I have a band that I've played with for the better part of fifteen years, so I know those guys really well. Anyone who is a composer as well as a performer would probably agree that when you are writing music it seems to be coming from a different source and when you are playing it, it's like a completely different voice, at least that's how I see it and so when you are benefited by the opportunity to write for specific voices that you understand as a player and you know I play with these guys and know where they are coming from. I know them quite intimately, musically speaking, I can write things that speaks to what they do that I really enjoy hearing and that's not to say I pander to their skills, but I try to write things musically that I want to express, but also you can't really go wrong by highlighting what you think as a composer are the high points of the skills of the great artists that you get to play with. At least that's what I do. So when I sit down to write music for that band, or the other bands I'm involved with, that's what I do. I think about them as people and the things about them that are great and fun or quirky or peculiar and unique and see if I can't work them into my pieces when I'm writing them. It's pretty evident, very quickly, when you hand out the music at the first run through if something doesn't work, it doesn't work, but as time goes on things just seem to work more and more and I'm really happy with how that record sounds. I'm really pleased and proud that we've been playing together for so long and we can still really come up with something, in my view anyway, is new for us and fresh sounding and vital.
JD: Yes, your band mates are excellent musicians. You have Bruno Hubert on piano, Andre LaChance on bass and Dylan van der Schyff on drums. Boy, it's really an all-star line-up and a lot of these guys are unsung heroes. I think Cory Weeds of the Cellar said that Bruno Hubert was the unsung hero of Canadian jazz piano, or something to that effect.
BT: I'll just speak about Bruno for just one sec, because he deserves to be spoken about. He's held in very high regard in Vancouver and is respected beyond belief as a musician. You know he really does have a really unique approach to playing the piano, yet it's founded in very traditional—he's got very traditional sources that he draws upon when he's playing, yet at the same time he doesn't really sound like anyone I can think of. Yes, also I play with him quite a bit, yet when I hear Bruno playing he doesn't sound like anyone else to me yet he at the same time he sounds like everybody else. Somehow he's got a universal approach and he's a very, very meticulous guy as far as preparing himself to play and I've been very honoured and privileged to have him prepare the music that I've written for him and play it well. I have to credit Bruno with teaching me how to play my own music, in many ways. Bruno will bring it back to me and show me many things that he found inside that I didn't even know were there, so. And, he doesn't mind that not so many people know who he is (laughs). He actually doesn't care at all. He's quite pleased when he gets some positive feedback here or there but he's just one of those guys that's very happy to be in this community and he's so well loved that he's not worried that he's a little bit under the radar.
JD: He's just wonderful and does such a great job on this CD.
BT: Yes.
JD: Now the cut that you wrote for him is called "You Can't Be Serious." Is that an inside joke or what?
BT: Well, no (laughs). Bruno has very many sayings. He's from Maniwaki, Quebec and Andre LaChance is from Quebec City. Now I'm no expert, but Andre tells me that Bruno's French is sort of lumberjack style (laughs) or something like that.
JD: Oh ya, a patois, from the woods.
BT: Ya, a patois (laughs). Even Andre can't understand him some times, so that being said his English is kind of interesting at some times, yet he always seems to get his point across and one of his favourite little sayings is "You can't be serious!" (laughs) So I was trying to think of a name for the piece I wrote for him and thought that would be a fitting title.
JD: Good. That seems very fitting. You titled the CD Small Wonder and you have a couple of small wonders. Tell us about them.
BT: Ya, they are upstairs right now having story time and hopefully (laughs) will be asleep in the next half hour. But yes, my wife Tia and I have twin five year old boys named Evan and Theo. As they've gotten a little bit older I've gotten the chance or the opportunity or also been saddled with the responsibility

I like to hear anyone on the trumpet who seems to be able to communicate their own personal ideas.

of spending more time with them on a day-to-day basis. You know, as far as being a daddy goes, anyone else who's been a daddy knows that when they are really small it's all about mommy and when they get a little bit bigger, maybe daddy can come into the picture a little bit more, especially with boys. So I've been spending a lot of time with them, you know. We play hockey a lot. We're outside exploring. We do all sorts of things together. It's a great thing for me and also I have to admit it's been quite an adjustment coming from the artist's mindset. I think you largely build it up in your own mind. You have a sense of who you are as an artist and you cling to that because the world around you doesn't seem to care that much. Then all of a sudden the world imposes itself upon you and says "Look you are going to have to get serious about things that really mean something." I really, humbly say I have really grown by being a father and spending time with them and so there are a couple of tunes on there that are for them: "Small Wonder" and also "Rememberings." They enter into every minute of every day of my life. So this recording was really fun because I finally got to think about them when I was writing and also the photo on the cover. I was quite proud of that. It's really neat and it represents them doing their thing out in the front yard, so (laughs). So that's pretty much it.
JD: I mentioned you were a trumpet player, keyboardist, composer, drummer, producer, recording engineer, educator. I didn't mention dad. I don't have to ask you what the most important job is. I think you just answered it.
BT: Ya.
JD: That is very cool. Now, where can we get Small Wonder?
BT: It's on the Maximum Jazz label and if you go to maximumjazz.com you can buy it online. If you check out mymaxcast.com; you can preview and stuff and see if you like it; definitely online and at major retailers across Canada. I've seen it in stores and a friend of mine called me from Montreal and said she bought it, so it must be out there. Keep your eyes open and look for Evan and Theo on the cover.
JD: Ya, another band that you are a founding member of is Metalwood. You guys won two or three Junos. Any plans for that band to get back together in the near future?
BT: We won two Junos. Oh, well were in constant contact and we're not really represented by a label now and the fact that two of the members live in New York and one of them lives in Toronto and then I live out here—just getting together for a gig—the flights cost and it's a logistical thing and a financial thing so. Just recently I got called to see if I could make a date in Toronto and it was at a time where I had a bunch of stuff going on in town and would have to cover my ticket, so it's back to the old days where you pay it all yourself, so yes we're still alive and we're still all really good friends and the music is still out there. I'd love to get together and play with those guys and do a gig. I know it will happen at some point. We just haven't found the right circumstance to do it, but it will happen.
JD: Ya, at a jazz fest it would be nice to see you guys on stage just givin' it.
BT: Ya, like a Led Zeppelin (laughs) reunion tour or something like that. I'd love it if we could get together again. That would be nice.
JD: Are you still teaching, too?
http://bradturnermusic.com/index.cfm
BT: I do some private teaching. I have a little studio at the house, actually quite a big studio, where I do lots of audio recordings with people. I teach here out of my place and I've been enjoying that. I taught for about ten years at Capilano College which was a great thing for me. After a while, the two schedules; the teaching schedule and the playing schedule started to really conflict and I kind of thought that I spent my whole life up to that point learning how to be a performer, musician and artist and I wanted to go in that direction and I had the chance so I thought I should probably take it, so that s what I did and around eight years ago now, I took a leave of absence and it just keep on leaving. Ya.
JD: Well, Brad I'd like to thank you for speaking to us tonight. I know you have a birthday at the end of the month, so happy birthday and thanks again and have a good 2008.