Times New Viking Make Some Noise
Up-and-coming Ohio trio care more about out-rocking the headlining band
than buying expensive guitars or whining about politics
By Joni Sadler
For a bunch of self-proclaimed amateurs, the members of Times New Viking sure can craft a catchy tune. Sure, the pop hooks may be buried underneath a thick layer of guitar distortion and frantic, shouted vocals, but they're certainly there. With their recent third LP, Rip It Off, the Columbus-based trio has managed to whip up a potent blend of fuzzy garage pop recalling the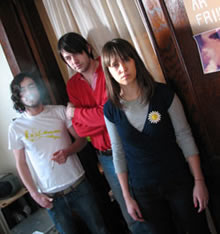 30 years on from the Pistols, here's Times New Vikinglikes of mid-90s indie rock favourites like Pavement and Guided By Voices – only exception being that Times New Viking sound like they're having a hell of a lot more fun playing music than most of their forerunners.
According to guitarist Jared Phillips (the trio is rounded out by drummer Adam Elliott and keyboardist Beth Murphy) growing up in a small scene where arty noise bands outnumbered standard bar rock outfits might have something to do with the band's lack of concern over matters of sonic aesthetics and smooth production. "Adam and I grew up in Dayton, which is almost the same thing [as Columbus] except nastier. I think especially when we first started playing, there were a lot of noise bands. Right when we graduated college, there weren't really many good rock bands... We'd go see weird, fucked up, DIY shows and I think that might've had something to do with it." Phillips also explains the band's lack of formal musical training as an element of their lo-fi charm: "I'm tone deaf, Adam's just deaf, none of us are trained in anything."
Another factor contributing to the trio's sound is their eschewing of high-quality gear. Phillips claims that with the constant demands of touring, it's difficult to maintain "normal people jobs," which generally renders the band without a whole lot of extra cash to blow on fancy equipment. "Besides, if you play your instruments really hard like we do, there's no point in buying really good equipment. If I had a $2000 guitar, I'd keep it at home and play it there. Otherwise I'd destroy it," he explains.
However, this lack of technical training is more than made up for by the band's wild energy. Listening to Rip It Off, you can almost see the grins on their faces as they blitz through one frenetic jam after another. And just because they're having fun doesn't mean that they're careless, either; in fact, Phillips says that Times New Viking always aims to play as tight as possible live – if only for the sake of showing up the other band on the bill. "Every night we wanna play as good, as tight, as loud as we can. We wanna beat the other band. It's kind of a competition.

Every night we wanna play as good, as tight, as loud as we can. We wanna kick the other band's ass.

We wanna kick the other band's ass. We wanna hear people in the audience say, 'Man, Super Furry Animals were good, but Times New Viking fucking slayed!'"
While the trio is getting lots of hype thanks to a recent signing with Matador Records, they first started gaining attention in underground circles thanks to their early releases on the Siltbreeze label. Rumour has it that Siltbreeze owner Tom Lax actually brought the label out of its dormant state in order to release Times New Viking's debut album after finding one of their cassettes in a mysterious sidewalk shrine. Phillips isn't sure exactly how much of this tale is truth, and he sounds more than a little mystified and freaked out at the notion of strangers making shrines for his band, but regardless of how it happened the Siltbreeze revival has been great news for those who like their rock'n'roll noisy and psychedelic.
Times New Viking seem to pride themselves on not their music too seriously. Their sound is joyously ramshackle, and lyrics more often than not focus on themes of teenage drama and all its tangents. Phillips says that the band is more concerned with keeping things simple and fun instead of dwelling on heavy political or social issues within the songs. Besides, Phillips argues, there are worse things to deal with than politicians. "I'm just playing my guitar, not thinking about how much I hate Cheney," he concludes. "I hate bad music journalists more than I hate Condoleezza Rice."