The Legend of Bob Wiseman
A look at the recent history of a multi-media artist
who started out in a country-rock band.
By Rob Pingle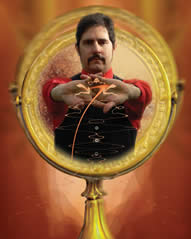 It just isn't a Girl Bob Wiseman The LegendThe start of the new millennia has been good to Bob Wiseman. After ending the last millennia on the sour note of a failed relationship, Wiseman left his old blacksmith shop/recording studio in the country. He returned to Toronto and took up the challenge of moving from scoring television programs to scoring films. "I offered to do things for free … with younger filmmakers … to have the stimulation of working on some films that I found cool and also catch people on their way up," Wiseman says. This hard work has recently paid off as Wiseman has just finished scoring a feature documentary for the NFB called "Drawing From Life" by Katrina Cizek.
His return to Toronto also opened up the opportunity for him to make his own films. Laura Cowell from the Super8 film festival Splice This invited Wiseman to make a film for the festival and accompany it with live music during its screening. "So I made one and I thought it was really clever and really funny and nobody laughed in any of the places where I thought they should have." This experience wasn't new to him though as it had often happened to him as a songwriter.

People who really liked my songwriting pointed out that they were annoyed with how many films I was making

Wiseman continued to make films for Splice This and worked with comedians who had video in their performances. "At a certain point, people who really liked my songwriting pointed out, more than once, that they were annoyed with how many films I was making versus singing my songs. I realised that it makes the most sense to make films about my songs specifically, so that's what I'm doing now."
Wiseman has a large number of songs to work with having released seven solo albums from 1984 to 1997. He is also building on this repertoire through new collaborations with the likes of The Hidden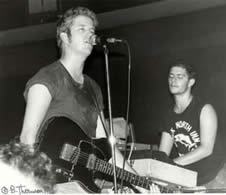 It just isn't a Girl Archive photo
of Wiseman playing keys in Blue Rodeo Cameras and new solo projects with the Blocks Recording Club. Wiseman is currently a board member of Blocks, which was started by Steve Kado. "I played [with Steve] in The Hidden Cameras. He was my favourite member. He is inspiring. I knew being in orbit with Steve would continue to keep a certain amount of unique fun in my world." This fun includes the release of two studio albums, It's True (2004) and Theme and Variations (2006), along with the release of a live album The Legend this month.
The Legend focuses on a single performance from Halifax in 2002. It was selected from about thirty bootleg recordings he has received from fans. "When this one came on it was really cool to me. I thought it had a great colour and it was really funny and contained stuff that I don't do anymore. At the time I had just met the woman I later married, but she was in another relationship at the time and I was talking a bit about stuff like that from the stage. I like the nature of my relationship to this thing that is six or seven years old now." The title of the

All the things I try to do carefully, without freaking out, leads to the brain activity to take care of myself

release comes from a performance he did in Wolfville where he had never played before and the venue's marque showed Bob Wiseman The Legend.
Wiseman continues to tour relentlessly. Not only does he enjoy performing his songs for an audience, he also finds the act of pulling all the pieces of a tour into place fulfilling. "It's like my mother, who is almost 80, she and a lot of her friends do the Jumble thing in the newspaper each day. They think that that kind of brain activity will help keep them from getting Alzheimer's. For me, all the things I try to do carefully, without freaking out, leads to the brain activity to take care of myself."
Wiseman notes there is a fine balance to be struck between whom you perform with and whom you spend the time in between performing with. It was something that he didn't feel was there in his old country-rock band. His upcoming tour with Bob Snider looks to be fulfilling in all ways. "We are old friends and travelling is no good in the company of losers. Touring with close friends makes it meaningful." With the strong friendships Wiseman continues to make in this millennia there is little doubt that word of his legend will spread far and wide.
March tour dates for Bob Wiseman with Bob Snider:
03/06/2008 08:00 PM - West End Cultural Centre, Winnipeg, Manitoba
03/07/2008 09:00 PM - The Exchange, Regina, Saskatchewan
03/08/2008 08:00 PM - TBA, Prince Albert, Saskatchewan
03/11/2008 08:00 PM - The ARTERY, Edmonton, Alberta
03/12/2008 08:00 PM - The ARTERY, Edmonton, Alberta
03/13/2008 08:00 PM - Canmore Hotel, Canmore, Alberta
03/14/2008 08:00 PM - Ironwood, Calgary, Alberta
03/15/2008 08:00 PM - The Wolf's Den, Lethbridge, Alberta