At the End of It All, It's All Music; The Alexis Baro Interview
This month earshot contributor Jim Dupuis gets the scoop on what's hot in the Latin jazz world from trumpet player Alexis Baro, who knows how to turn up the heat himself
By Jim Dupuis
Alexis Baro was born and raised in Havana, Cuba amidst a very musical family. His mother and aunt played with the National Ballet and the National Symphony orchestras of Cuba, respectively. Alexis avoided the string instruments and took up trumpet. He was classically trained and also received his teaching certification from the Amadeo Roldan Music Institute in Havana. He moved to Toronto in January of 2001 and has been dabbling in many musical genres such as rock, R&B, funk,

People sing. People talk. Some artists paint. I write and play the way I feel. It's my way of expressing.

calypso and jazz. He has toured extensively throughout Cuba, Canada, and Europe, performing in various festivals and clubs. I first heard him play as part of the large jazz ensemble NOJO and he has one of the highlights of the evening. That's no mean feat considering the calibre of musicians in that band! He recently embarked on a tour of western Canada, where I got to see him perform and lead his group. As a band leader he is very democratic and all members get equal playing time. When he's not blowing the roof off the room with his trumpet, he stands on stage, much like a conductor in a classical orchestra and distributes the solos accordingly. They are one of the hottest bands I've seen in a few years. In 2004, Alexis was a co-winner of the National Jazz Award for best acoustic group. Baro has been a nominee in 2005, 2006 and 2007 for best Trumpet player at the National Jazz Awards and has received a Gemini Award for a live television performance with hard bop band Kollage. He has performed with many artists such as Paquito D'Riviera, David Foster, Andrea Bocelli, Hilario Duran, The Temptations, John Secada, NOJO, CaneFire, Alex Cuba, Son Ache, Johannes Linstead, Cassava, Ruben Vazquez, Adonis Puentes, and The Puentes Brothers. He was most recently a featured soloist on Hilario Duran's Juno Award winning CD "From The Heart." His first CD Havana Banana contained seven of his compositions, but he also included his beautiful take on the Oliver Nelson classic "Stolen Moments." He's just finishing off his western Canadian tour which took him to places like The Cellar in Vancouver and he was part of Juno Fest in Calgary. There is some footage on YouTube of that performance. His latest CD From the Other Side is scheduled to be released any day now. I spoke with him just before he embarked on that western Canadian tour.
JD: I understand that you are originally from Cuba. Would you tell us a bit about that, please?
AB: Yes, I am. I was born in Cuba. All the family on my mother's side are musicians so I basically grew up in a musician's world. There was music everywhere. They didn't exactly want me to be a musician so I ended up taking up the career all by myself. They play classical music and I am classically trained. I picked up totally different instruments. They play string instruments; my mother plays cello in a ballet orchestra and one aunt plays violin and the other plays viola in a symphony orchestra. I had nothing to do with strings and decided to become a "popular" musician—a jazz musician, but at the end of it all, it's all music. So, that's what I grew up with.
JD: Ya, that's so true. It is all music. When did you first discover jazz?
AB: Let's see, I discovered jazz through a wonderful trumpet teacher; one of the best trumpet teachers I ever had. I was about fourteen. I was correcting my embouchure (note: the embouchure is the use of facial muscles and the shaping of the lips to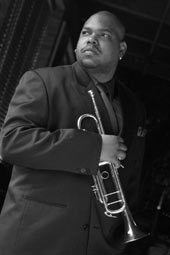 Alex Baro has been nominated for three
consecutive years forthe National Jazz
Awards Best Trumpet Playerthe mouthpiece of a wind instrument)--how to play trumpet and he gave me tapes of these jazz musicians and big band players just to show me how good a trumpet could sound in a big band and how great the range of the trumpet was and how great some black musicians were. He showed me some videos of black players, because I'm black and the embouchure can be a bit different for black players, because we have bigger lips, right? So we have to learn to roll the lips. We put on these videos of black American jazz players just for the purpose of me getting the embouchure right while I played trumpet. Of course those guys were playing jazz, although I didn't know it was jazz at the time. I got really hooked on the music and then I started investigating and learning more about it and that's how I got into jazz.
JD: Oh, ya. Your last CD Havana Banana was quite jazzy. There are ten songs on it and you wrote seven of them. How did you get into composing?
AB: Well, I've been composing for a little while. It's a thing and I don't know how to explain it, but I'll try. When you are touched by moments in your life and the only way you have of expressing yourself, besides, of course, speaking, as an artist and as a musician is playing and composing. So if I feel sad and have something to say about it—well I'm not a lyricist—I don't write lyrics, so I write music to express how I feel. Or at the same time if I'm influenced or exposed to certain kinds of music which gets my attention and I start to dig into the music, that will help me to compose something that shows a bit of the influence of the music that I have been listening to. So it's a way of expression. People sing. People talk. Some artists paint. I write and play the way I feel. It's my way of expressing.
JD: Makes sense to me. That's good. I hear you have a new CD coming out called From the Other Side. How's that going to differ from your last one?
AB: From the Other Side, as the name says, is a different project from a different point of view. Havana Banana was my fist CD and I wanted to do it mostly from the Latin jazz side. I had some wonderful players so I put a pit of fusion and some R&B that had kind of affected me at that point, because I was just starting in the whole music scene in Toronto. Now From the Other Side is a bit different. I'm more sure of the influences—when I'm talking about funk and R&B and some rock and of course some Latin jazz. So From the Other Side is a project that I'm bringing for those who think that jazz is boring and I'm here to prove them wrong. This is happy music ; this is entertaining music; this is funk ; this is Cuban music ; this is Cuban jazz; this is rock; this is jazz! Jazz is like pasta. You can make a million recipes from pasta. You can make a million sauces for pasta and they will always taste different. It's the same thing with jazz. Jazz, you can mix up with everything. Every rhythm, every single style of music that has been made in the world can be fused with jazz and you can make it as interesting as you like. This is the whole purpose of From the Other Side. It is a project I'm working on and I have this whole show I'm presenting in Western Canada as I am doing a tour out there. This is from R&B all the way to Cuban music and back. This is for people who are interested in the intellectual part of jazz. They can sit down and listen to the performance of great musicians I'm bringing there, but at the same time it will appeal to people who like to have fun with the music, or their attention span is not that good. They just don't want to sit there and think, but just enjoy the music; enjoy the groove and why not get up and dance if the song calls for it if they feel like it. This is for them, too. Everything is groove inclined. There is a really strong approach to different grooves and it is all made for you to move, because at the end music is made for you to move; in a sentimental way; in a physical way; in as many levels as you can think of. It is made to move people and that's what we're doing.
JD: I bet you will. It sounds like it's going to be a tasty show—which I'm drawing from your pasta metaphor. Should be very cool. So, who are you bringing on this tour.
AB: I have this really dear friend of mine. I call him my white brother from another mother, Jeff King on tenor saxophone. Also, an underestimated and under appreciated, but really good bass player originally from Mexico, Mr. Paco Luviano. I have a dear friend of mine from Cuba playing piano, Luis Guerra. I also have a great drummer also from Cuba named Frank Durand, and I have a percussionist named Jalidan Ruiz, also from Cuba.
JD: Can't wait to hear them. I was looking up the history of Cuban jazz and basically Dizzy Gillespie was given credit for popularizing Latin jazz, but there was a band called Machito back in 1941. They may have been the first band to combine African and Cuban rhythms with jazz. Who are your favourite Cuban musicians?
AB: Before getting into the favourite Cuban musicians, there's got to be credit given to Dizzy Gillespie. You know, back in the 40s and the 50s there was a relationship between Cuba and the States. There were a lot of Cuban musicians playing in big bands in the States and there we a lot of American musicians who would go for holidays in Cuba. Cuban music was influenced on a big scale by American music and American musicians and up to today. That is why Cuban music is different

You know I just want to play music and write albums and get what I've written done

from any other Latin music made in Latin America, Central America or the Caribbean, because Cuba had this really heavy influence from American jazz, pop, rock and funk. That's what created the whole difference and one of the pioneers in that was Mr. Dizzy Gillespie. About favourite Cuban musicians, there were guys that created bands like Irakere and I must say Chuco Valdez is an innovator of Latin jazz and did some really heavy writing and arranging for the band and exposing the talent of the bands he played with. I could say that Emiliano Salvador was a really good influence, not just on me, but we could say that he was the father of Latin jazz in Cuba. I could say Arturo Sandoval, in a way—not completely, but in a way, he was a good influence on me, first of all because he was a trumpet player and technically he's a master of the instrument and that's undeniable. He showed me a side of what can be done. Most of what you think that can be done on a horn, you can. You just have to work hard, beside all the natural conditions of the instrument, you can make it. It can be done. There's a lot of stuff that can be done. Of course Paquito Riviera is an exceptional person and human being. I'm not even going to talk about his sax or clarinet playing as he is one of the best in the world.

JD: I agree, I saw him last year at the Vancouver Jazz Festival.

AB: He's a wonderful entertainer and all the things he's done for Latin and Cuban music. It's undeniable. He's one of the best persons that I have ever had the pleasure to meet and play with. I did an album on which he was a featured soloist here in Toronto. I had great pleasure playing with him and hanging out with this great musician. These are some of my influences.

JD: They are all great musicians. If I was over at your place right now, what would I find in the CD player?

AB: My CD player changes all the time because I don't feel like listening to everything all the time. Right now it would probably be Luis Enrique's album. Luis Enrique is a Latin singer who lives in Miami and has a great, great band. That's one of the guys I've been listening to lately. There is a lady—I don't know if she lives in San Francisco or New York-- Cecilia Noel. She is a really great performer and she brings a fusion between American music and Cuban music like nobody else. She does the whole funk and Latin at the same time. She's a singer, right. She has a good voice. That's probably what you'll find these days in my CD player, but I has I said I change all the time and I listen to funk and rock and all kinds of music, some big band. Maybe next week it will be Joe Lovano (laughs). It's always changing.

JD: I'll have to check them out. Alexis, I hope you enjoy your western Canadian tour. Thanks a lot for talking with me tonight.

AB: Thanks a lot Jim. It's been a pleasure.

From the Other Side has a fall release date

Havana Banana is available at cdbaby.com