Strings Attached: The Eliana Cuevas Interview
Eliana Cuevas is standing the Latin jazz world on its head
By Jim Dupuis

Eliana Cuevos is a rising Latin jazz star.
Eliana Cuevas is standing the Latin jazz world on its head with her soulful lyrics, wonderful voice and great arrangements. The pretty native of Venezuela, who now calls Toronto home, has released two CDs in the last five years and has received the Latin American Achievement Award for Vocal Artist of the Year as well as the Toronto Independent Music Award for World Music Artist. One of her songs also received an Ontario Council of Folk Festivals From the Heart Music Award. After receiving a Canada Council travel grant she took her quintet on the road and toured western Canada Some of her stops were in Calgary, Dawson City, Vancouver, Comox Valley. I caught the Eliana Cuevas Quintet at the Salmon Arm Roots and Blues Festival. They did a great set in the sweltering afternoon heat. Eliana, also participated in a number of workshops, which are essentially performances with a variety of other musicians, often not your own band. One was with the New York band Pistolera. I caught up with her just before she began her west coast tour.
JD: Eliana, tell us how a young woman from Venezuela ended up in Canada?
EC: Yes, when I finished high school I came to Canada to study English. Initially, that's all I was going to do; study English and go back to Venezuela. However, when I got here I fell in love with this place and I was very happy with what I found. I also I had the opportunity to begin singing professionally, which I hadn't done in my country, because I was very young and I hadn't got involved in anything like that. I used to sing at home with my family. I loved dancing salsa and I went to this Latin club in Toronto that had a live band. I got in with fake ID (laughs) and when I was there I asked if they needed a vocalist. One of the musicians in the band was starting a group, so he invited me to come to one of their rehearsals. I went and they sort of did a bit of an audition. Then I started to sing with them, these musicians. I they really loved what I was doing. But I went to Venezuela for a year and I decided I wanted to come back to Canada; and I did!

When I was nine or ten I listened to songs on the radio and started to analyze how they were built.

JD: That's interesting. When you were a child in Venezuela were there many musical influences around your home?
EC: Definitely, yes! My father and my grandfather in particular, always played music in the house and at family reunions. They always had me sing with them. They played quatro, which is a Venezuelan four string guitar; a smaller guitar. There was also piano and mandolin and little percussion instruments. So the music was always around in the house and that was part of my culture in my family and the way that I grew up. So I have to thank them for that, I think (laughs).
JD: Well, definitely. It's always good to have music around a family. It's a wonderful influence on children. You're a performer, but you are also composing music now. How did you get into that?
EC: When I was nine or ten I listened to songs on the radio and started to analyze how they were built. Just as an experiment I started write down my thoughts, phrases, things like that; trying to copy structures I was analyzing—other people's music. Little by little I did that more and more and then began doing it in my own way; experimenting on how I wanted to do it and ended up with a book of songs. When I was here I was performing with groups and other people's music and it got to a point where I decided I wanted to perform some of the songs that I had and what I was still writing, because at that time I still would write down my thoughts when it came down to lyrics. I always had a little tape recorder to record melodies, notes and chords that I would think of and I decided to try it with a group of musicians who were good friends to see what would happen. It actually worked out really well. I was surprised at first. I recorded an EP of five songs which was meant to be a demo, but because they were original songs it actually opened up a lot of doors for me that summer of 2003. I did my first tour. It was a short tour but it was an incredible experience for me. A year later I recorded Ventura and last year I released Vidas. Ya, so it started when I was very young that whole writing idea.

Eliana with George Kohler on bass and
Daniel Stone on percussion.
JD: Are you one of those persons who wake up in the middle of the night and grab your pen and paper and starts writing things down furiously?
EC: Ya, that happens to me and also sometimes if I'm on the subway or on a treadmill working out, I have ideas and may have to call my number if I don't have a recorder nearby to leave myself a message (laughs) or start writing down on the back of a business card. It comes unexpectedly and it's not always something that you can plan. Sometimes you can sit down and say I want to try and write something and sit at a piano or with a guitar or whatever you play and you may get ideas like that but often it comes unexpectedly.

Music was always around in the house and that was part of my culture in my family and the way that I grew up.

JD: You mentioned your latest CD which is called Vidas. We have it here and it is getting lots of airplay. Why don't you tell us about it?
EC: That CD is a full length album featuring ten original compositions and two classics from Latin American. I had the opportunity to work with the same group that I had worked with on Ventura and I feel that we had developed way more, because we had been playing together for four years since we recorded the other CD, which was when we were starting, so it has a sound that has a different connection, right and I had the opportunity for the first time to also include a string section in a couple of songs, which was really wonderful. I really love that I had the opportunity to do that and I really would like to record a full album with strings and my group some day.
It was very inspiring, being able to share that with them. I had George Koller produce
the album. He is the bass player with the group and he did and incredible, incredible job and so did the rest of the musicians. I just want to mention that my quintet has been together for a long time and they are the ones that are coming with me on tour. Along with George Koller, there is Luis Orbegoso & Daniel Stone on percussions and Luis Guerra on piano.
JD: That's a good line-up. Yes, I noticed you tastefully inserted strings in a few of the songs and was wondering if you had any concerns how they fit? Sometimes stings can be really "iffy" in some forms of music and in fact they can be God-awful. But I really like the way you used them, tastefully and in the right places and you really do feel the work of George Koller in his bass work, particularly when he uses the bow. All in all, it is a really nice CD.
EC: Thank you so much. Because it was the first time I was doing this I asked George if he could help me find someone who could do string arrangements that would fit with the sound of the band and he recommended Aaron Davis. He did an amazing song arranging those two songs for the strings—well, actually the two songs had already been arranged for the group; one of them by myself and the other by Jeremy Leadbetter, a wonderful pianist and co-leader of a Toronto group called CaneFire and he also co-wrote one of the songs with me, called "Canaima." I am very happy. It was an amazing group of people that took part in this album and I feel very lucky to be able to have them with me.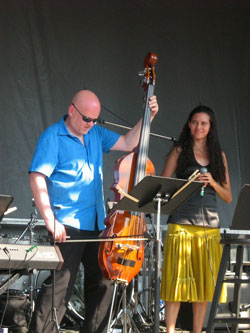 "I really would like to record a full
album with strings"
JD: Another bonus about your CD Vidas is that you had all the lyrics translated into English in the liner notes. One knows the songs are beautiful, but if you don't speak Spanish or Portuguese you don't know what the songs are about. I liked that I could read the lyrics in English and get the emotion of what it was all about. I'm glad you did that.
EC: Thank you. I did that for Vidas and my previous CD Ventura. As a songwriter it is really important for me to be able to communicate what the songs are about to people. It is a very important part of the creation in the music for me as a songwriter, so it's a wonderful thing to have the lyrics translated. I also appreciate it when I pick up other people's music that I don't understand in another language and to be able to understand the lyric makes a big difference.
JD: Agreed. It's kind of corny to say but the world is a global village and your music will be heard in Britain and France and other places and if there are two languages it increases the chances that someone will understand the lyrics. I had a chance to see you a few years ago. You played at Music in the Park and later at a private show for the Kamloops Jazz Society. Actually I went to both shows.
EC: Oh, ya. It was really amazing. You know that makes me think of all the different places I visited in B.C. and it's really beautiful on the west coast. It's crossed my mind to maybe move there (laughs). You never know. Sometimes in the future, who knows, you may see me there.
JD: Once you see it, it's kind of tough not to come back—at least to visit.
EC: Yes. I hope to see you in person when I appear at Salmon Arm.
JD: I do, too. See you then.
Both of Eliana's CDs Ventura and Vidas are available at CD Baby.com
Jazz Notes with Jim is aired live every Wednesday at www.thex.ca from 5-7 PM PT