Brother Blood
From Be-Bop to Hip-Hop the Neville Brothers of New Orleans have done it all and are still going strong
By Shelley Gummeson

R-L Cyril, Art, Aaron, Charles Neville
Since 1954 there has been a Neville brother creating and sharing their flavor of funk, soul,
R & B, jazz, bop, or hybrids of it all, with the world. Five decades of adversity and diversity have galvanized their individual styles. However, it is the magic of the four brothers coming together that has created the unique Neville Brothers sound. The eldest brother, Art, calls it a gumbo, according to Charles who is the next in line. No matter what it is called, Art, Charles, Aaron and Cyril share the same blood, and passion for the music.
Charles Neville took some time from a relentless touring schedule to talk about what contributes to the Neville Brothers sound and why they've lasted through the years.

Music is the family treasure

When asked if he was surprised at the longevity and success of the four brothers, Charles chuckled, and in his soft New Orleans drawl said, "Ah, no, when we started back in the fifties, we had our parents, uncles and aunts who played music but weren't professional entertainers. So when we started, the objective in starting to play music was to get whatever that magical thing was that comes from being involved in music, not the music business. Everyone in New Orleans was like this. There were great New Orleans artists who had hit records out, but still had their day jobs because music was being done to express what was in a person's heart and spirit. Some other job is what was done for money. If you got paid for playing music that was fine, but that's not what it was about. For us the great success is that we are able share it with people all over the world. Getting to be well known was just us going around sharing our music and people remembering it and wanting us back."

Charles Neville's saxophone
is an extension of him For five decades the Neville Brothers have recorded and toured the world. Keeping things fresh can be a challenge in any band. What keeps things exciting for them? Charles says that just being in a different place every couple of nights with different audiences, sharing what he calls their 'gift', does it. A little bit of improvisation in the songs does it as well. For Charles, personally, the excitement also comes from the thought of playing his saxophone. "Whenever I touch the horn, I'm excited. I'm going to get to play it again, or I'm going to let it play me." Charles' great aunt challenged him to graduate 8th grade with honors to receive an instrument of his choice. "I made sure I studied hard and graduated with honors. I got my first saxophone in 1950 and haven't looked back since," he says.
Although each of the Neville's followed a different musical path, it was at their uncle George Landry's call that the brothers

We share with our audience what is in our hearts and our spirits. It is the truth of our lives.

came together in 1976 for The Wild Tchoupitoulas project. Charles recounts that time. "I had been living in New York a long time when we got the call to come back to New Orleans to record The Wild Tchoupitoulas with our uncle. When I got called for a gig in New York there had to be a least three or four rehearsals before a show. If it was a recording there were many rehearsals and charts written. When we got called to New Orleans, we went into the studio, there were no arrangements, and there were no rehearsals, we kinda knew the songs, sort of. When we started singing everything just blended. I remember thinking this is the way it is suppose to work. It was natural. We didn't have to think if we sang harmonies, you take the fifth and I'll take the seven, you take the third. We just started singing and it blended. Also I think that's where being brothers played into that, the natural blend was just there. We don't have to think about it."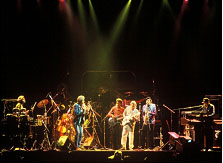 The Neville Brothers keep a
relentless touring schedule;
just how they like it.
Today a new generation of Neville's has joined the ranks. Their latest album Walking In The Shadow Of Life includes Aaron's son, Ivan, and Art's son, Ian. The inclusion of the next generation adds a new and edgy vibe to the Neville sound. "Again", says Charles, "it was the combining of each of them doing it the way they do it, and us doing what we do, and a magic was created. Music is the family treasure."
When was asked how his own sound developed and contributed, Charles mused, "At some point I came to the realization that music is really not a man made phenomenon. There is all this talk of creative input or creating the music. I got to the point where I thought that the music is coming from somewhere else and just passing through me".

At some point I came to the realization that music is really not a man made phenomenon.

What does Charles Neville think is the greatest strength of himself and his brothers? "I think it is the recognition of us as spiritual beings and our ability to share music with people is a gift." He goes on to add, "We are very happy to still be able to do this after beginning so many years ago and still having it be appreciated. Also knowing that it is being appreciated because it is the truth of who we are and what we express when we play the music. We share with the audience what is in our hearts and our spirits. It is the truth of our lives."