Music in the Eye of the Beholder
When music and paint collide, the result is a synergistic feast that titillates the ears and eyes.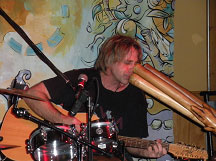 Shane Philip live at Masa's, Sun Peaks Resort
Shane Philip, BC's multi- instrumental, touring minstrel is at it again, crisscrossing Canada in support of his newest release Live at Baker Studios. He is conjuring up his brand of musical magic that encircles the listening audience, causing all manner of gyrations.
A one-time teacher, Shane was just too cool for school. He nurtured his musical ability and interest while teaching, in part, by setting the curriculum to music. Eventually he gave up teaching and followed his musical passion. The rest, as they say, is history.

Philip is known for his energetic and dynamic live performances. His latest project Live at Baker Studios is a reflection of this. "It was so exciting doing that album", says Shane. "We recorded it in two days".
Live at Baker Studios was recorded in Victoria, with producer/engineer and studio owner, Joby Baker (Alex Cuba, Rachel Van Zandt, The Bills just to name a few). It was all live, off the floor. "He [Joby Baker] had microphones everywhere. All the effects on the album were done by turning on and off microphones in the mix and it was very natural. I had to play everything at once and sing on key and that was my take. It was just like a live show.
That was the goal, to capture a live show. All the time when I play, people say to me, 'I love all your albums but I want something like you did just now'".
Live at Baker Studios is Shane's answer to that.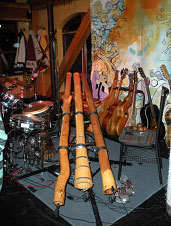 The stage is the canvas of BC
musician Shane Philip – Masa's Sun
Peaks Resort
If you think you know the Shane Philip sound, think again. He has added another dimension to his multiple music personality. There is of course some didgeridoo, and the rhythm of his drums, but there are electric elements as well, that give a decidedly edgy, rock sound. Shane explains the new sound. "I am fortunate enough to be surrounded by incredibly talented people. One of them is Richard Pielou, who has a company called Rich Guitars. This is the second guitar he's made me. It's an electric version of the Weissenborn Hawaiian lap slide guitar. I can distort it a bit more, turn it up a little louder, it's a bit grungier, and it's got that edge to it. With the style of my music, I really enjoy that. That's a side of me that is coming out more and more now. Not always though, I still do the acoustic things and love it as much." Whether in a club, in a park, or at a festival, Shane's music gathers people together, and then turns loose the energy.
Shane's current shows are further enhanced by the collaborations of a new band member, Dave Oram, whose instrument is a paintbrush. Shane quips, "It's so good, because he doesn't play any wrong notes." Dave Oram is an artist from Quadra Island and is the creator of the album art on Live at Baker Studios. When asked how the two got together he says, "Shane approached me about doing the art work and I pointed out that it's going to be completely different from anything before. We talked of something to do with the live album that would be a visual departure as well as a conceptual departure. I had drawn the image that's on the album and I knew it was good. I just had it in my sketch book. I drew that and another mockup for the art work. I showed Shane the second one first, the one I didn't like as much. He said 'Ah, I don't know about that'. Then I showed him the first one. He just said 'Oh'; we had an instant connection around that image and then added the octopus tentacles in that." What started as a business connection became a personal friendship. Both men are artists in their own right, but in a different medium.
These days a Shane Philip show is both an aural and visual experience. While Shane takes to the stage, which is essentially his canvas, Dave is in front of his own canvas with paintbrush in hand. He paints hard and fast, with the people dancing around him, the rhythm and the energy swirling. Dave says there is a synergy between his visual artwork and Shane's music. The mural is completed by the end of the evening, and if you're really lucky you may get to take it home.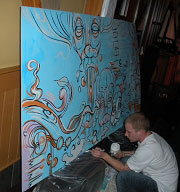 Dave Oram's canvas as he
paints live, at Masa's
Sun Peaks Resort
Dave Oram has his own style that has evolved since touring. When asked if he works with a preconceived idea for the murals he paints during the shows, this was his reply, "Um, I've thought a lot about that actually. I have like a lexicon of images that I work from. They are images that over the time of painting them constantly, I've made my own. Like the cabins. I paint costal cabins with the swayback roofs. People go; oh I've lived in that cabin. People can connect with that. Also there are my faces. The faces are almost costal native in a way, and can get into tribal, which in turn gets back to Shane and his didgeridoo, which is an instrument from the aborigines of Australia. It's all connected. For me I don't have an idea, ever. For me it's just like being a conduit, and opening yourself up. If I were to have a preconceived notion, I could do that and very much enjoy that, but it wouldn't be the same. It loses the true part."

The murals are big. Dave says, "I paint big. The 4'x8' size of murals that I do is the average size. Some nights I'll paint four paintings and they're all bangers, they're great. It's not an ego thing; it's that I'm in touch with my process. I paint fast and what it is about, for me, not unlike Shane recording live, is I make art for just about being human. It's about the good and the bad, it's not a perfect process, but alive."
Shane Philip and Dave Oram, musical and visual artists, have banded together in a collision of music and paint creating a unique, must see and hear experience - for us and them.
For more information on Shane Philip and where he will be appearing log on to www.shanephilip.com and for visual artist, Dave Oram www.veniceissinking.com