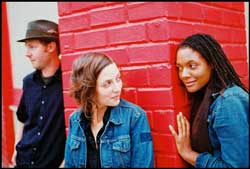 Marc L'Esperance produced Po' Girl's first album
The Marc L�Esperance Interview
The Man Who Sees Music: Marc L'Esperance is a producer, photographer, sound engineer and more.
By Jim Dupuis
The Vancouver International Jazz Festival occurs in a wide variety of venues from concert halls to city streets, to rooms of varying sizes. These varied venues can provide challenges for the sound engineers. One such sound engineer has worked at the Performance Works venue on Granville Island for around fifteen years and has received high praise from many of the musicians that appear there. I rarely speak to the volunteers and staff at the Jazz Festival, other than to ask them for information or a

Well, you can't use a flash or you get kicked out of the concert

service they provide and sometimes thanking them for what they are doing. Over the years I have attended many gigs at Performance Works and over time got familiar with the faces of emcees, sound engineers and people that man the merchandise stands, and maybe the odd bartender.
Over time I noticed that the man that was doing the sound would slip away and almost invisibly take photos of artists in performance. Last year I got up enough nerve to say hi to him and asked him if I could see some of his photos some time. Happily he had a laptop with some of his work on it and we got to chat. I soon found out that along with being a sound engineer, he has his own recording studio, called Heavy-o-sonic. He is also a musician and has played drums and sang vocals on various albums and photography was becoming more than a hobby.
My mind was racing a mile a minute and I soon suggested that he would be a good subject for an interview on my radio show Jazz Notes, although at the time I was trying to take a sabbatical from interviewing. We exchanged e-mail addresses and eventually I found time to resume interviewing on a lighter schedule and he was the first person that came to mind.
This busy, eclectic man is Marc L'Esperance. He is comfortable behind a sound board or a camera, but he's no shrinking violet. He appears in a number of projects and most recently played Vancouver's Railway Club as the drummer for Petunia and the Vipers. His producer credits include the first Po' Girl CD and more recently he produced Anna B and the Heart Bones, with more albums in the works. I managed to get him to sit still for an interview last November.
JD: By my count, you are a music producer, a sound engineer, a musician—drummer, a photographer. Which one is your favourite?
ML: (laughs) My favourite job is trying to make time to do all of those things. No, maybe that's my least favourite job. I don't know if I could pick a favourite, because I try to relate them all to each other. Even the photography, I try to relate to the same aesthetic sense that I like to use in music. So they all, to me, reinforce each other and work together. It would be hard for me to pick just one thing and do that one thing. I guess if I really, really had to—if I was

Headwater press photo by Marc L'Esperance.
www.headwater.ca forced and somebody put a gun to my head and said, "You're only going to do this now and I'm gonna pay you a million bucks," I probably would pick drumming, because playing music is a real pleasure. Playing drums particularly—I've played a number of instruments over my life, but drums are the most fun for me.
JD: You've been involved with the Vancouver International Jazz Festival for many years. Would you tell us about that?
ML: I've been working at the Jazz Fest at the venue down on Granville Island called Performance Works. I've been doing that venue since about 1993 or '94. It's a great room and Jazz Fest is a great event and I'm sure that some of your listeners are familiar with it. It's something I look forward to every year. It kind of signals the beginning of summer for me. There have

When I started working with them, they were really just getting the band going. They hadn't had it going for a long time and so for the first round of recording that they did, they recorded every song that they knew, whether it was their songs or songs by other people.


Marc on Po' Girl been some amazing artists that have come through that room. Diana Krall played there. I think, in '94 and many, many others.
JD: Ya, that is an excellent room. In fact that is one of my favourite places for sound in the whole festival. Do you find you have any challenges with the sound in that building?
ML: Well, definitely, yes. It used to be a big machine shop. It's been emptied out and turned into a performance space and it's kind of like a big barn really, so it has a tendency of being kind of cavernous and echo-y. It wasn't designed as a concert hall with sound in mind, but if you do some treatment to the room and approach it in a certain way it's capable of sounding quite nice in there. And, thanks so much for the compliment on the sound there that it's one of your favourite rooms.
JD: It is and you guys do a wonderful job on that room and like you said it's just a big, big room. Likewise, I've seen and heard many good acts in there and I've always enjoyed the sound in that place. Something else also got me interested about you. I've seen you in Performance Works doing sound many times over the years, so I know what you look like. Then I happened to notice that you were also taking pictures. You're also a photographer, aren't you?
ML: I've had a life long interest in photography, but I kind of put it aside for many years. I liked it when I was able to print my own pictures in the dark room and kind of mess around with things. When I moved to Vancouver I didn't really have access to that kind of space and I really seemed to focus more on music and sound and that kind of stuff so I kind of put it aside for years. When digital cameras came to be more affordable I finally busted out and got myself so digital SLR equipment and rekindled my interest. Ya, it's been a big part of my life for the last two or three years, now and it's starting to be some of my work, so that's really nice.
JD: I was looking on the Internet and you can find some of Marc's photos on www.flickr.com/photls/cml/ or if you put his name Marc L'Esperance in a search engine like Google, it will probably come up.
ML: I have a simpler way. In the last little while I've set up my website which has all my photography on it. It's www.luxmatic.com where I have my online photo gallery. I do have a gallery on Flickr, as you mentioned, but the Flickr photos are only a part of what I do and I don't have too many of my shots from the Jazz Fest on Flickr, because it's not the right audience for that kind of stuff. On my own site I have lots of photography from performances and lots of different stuff that I wouldn't put up on Flickr, but I still like and it is for a different audience.
JD: On thing that I did catch—I kind of like hockey fights, oh well—there is shot on the Flickr site of two junior hockey players fighting. It is probably one of the best action shots, I've ever seen. There is one player's follow through on his punch; the other players head is snapped back and is actually covering his number. That is just an incredible shot. Do you remember taking that one?
ML: I definitely remember that one. That was at a Chilliwack Bruins game. It wasn't a very long fight. They threw a couple of punches and then the Bruins player just plowed the guy right in the face with this wicked, wicked punch. I mean, I was trying to wait for the right moment, because I don't have a camera that shoots rapid fire so I was just trying to wait for a moment when I thought something was happening and hope that I got something and wow that shot blew my mind when I looked at it, because it looks like his head is going to come off. The photo is at: www.flickr.com/search/?q=HOCKEY&w=86147015%40N00
JD: (laughing) It looks like it has come off. It's an amazing shot. I'm surprised it didn't win some kind of award. Did you submit it anywhere?
ML: No, I didn't submit it to any contests or anything. I consider it part of my portfolio that I present to somebody as part of my work as a photographer, but I get pretty busy and I don't have time to look at all the photo contests. I know there are quite a few photo contests out there. You also have to be careful with some of the photo contests, because a lot of them say that if you submit your photo to their photo contest you relinquish your rights of the photo to them and they can use the photo for whatever they want.
JD: Oh, yea.
ML: And, that's not just if you win, but any photo submitted. I always have to really read the fine print on any photo contest I'm considering entering and subsequently I don't enter very many (laughs) because it takes a long time to read all that fine print.
JD: Marc, I can't say I blame you then. Getting back to the music photography, what do you find challenging about music photography.
ML: I think the challenge there, is to try to represent the emotion of the performance in an image. Music is all about sound, really; but, there is a visual aspect to it and if you catch the right moment you can almost hear what the performer is doing with a photo. But it's challenging. It's timing and waiting for the moment. It's tough technically. Typically at a lot of concerts, although the stage looks lit up and bright to our eyes, to a camera it's not bright at all. Anybody who has tried to take concert photos with their compact, portable camera knows what I'm talking about, because if you try to take photos without any flash, it's pretty difficult. You've got tricky lighting to work with and that kind of thing. But I enjoy a challenge, and I just look for a moment or a scene that kind of to me represents what they are doing musically and hope I get something that does that.
JD: I think you have. Your music photos that I've seen really do lend to that. Marc, what kind of equipment would you recommend, something not massively expensive, but something where people going to concerts would come up with reasonably good photos, without using a flash? What would you recommend?
ML: Well, you can't use a flash or you get kicked out of the concert (laughs).
JD: Pretty much.
ML: Pretty much any digital SLR that's out on the market these days is good for concert photography. The key is to have a fast lens. Your typical zoom lens is not going to let enough light in to take a shot at a high enough speed so if anyone is moving in your photo, they will be blurred. You really need a fast lens, and typically the fastest lenses are called prime lenses and they are not zoom lenses. They are fixed focal length. You can get some pretty fast primes at a reasonable cost. No matter what brand of digital SLR—the brand isn't really important, it's more about finding the brand that fits your budget, fits your hands and feels good to you. And when I say fast lens, I mean a lens with a large aperture and that translates to a small F-stop number; something like F 1.4 is very fast. Your typical zoom lens might be F 3.5 or F 4 and that's quite a bit slower and that lets quite a bit less light in and that means that you have to leave the shutter open longer or you use a much higher sensitivity which increases your noise. A noisy image can sometimes look ok, but an image with less noise will definitely look better, most of the time.
JD: I guess if the shutter is open longer the shake factor comes into effect, especially if you're shaky like I am.
ML: You could have a camera that has anti-shake technology built into it, but that doesn't help if anybody is moving. It helps if you are moving but it doesn't help if somebody whose picture you are trying to take is moving.
JD: That's a good point. So Marc, aren't you also a sound engineer and a producer?
ML: Yes, that's my main occupation, producer and engineer.
JD: So, if I'm not mistaken, you produced one of the Po' Girl CDs.
ML: Yes I did their first album, which was very well received and got them a record deal with High Tone Records in the United States. It got them fairly well known around North America. I don't know if they went to Europe. Ya, it's a record that I still really like to listen to.
JD: Well, that's good. What was it like to work with them?
ML: I thought it was really interesting. When I started working with them, they were really just getting the band going. They hadn't had it going for a long time and so for the first round of recording that they did, they recorded every song that they knew, whether it was their songs or songs by other people. By the time we got to the next round of recording, they had evolved and had written more material, so I kind of got to see them develop as a group. The group has gone through numerous changes since then, but basically it was right at the beginning and I thought it was neat to see how they came together as a band.
JD: On top of all this, you are also a musician. What music project are you involved with, right now?
ML: I'm involved in a few projects. I'm currently playing drums and recording with a guy called Sandy Smith, who is a fantastic drummer in the Vancouver roots and blues scene. He used to be in a Juno nominated band called The Twisters. I'm currently working for him and playing drums for him and recording his music in my studio. As well I play drums and produce for a band called Headwater. They're one of my favourite bands in town. They are going to officially release their album this spring. They've actually been selling it, but they are planning a big official release for this spring. And, I've been working with an artist named Petunia, who's a fantastic old style country and roots musician, who sings cowboy songs and yodels and plays kind of honky-tonk barroom blues. I play drums with him. A number of members of his band are from the old Ray Condo and the Ricochets band. It's a real pleasure playing with those guys.
JD: Is this the Petunia and the Vipers deal?
ML: Yes, the band is called Petunia and the Vipers.
JD: That's a great name.
ML: He performs a lot as a solo, duo or trio and he does a lot of touring. So far we haven't done any tours with this actual band, but the band is a fairly new incarnation or project for him, so he's got a number of things that he does and different configurations that he plays with, but when he plays with the full band it's Petunia and the Vipers. There is Jimmy Roy on pedal steel, Stephen Nikleva on electric guitar, a couple of different bass players: James Lillico or Sam Soichet, and I play the drums.
JD: We'll have to watch for your guys.
ML: Definitely worth catching!
JD: I going to get back to jazz, as I do a jazz show. Who are some of your favourite jazz performers?
ML: Recorded performers, or musicians I worked with?
JD: Anything, it's up to you.
ML: Well, my all time favourite jazz musician is Miles Davis. He was not only an amazing musician, but he was an amazing band leader and he was able to reinvent his music and keep his music fresh for decades, which is an amazing feat for any genre. Well, I really love the post-Second World War bebop heroes: Thelonious Monk, Bill Evans and John Coltrane and Sonny Rollins and Dexter Gordon. These are the guys that I love but I really like hearing music that I've never heard before. So, I'm a big fan of improvised music. I don't necessarily have any favourites in that realm, but I hear a lot of that stuff at the Vancouver Jazz Fest. You know, it's a risky type of music that doesn't always come off. Not every grouping of session hits the mark, but what I really appreciate is that people really put themselves on the line to try and create something in the moment that's never been heard before and will probably never be heard again. So, I really appreciate that. I appreciated the programming at the Jazz Fest. To lot of people, that's not what they want to hear or they don't understand. I don't understand it always, but sometimes it just musical pleasure, as well.
JD: I know what you mean. Sometime when the shows are on, I don't have a clue what's going on, but there is something about it that I like, so I just stay and sometimes friends want to leave, but I don't—there's just something about it, even though I may not get it.. It's just fun.
ML: Ya
JD: Ya, and the other thing about the Vancouver International Jazz Festival is that if you don't like something, something else is going to come on shortly. There's so many things going on at the same time and so much of it is free or inexpensive. It's just a wonderful festival and you are lucky to be part of it. And I guess they are pretty lucky to have you too, so that goes hand in hand.
ML: Thank you.
Marc's photo's can be viewed at: www.luxmatic.com
Marc's recording studio is Heavy-o-sonic.