The Unstoppable Jane Bunnett
Facing emotional bankruptcy and financial hardship, Jane Bunnett digs deep and turns out her most ambitious and electrifying project to date.

I thought this is like classical music but it was improvised too. I really wanted to play jazz.

By Shelley Gummeson
One thing you don't say to Jane Bunnett, is that she can't do it. A music teacher issued the edict, countries swaddled her in red tape, and a record company gave her gave her a magic carpet ride, as they ripped it out from underneath her, in the middle of a project. To Jane Bunnett, the words, "you can't", left to flutter in the air, are, more often than not, a red flag for action.
Jane Bunnett has lost and found herself in music all her life.
Her father bought the family home because it came with a piano in the parlor. She was availed of a 20 minute lunch time music program where she banged away on a cardboard keyboard at her desk and got 5 minutes with the piano teacher. It obviously instilled in her head certain things about how to read music at a young age.


Perhaps the most telling precursor of the future was, though Jane never had to play the recorder in school, she used to spy on her sister in her recorder lessons. Jane remembers, "We lived across the street from a conservatory and I would wander over there and spy on my sister. She hated it. I don't know what it was, but it didn't look like fun. What I was mesmerized by, was the fact that all these kids were playing together."
Perhaps it was the window peeking and seeing the collective camaraderie of the recorder class that stuck with Jane and helped shape the group projects in years to come. All through school Jane Bunnett applied herself to music. Sometimes it was in a band class and other times it was private lessons. The instruments ranged from woodwinds to piano.
Jane buckled down with the regimented rigors of her musical education in high school. "I always felt like a bit of a rolling stone" she said, "At this point I decided that I needed to accomplish something and went for my Grade 10 in piano. I really worked hard,"
Unfortunately Jane suffered severe tendonitis and had to curtail piano. She picked up the flute in her last year of high school. Concurrent with this was a trip to San Francisco. The time proved to be just right for a step to the next level of music, which was jazz. "I had heard jazz before, from a Charles Mingus album I stole from my brother. All of a sudden, in San Francisco, hearing Mingus, these two things hit, where I thought, this is like classical music but it's improvised too. I really wanted to play jazz."
In the final year of high school music studies, Jane Bunnett was interviewed by the music teacher and asked what she wanted to do with music. Jane's response was that she wanted to be a professional musician. The teacher doled out the judgment: "You can't," he said, "that will never happen. You're not a prodigy, you started too late, and you're not good enough." There it was, those words left hanging in the air, the red flag. Jane Bunnett went on to be a world recognized composer, band leader, multiple Juno winner, multiple Grammy nominee, and jazz artist.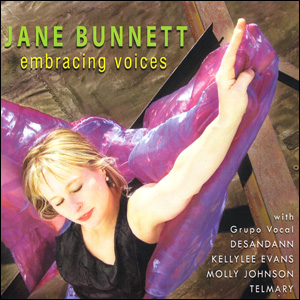 In 1982 Jane began a love affair that would once again take her to the brink. On vacation, Jane discovered the rich legacy of Cuban music and the complexity of rhythm that was its' backbone. Not one to follow social constraints, she joined in, playing with groups on her soprano sax, raising a few eyebrows. Jane and her husband Larry Cramer made subsequent trips to Cuba, playing and studying the music. She took up the challenge of improvising jazz within the framework of the traditional Cuban music using Cuban musicians. The work was backbreaking with having to jump political hurdles and systematically cut through mounds of red tape to be able to record this new music. The result was groundbreaking, fusing Cuban music and western jazz together culminating in her Spirits of Havana in 1991. Jane Bunnett continued to record and release critically acclaimed albums on EMI/Bluenote throughout the 1990's.
Today, Jane Bunnett still has the spark, vision and fight to explore an untrodden musical path - even though she declares she's losing her fighting abilities. The new album Embracing Voices is testament to this. Thinking she was going to record a nice little trio album, Jane ended up plunging headlong into a project of immense proportions. It became an album that celebrated the human voice, a long time passion of Jane's. She used Western jazz sensibilities and Cuban/Haitian folk music traditions in Embracing Voices to blur the lines between instrument and voice.


After getting the go- ahead from the record company and the promise of a more hands- on involvement in the recording process, Jane Bunnett began work with the Cuban musicians on the compositions. She started the arduous process, of getting visas which incorporated walking the paper trail of the embassies, and ministries of two countries. The recording facility was chosen and airline tickets were booked. The music company, in the throes of upheaval, ignored the many requests to help facilitate the funding for getting 10 musicians out of Cuba and getting all of the musicians to the Banff Center in Alberta to record. The lack of funds threatened to send the project to its demise. Not one to say "this can't be done", Bunnett and Larry Cramer went ahead, using their own finances. "It was frightening", says Jane. "People were placing their trust and confidence in the success of my recording career". Getting the project made took Jane Bunnett to the brink of financial ruin and the edge of sanity. The end result is nothing short of astonishing.

Her newest album Embracing Voices takes Bunnett in a new direction. The music and the instruments blend together beautifully creating a new fresh sound. "It's kind of like cooking" says Jane, "You come up with this dish and you start with a foundation and add the flavors you like. Embracing Voices is a new dish and I'm serving it to the people."
Jane Bunnett is planning a Canadian Tour in the spring. For more information http://www.myspace.com/janebunnett