The Jean-Christophe Beney Interview
Montrealer and saxophonist Jean-Christophe Béney was raised in a musical family but took his time before settling on music as a career. His fifth album, released on his own label, is coming out this fall.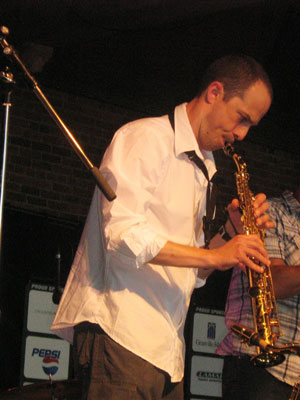 Jean-Christophe Béney with his quartet at the 2008
Vancouver Jazz Festival
The talent pool in the Montreal jazz scene is extensive, but saxophonistJean-Christophe Béney is Pop-ping Up at the right time with a western Canadian tour and a Coltrane inspired release coming this fall.
Saxophonist Jean-Christophe Béney is a transplanted Parisian who has found a home in the thriving jazz community of Montreal. I have enjoyed Jean-Christophe's sax playing over the years, but I have not always known who he was. There is usually a Quebec presence at the Vancouver International Jazz Festival and I make a point of catching those sets because they are always wonderful. I can't seem to get to Quebec, so the jazz festival is my only chance to see these fantastic musicians play live.
Other than the band leaders and special guests, the names that appear in the jazz festival program are 'subject to change without notice' and often on-stage introductions are done quickly and with the sheer volume of musicians you can see in ten days it's easy to forget that one of the sax players in a certain band isn't the same one listed in the program. So I've heard J-C Béney and others play a couple of times, took their photos and when I finally get to doing something with them, like putting them on my Myspace page I have to rely on the jazz fest program for the labelling info. Last year I listed him as Frank Lozano (another wonderful reed player).
Anyhow, I still remember that he was a damn, hot sax player and now I have his name right on my Myspace page (www.myspace/jazz_notes). I had this all sorted out before I approached him for an interview. He explained to me that he was a bit worried about his English fluency, but he would give it a try. Overall the language barrier was minimal. I was more worried about him understanding me, because I have had a bit of speech therapy and I tend to speak at the speed of a racehorse when I get nervous (I didn't tell him this). Happily J-C survived my speech oddities and overall his English fluency and comprehension are at a very high level.

My inspiration for that was (John) Coltrane's Love Supreme. I wanted to something similar, but of course it is different, too. I wanted to include modern jazz influences, Latin jazz influences, soul and even pop music influences.
J-C Béney has put out a number of CDs on Alain Bedard's Effendi label. I have enjoyed playing tracks on my show Jazz Notes from his earlier release called Cassiopee and the more recent Pop Up from 2007. I reached him in Montreal shortly before he was to embark on his western tour; this time as a band-leader.
JD: I'm speaking with sax playerJean-Christophe Béney who is in Montreal, today. So what name do you answer to: Jean, Jean-Christophe, J.C.?
JCB: Jean-Christophe is ok, but if you want to say J.C. that's ok, too. I don't have any problem with that.
JD: You are living in Quebec now, but where did you grow up?
JCB: I was born and raised in Paris and I moved to Montreal in 2006. Now I live and work there, you know.
JD: Yes, that's would I heard. I understand that your parents are also musicians?
JCB: Ya, right.
JD: What instruments do they play?
JCB: Actually my mother is a pianist. My father died two years ago, but he was a composer of modern classical music.
JD: Ok. So, when you were young was there lot's of music in the home?
JCB: Yes, (laughs) I started to learn the sax when I was eleven, but I didn't do a lot of music when I was young. I did more drawing. I didn't want to be a musician until I was around twenty years old. I wanted to be a visual artist.
JD: Do you still dabble in the visual arts?
JCB: No, not at all.
JD: Not enough time I guess.

Before discovering jazz music I didn't want to be a musician, as it was the job of my parents and I didn't want to do the same thing.
JCB: With music, I don't know why—I try to concentrate on the music and what I do in music is a lot of work, actually. You can't split your time between several activities like that. I prefer to concentrate on the music end.
JD: That makes sense. You're right. It is very difficult to have your life going in many directions at once, and usually one will suffer or they both will suffer. I think you made the right choice. What drew you to jazz? Why jazz and not classical?
JCB: Why? To do something different than my parents were doing, maybe (laughs)… before discovering jazz music I didn't want to be a musician, as it was the job of my parents and I didn't want to do the same thing. When I discovered jazz music I was around seventeen or eighteen—maybe earlier actually, but it was the opportunity for me to learn music and make music my job, but at the same time I wouldn't be doing the same thing that my parents were doing as they were in the classical field and I would be in the jazz field.
JD: So you wanted to follow your own path and not do what your parents were doing. That's what a lot of young people do.

Béney will be starting his own label to release his upcoming
Coltrane inspired album
JCB: Ya.
JD: So you are a saxophone player. Who would you say are your influences?
JCB: I have a lot of influences from the past and present, it isn't just jazz that influences me. I have more influences in other kinds of music like, soul, new soul, R&B, classical music. I don't know. Maurice Ravel, for example, is one of my influences as a composer. In jazz today, the bassist Avishai Cohen; Robert Glasper, the pianist is one of my favourite players. In sax, Joshua Redman, Joe Lovano, Branford Marsalis are a few of my favourites.
JD: That's an interesting mix. You have also played with a lot of wonderful musicians over the years. In 2007 you put out your last CD and it's called Pop Up. Would you like to tell us about it?
JCB: Sure, it was recorded in Montreal just after my move from Paris. It was recorded with the same band that I'm going to tour with this summer: John Roney on piano, Fraser Hollins on the bass. It was a different drummer at that time, Greg Ritchey, but now he's in New York City. So when I moved to Montreal I decided that I needed to change to someone that's in town, so now it's Martin Auguste, a great drummer. Pop Up is my first recording after my move to Montreal. What else would you like to know about it (laughs)?
JD: It's very good. We just got it just a while ago and have been playing it on my show in the last while. I like some of the song titles and there is definitely some wit in there. Are there stories behind some of the titles? Like there's a title called "Lynatik." Does that mean anything?
JCB: It's a French word and I don't know how you say it in English, but it's just a word and sometimes you try to get a title for your tune and sometimes it's a joke. It's hard actually.
JD: I wanted to ask you about composing. You composed all the tunes on Pop Up. When's the best time for you to compose and how do you go about it?
JCB: Before I worked better in the night, but now I find working in the morning is the best. The last piece that I composed was worked on more in the morning than in the night. I don't know why exactly but maybe it's because you have more energy in the morning.
JD: It's kind of different for everybody and depends on how you're feeling and I guess all kinds of other stuff.
JCB: Ya, but for playing it's better in the evening and composing better in the morning for me.
JD: Do you compose on the piano, or with the sax?
JCB: Only on the piano. I sing and I put my hands on the piano. I play chords at the same time that I am singing. I try to find the right melody with the chord and that's the way I compose.
JD: I was pretty sure you had to play piano, because it's difficult to compose, considering the complexity of your compositions; without a piano it would be just about impossible.
JCB: Ya, you play the melody with the left hand and you play the bass with the right hand and the piano is complete. You don't need anything else.
JD: That's great.
JD: I hear that you are coming to B.C. Where are you playing?
JCB: We're going to play in Victoria and Vancouver. We'll be in Vancouver on July 4th and Victoria, the day before. In Vancouver I'll be playing around 6 PM and Victoria I'm not sure, around 8:30 or 9 PM. This will be my third appearance in Vancouver. Last year I was with the Yves Leveille Sextet and the year before I was playing with the Alain Bedard Auguste Quintet at the Festival.
JD: Actually, I saw you both times. I got some pictures of you guys on my Myspace page (www.myspace/jazz_notes). For a while I was getting you and Frank Lozano mixed up, but I fixed it so check out my page if you want to see shots of those gigs. There are some for sure from last year with Yves Leveille. That was a very nice show; very enjoyable.
JCB: Ok, ya. Ya, I have good memories of that show, actually.
JD: You're going to be playing in the same place, The Roundhouse.
JCB: The same place, the same stage and the same time, actually.
JD: (laughs) A creature of habit?
JCB: (laughs) Ya, I should get a card.
JD: (laughs) Do you plan on putting out a new CD soon?
JCB: Yes, in Vancouver and Victoria we plan on playing a new batch of music that I wrote a few months ago. It is like a suite. My inspiration for that was (John) Coltrane's Love Supreme. I wanted to something similar, but of course it is different, too. I wanted to include modern jazz influences, Latin jazz influences, soul and even pop music influences in this suite, but I wanted it to be similar. We are going to play this suite on this tour and we are going to record the suite in Montreal, immediately when we return and it will be my next album, actually.
JD: I look forward to hearing it. Will it be on the Effendi label, too?
JCB: I guess not. I'm going to create my own label and it will be released in late October.
JD: Well, we'll watch out for it. Thanks for this conversation and I'll catch your performance in Vancouver on July 4th.