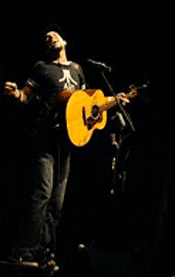 Ari Neufeld gives his all during
a performance
Taking Flight with Ari Neufeld
A stomp box and a guitar powers this Okanagan musician to new heights
Ari(el) Neufeld wants to fly. Always pushing the limits of his creative expression, he finds the freedom and weightlessness of flight in his dreams and in his music. He tells a story about sharing with an audience the new song I Think I Can Fly. "I was getting so into it with my stomp box that my feet were barely touching the box. People in the audience thought I was actually starting to levitate. I was coming down just long enough to get the tap and then up again. I felt that I could almost achieve flight."

I connect with people in a little different way than the artist next to me.

Ari Neufeld uses every part of himself to make music. Standing on a little wooden box salvaged from his grandpa's shed, with bells strapped to his ankle and knee, he taps and stomps out rhythm. He plays his guitar with abandon and uses mouth and voice to craft sounds and songs much like an artist would use a brush to apply texture and color to a painting. He is in constant movement while on stage and always engaged with his audience. "I get so invigorated by giving other people energy, that it boosts my adrenaline level. I always have energy to play more," says a soft spoken Neufeld.


Hand-made duct tape
CD cover connects
Ari to people in a unique
way .
It is that kind of energy and talent that garnered him the honor of receiving the Male Performer of the Year award at the 2008 BC Interior Music Awards. It was recognition that came as a surprise to Ari, as was the invitation to appear at the Salmon Arm Roots and Blues Festival this past August. When asked if he felt any pressure with the industry recognition Ari explains, "Well, the relationship that I have the most difficulty with is the industry in general and how it's just a totally separate world to what I do with my creativity. To be recognized by the [music] industry is a whole different ball game."

I love the depth of where I'm at and I love the personal aspect but my needs have changed.

Ari has sold over 10,000 disks that he has crafted the covers for, using colored duct tape. However, with growing popularity and requests for his music, this personal grass roots touch places additional demands on his time. Ari muses, "I think because I invested a little bit of extra time and a little bit of who I am, my own creativity and my own fingerprints are on it. I connect with people in a little different way than the artist next to me. I end up selling more CD's face to face. But I am so busy now that I don't have time to duct tape the covers. It takes a lot of time. It takes about two minutes to put a cover together and for an event like this [Salmon Arm Roots and Blues Festival] you need a lot of covers." While he cherishes the place he's at now he realizes that his needs have changed and it's time to fully embrace his career. Neufeld says, "I love the depth of where I am at and I love the personal aspect of it, but my needs have changed. I need to get it out there. My next step is to get an agent. I really need somebody to start putting my CD's into bigger people's hands and creating and shaping tours that fit my talent."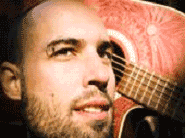 A thoughtful performer, Ari Neufeld
is also the crepe making king.

Ari Neufeld also finds creative freedom in the kitchen. "Probably my favorite daily form of creative expression is in cooking," says Ari, "Cooking is sensual." When asked what his specialty in the kitchen was, this was the reply. "If I were to cook something for you right now, it would totally depend on the ingredients that were available to me. What really gets me excited is speedy, spontaneous celebration in the kitchen. I have quite an ethnically elaborate palate, because I have travelled a lot. I learn a lot through food because it seems to be where most community takes place."

He continues, "Even for people to enjoy something like music, they need to feel comfortable in their tummies, it's a really important thing. Music encourages digestion and romance and when you've done a lot of dancing you want to eat. It's something that affects us all. What really blows my mind is moving in a community of artists, I'm surprised at how many performers don't really care about cooking,it's just fuel to them. One thing I appreciate about cooking is I get better at it the older I get. Part of the celebration for me is the patience and process of time."

After a bit of thought, Ari finally shares his specialty. "I think one thing I'm an expert at is cooking crepes. I cook crepes for my children every week, religiously. I've got it down to a science, so it's not only tasty but I can make a batch of crepes in fewer than ten minutes start to finish. I've probably made 10,000 crepes in my life. I usually use whatever fruit is in season for filling and make a vanilla white sauce to put over them. They are amazing. I'd serve them to a king." Ari laughs, "Who would have ever thought we'd talk about cooking."

Whether in his music or in his cooking, this Okanagan native finds a certain creative flight that he loves to share with the people around him. Ari Neufeld is ready to swoop and soar to a new level with both.