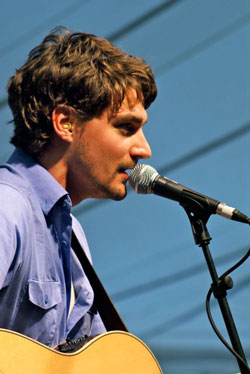 Tim Baker of Hey! Rosetta
Hey Rosetta! has it's eyes on the prize
Making the Polaris Prize shortlist has vaulted Hey Rosetta! into the big time.
After a summer of touring festivals, and playing many club shows, Hey Rosetta! are heading into the fall with a new album on their mind, as well as an oversized $20,000 cheque with their name on it.
The band, from St. John's, NFLD, is one of the ten bands shortlisted for the 2009 Polaris Music prize, which is to be handed out at the Masonic Temple, in downtown Toronto, on September 21.

If they win, the cash goes straight to the bank to pay off some large debts. Maybe with a stopover at the pub.
Tim Baker, lead singer of the band, said the addition to the shortlist was "surprising." Finding out about the nomination before a tour stop in Calgary, AB, he says the band "never saw ourselves as having that kinda cred, from real critics."
"I have said that to a few people and they say "Are you crazy? You have never had a bad review. You have won all sorts of awards. What the fuck are you talking about?". Baker says. "It's all just in your head. You just doubt all the time. When it is your music and it is your recording you see all of the scotch tape. You see all shit that was not done very well."
If they end up winning the prize, Baker jokes that it their first stop will be the casino. At this point in the conversation, we were joined by bassist Josh Ward, who was much more cautious about where the money would go. He said, if they win, the cash "goes straight to the bank to pay off some large debts. Maybe with a stopover at the pub."
The band remains humble about their odds, in spite of the nomination. "I haven't actually heard all of the albums on there (the shortlist), but I really, really, really love the new Patrick Watson record." Ward says.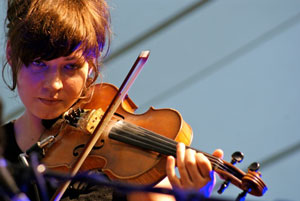 Erin Aurich of Hey Rosetta!
"I know he won before but you know what, it (the award) is supposed to be about the artist merit of the record, and that is an amazing record." he says. "I would not upset at all if he took that. I really think Patrick Watson is the man this year again. Always."
Realistically, the band says they would like to use the winnings to help finance their new record, which at this point is still a work in progress. "There is plenty written, but not enough." Baker says. "There are 20 plus tunes, but half of them are shit, as usual."
"No they're not." Ward again interjects.
"The problem now is that it is hard to make any real progress (with recording)." Baker suggests. "We have these big, giant bouts of touring, punctuated with a couple of days off. You try to do some rehearsal, as far as finding time to work on new stuff, it has been very difficult."
Baker says that the band's plan for the next four months is to get some rehearsal time in. In addition to that, the band is trying to land a producer for their next record. On their last disc, the band worked with Canadian Indie guru Hawksley Workman, but on the new one they want to go in a separate direction. "We are trying to get our managers working on Mike Mogis (Bright Eyes, Cursive, Master's Of Folk)." Baker says. "I really want him to do it. That would be really awesome. (He has) such taste and adventurism."
But for now the band, like the other nine nominated acts, are waiting to find out who is going to take home that cheque. As of now, there is no street date for their next album, but they did suggest that it may come out early in 2010.
Hey Rosetta! on St. John's:
Tim Baker: "I love Toronto. I love Montreal. I love moving around, but it is nice to be away from all the energy of the big cities. All the weeklies and the fashion and the will to be be famous. It is real place."
Josh Ward: "No matter how many venues you have sold out, some drunk dude on George St. will still beat the piss out of you. It's kinda humbling in a way to be back home."
Discography:
Hey Rosetta! EP (2005)
Plan Your Escape (2006)
Plan Your Escape EP (2007)
Into Your Lungs (and around in your heart and on through your blood) (2008)
2009 Polaris Shortlist:
Elliott Brood – Mountain Meadows
Fucked Up – The Chemistry of Common Life
Great Lake Swimmers – Lost Channels
Hey Rosetta! – Into Your Lungs
K-Naan – Troubadour
Malajube – Labyrinthes
Metric – Fantasies
Joel Plaskett – Three
Chad VanGaalen – Soft Airplane
Patrick Watson – Wooden Arms