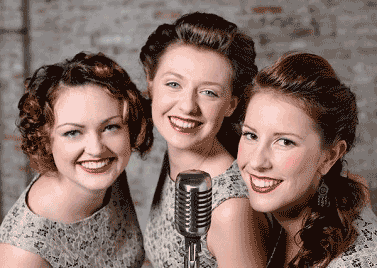 Old school is new again with Company B:
singers Shannon Scott, Juhli Conlinn, and Emily Lyall
Living In Harmony with Company B
The Company B Jazz Band breathes New Harmony into an old era.
You've heard the old adage "What's old is new again". Never has that been more apparent than with the Company B Jazz Band.
In 2007, at Capilano University a meeting of minds and talents coalesced to form the Company B Jazz Band. Shannon Scott, Juhli Conlinn, and Emily Lyall joined together in a blend of voices. Jens Christiansen on the reeds, Jennifer Hodge handling the upright bass and Dave Taylor on the guitar provides the swinging rhythm. A youthful group with retro music sensibilities, they came together with a desire to play old time jazz in the style of the harmonizing Boswell and Andrew Sisters.

We draw from the variety of that big idea that's swing and that so many people love

With their old is new again couture, pseudo barrel roll hairdos, and trademark red lips, the girls of Company B Jazz Band transport you back to a time when the Lindy Hop, the Balboa and the Collegiate Shag ruled the dance floor. The rhythm and melody of big bands was the musical liberator of the day, swinging people from the Roaring Twenties, the great depression and the Second World War.
When vocalist and musician Shannon Scott was asked why swing music, she had no problem listing the attributes of the style that attracted her. "It's fun, it's irresistible," she laughs. "You can dance to it, it's happy, it's catchy. There's so much variety under that umbrella, there are so many different kinds of arrangements and so many kinds instrumentation you can work with especially the kind of thing we do with it, with the three singers. We draw from the variety of that big idea that's swing and that so many people love." Shannon's enthusiasm for swing was hatched in high school, when her mom gave her a 2 CD compilation of the Andrew Sisters. "Yes I have my mom to thank; I just got a taste of it. I mean all of us in the band have come from an interesting background in music and I think we all got a taste via our parents even, of an older style of music, to give us our foundation."

Company B Jazz Band is a youthful sextet taking an old idea and making it new again.
With the music often comes the dance. Does any of the band swing dance? Shannon erupts in laughter, "Ah, we all spend a lot of time on the stage watching the fantastic dancing happen. We like to pretend and we'd like to get better at it. We aren't pros but if you have a good lead, you can imagine yourself a good dancer."
It's not only the harmony that opens the time capsule but the authentic fashion styling is part of package as well. According to Shannon there are tons of how to videos on the internet to learn how to achieve some of the elaborate styles of that era. She says, "It's dress up to do a show, but also to go full on takes a lot of time." While the authentic look is primary, Scott says they've had to pick their battles. There are some festivals where the band is playing successive hour long shows throughout the day and a hairdo just doesn't last that long. "We've had to accept that we just can't have an up do that lasts 12 hours," Shannon jokes.
All kidding aside, the Company B Jazz Band are trained and skillful musicians. This past year they performed with a big band at the Pender Harbour Jazz Festival. They did all the transcribing and a couple of the tunes were original arrangements for that performance. Shannon Scott looks back, "Hearing the fruits of our labor for that was such a satisfying experience and so much fun. We were thrown back and feeling like we were performing in that era just like the original arrangements were meant to be performed so completely."



When asked what the biggest challenge has been for them, Scott says without hesitation, "Blend." She continues to explain, "Blend is hard to get and for vocalists is sort of deceptive. There's different sorts of harmony we do, and modern harmony has a lot of dissonance - really close notes. What we do are simple triads which are the most basic form of harmony but also the most difficult kind to tune. There are different ways you can shape your vowels and micro-tune your notes. It's just the smallest of adjustments to tune these supposedly simple chords. Over the course of the past few years we've worked to fine tune our blend and are continuing to evolve. It's very difficult."

The Company B Jazz Band is already booked for numerous festivals this year and already the following year. Shannon Scott says that touring is big on the radar this coming year. With that said, when Shannon was asked if there were any little tour stories she could share, the laughter followed. "Good thing I stopped in Hedley" she says. "Yeah, actually the last time we went to Kamloops I was in the car with Jens and Jen and we managed to make the 4 hour trip into 8 hours. We missed our turnoff and stopped for lunch. We made the most epic trip from Vancouver to Kamloops that ever happened, ever. But Jen and Jens got a good song out of it. They wrote a song called 'It's a Good Thing I Stopped to Pee in Hedley.'"
Who was navigating? Shannon remains tight lipped about it.

For information on the Company B Jazz Band and where you can catch a performance go the their my space site, http://www.myspace.com/companybband