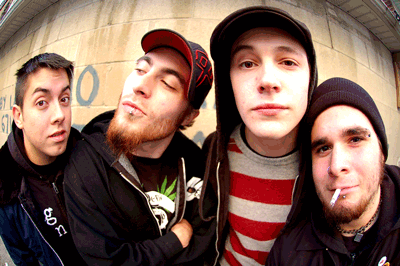 The Flatliners don't want to just keep putting out the same record
The Flatliners Grow Up
Richmond Hill's The Flatliner's keep on moving up and onward.
There is an old joke about ska bands and the fact that most of their fans are under 20.
The genre is one people tend to grow out of, but never leave too far behind. Whether that means trading in your Mustard Plug records for some Peter Tosh or King Tubby, or putting your checkerboard vans in the closet, for whatever the reason, ska is a style of music that does much better with the all-ages crowd.
Take a band like Richmond Hill, ON's The Flatliners. Five years ago, they were part of the Union Label Group, a largely ska based record company, releasing Destroy To Create. Now, they are one of the few Canadian exports on Fat Wreck Chords, recording music that sounds almost totally separate from what they used to make.
The band's guitarist Scott Brigham says that the joke applies to them as well. "We still listen to our fair share of ska and reggae but not the same bands." he say, referring to the band's listening habits.

It is kinda strange to hear this dark side come out of that guy. I guess that keeps him sane.

"Some of those bands stuck with us. Operation Ivy are still one of my favourite bands, but it is also that you grow up and you want to explore more with your music. You also get a little tired of playing the same style all the time."
"No one wants to hear the same record come out time after time." Brigham says. "There are bands like Pennywise, for example. It is a good record that they put out, but they keep putting out the same one, time after time."
He says that he "hopes" there will always be a ska side to the bands sound and that it "just depends on what mood" the band is in when they are writing music.
Earlier this year, the band released its third full-length record Cavalcade to great reviews. The record finds the band moving their sound further away from upstrokes and into a much more straight ahead punk-rock realm. One thing that has always been with the band are the dark lyrics of songwriter and frontman Chris Cresswell.
"It is really funny" Brigham says. "Chris is one of the nicest guys. He always has a smile on and is always laughing. It is kinda strange to hear this dark side come out of that guy. I guess that keeps him sane. It keeps him able to keep that smile on his face."
""A lot of it is cynical, but a lot of it is reassuring at the same time. How relationships and friendships last on the road." He says.
The band, who has spent the better part of 2010 touring the record, has just released their second single from the record, "Monumental" by recording a video and releasing a 7" with two previously unreleased tracks.
Coming from the suburbs or Toronto, Brigham says that the goal of starting the band was "never to get out" of the suburbs "but to keep the suburbs more interesting."
It gave us that extra boost to go down to the city." He says. "In southern Ontario, there are so many towns and cities so close to each-other that you can just do a weekend tour. Drive maybe an hour, tops, and play a different city every night."
Coming back to the area now Brigham says "It is always great seeing old fans and having people sing along to you songs." but that it is also "great to share your music with a whole new group of fans."
The band is finishing up their tour with Strike Anywhere and is about to head back out on the road spending most of the month of November in the U.S opening up for ska band The Expendables.
"When we play support gigs, we try to stay away from playing long songs." He says. "We want to get as many songs out there as fast as possible because we only have a certain amount of time to work with."