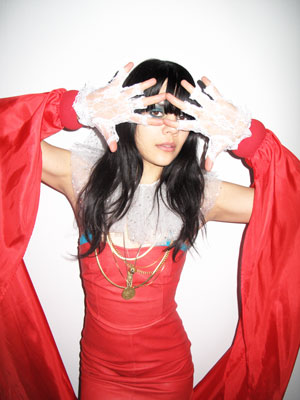 Bat For Lashes: Somewhere Between Myth and Legend
Natasha Khan went to New York to find the myth and found an unexpected alter ego.
A crew of construction workers rip up the club getting it ready for tonight's Bat For Lashes show. Natasha Khan and myself are at a loss to find a quiet place to chat. After a while, she plops herself down on a beat-up old chair in the club's mezzanine. This will have to do.
Bat For Lashes is the project birthed from the mind of former nursery school teacher and artist Natasha Khan. Early on in her career, she has been favourably compared to the pantheon of independent and eccentric female rock legends such as Bjork, Kate Bush, Siouxsie Sioux and Tori Amos, to name a few. Obviously, critic love and devoted fans have followed. Both Bat For Lashes albums, the first Fur And Gold and her second Two Suns have been nominated for the UK's prestigious Mercury Prize.
If you take a look at any of her videos, you can see that she is always wrestling with her innerspace, the one that connects myths and dreams with her common day existence. Her second album surprised some critics when it revealed an unexpected new alter ego Pearl. Whereas Natasha Khan is the earthy artist most likely to be caught wearing an animal mask, Pearl is a completely different animal: a noirish bottle-blonde, dripping in red lipstick. If you are curious, you can check out Pearl in action in the Bat For Lashes video for "Pearl's Dream."


The mythology part of it is my way of creating fables and stories and narratives that perhaps seem fantastic, but are actually an amusing way with dealing with normal human feelings.

Scott Wood: One of the big deals about this album, Two Suns, is the creation of your alter ego Pearl. Can you tell me a little bit about her?
Bat For Lashes: I kind of invented Pearl when I was out in New York. I think she is kind of like the romantic dark side of New York that I was looking for when I moved out there—but I didn't find it—so, in the tradition people like Cindy Sherman, or Diane Arbus, or Andy Warhol, or someone trying to perpetuate that myth of New York, I decided to address it by creating this character. But she's not necessarily my alter ego.
Scott Wood: Given that you already have a stage persona in Bat For Lashes what made you decide to birth her?
Bat For Lashes: It was more an art project for myself. When I was in New York, I illustrate, I do drawings, I write lyrics, I take photographs and just one of the many things I was doing was to document pictures of Pearl. And she kind of quite unconsciously filtered through into lyrics and the imagery of the album eventually. It wasn't something I consciously made to help me on stage. I wasn't even thinking of the stage at the time.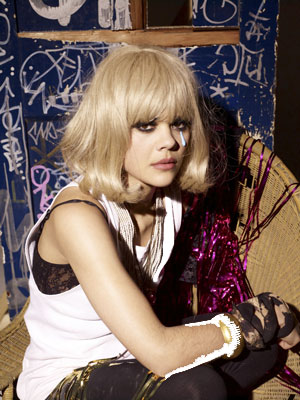 Meet Pearl: a new persona inspired by the myths of New York
credit: David Sherry 2008
Scott Wood: You work a lot with dualities on this record. I read a quote of yours that Pearl represents "the dark side of things." This suggests that Bat For Lashes could represent the opposite?
Bat For Lashes: I don't know. There is a whole plethora and spectrum of all different light and dark shades throughout the album. Pearl resides in the subconscious realms and those places of delusion and parting, desperation and heartbreak in some senses, but it doesn't mean that Bat For Lashes is the opposite of that.
Scott Wood: Working with dualities can often be destructive, why were you drawn to working that way?
Bat For Lashes: How can it be destructive?
Scott Wood: Well, you get things like, dark vs. Light, or Republican vs. Democrat.
Bat For Lashes [laughing]: And you think that is destructive?
Scott Wood: Having only two sides to something tends to be a bit reductive. Take Democrats vs. Republicans: Every issue only has two answers. It's either one or the other, or you get a "lets fight" mentality.
Bat For Lashes: I think that the duality for me was less about destruction, or perhaps initially about destroying those opposites to create a whole. I think you can only really work through creating a whole consciousness if you understand the opposite conflicts within yourself. Throughout making this album, I was quite conflicted, musically conflicted and emotionally conflicted—day and night, like you say blonde haired-dark-haired, England-America. I was travelling and searching for home and searching for some form of wholeness. Only through exploring those opposites was I able to really get to know them and understand how I could merge them together and create some closure and understand my own conflicted feelings.

As he leaned over his cliff, watching, he knew he would have to lose his kingdom if he jumped down to her lake to follow the beautiful lake nymph. She was so beautiful that he cried over the edge of the cliff and that created a waterfall.

Scott Wood: A lot of articles describe you as a "nonconformist" and compare you to other legendary female acts like Bjork or Kate Bush. Comparing female acts to other female acts is a little tired. Who do you consider you nonconformist fathers and brothers?
Bat For Lashes: Funny you say that because growing up I was obsessed with the guys kind of more than the girls. I've been obsessed with people like Lou Reed. Kurt Cobain was my first love when I was like 12 or 13. I loved how he was geeky and didn't try to conform into being a specific thing. He pushed the boundaries of music for our times. And I really like Robert Smith from the Cure too.
Scott Wood: Does it perturb you to only be compared to female artists?
Bat For Lashes: I don't get perturbed, but I kind of see through that because my influences and inspirations come from such a vast range of books, films and music—male and female artists, bands, solo artists, whatever—and also my own personal experiences as a human being.
For this record, it really came directly from my heart and soul. I went through all of those things emotionally and really felt them, and really tried to channel them in a pure way—and give my heart on this record. So, when people say, "Oh, it sounds like this woman," I just think, "Well, that's your opinion."
For me, I really lived it and was trying to display my internal landscapes and sounds and feelings—just put them in the form of music. And that's what I tried to do with honesty and that's it for me.
Scott Wood: There's a great quote about your first album, Fur and Gold, that music stuck out because you were trying to "create your own mythology" where "your contemporaries dealing with everyday life." How important is linking Natasha Khan's everyday life with Bat For Lashes mythology?
Bat For Lashes: I think it's important to try and link those, so you don't go insane, and you don't believe your own hype, and you don't become too pretentious. So the Natasha Khan that drinks cups of tea and watches trashy movies and putters about at home, hanging out with her normal friends—that's definitely part of the Bat For Lashes music because there's an aspect of it that comes from being quite honest and down to earth. There is a sense of humour in the videos I make and some of the things I do. But also the mythology part of it is my way of creating fables and stories and narratives that perhaps seem fantastic, but are actually an amusing way with dealing with normal human feelings.
Scott Wood: When was the last time you made a blanket fort?
Bat For Lashes: The last time was probably about five years ago when I was an elementary school teacher, so there probably would have been about 15 two-and-a-half to three year olds and me with a storybook and some cushions and we would probably be giggling and telling stories.
Scott Wood: Yes, you were a nursery school teacher. It's great to watch kids interact with stories, because you immediately get a sense of what captivates them and what doesn't. How did this inform your own myth-making?
Bat For Lashes: Just observing their freedom of emotion, and how they love to play, and they love to use their imaginations and be open to these unforeseen elements that as an adult you might ignore. Just being around that everyday informed my connection to my child and kept links between the valleys of being and adult and being childlike—and not even childlike—but just being spontaneous. Freedom and spontaneity and wondering awe and believing in magic and things you can't necessarily see have always been an important thing to me.
Scott Wood: What is your favourite myth these days?
Bat For Lashes: At the moment, I am reading one, which is about a woman who has to go to the top of a mountain and confront a Great Bear and ask him for one of his eyelashes, so she can use it to cure her husband's illness. I think it's an Inuit or old Indian folktale.
Someone told me their idea of the myth of what created waterfalls the other day. It was about a Lake God that saw a beautiful Lake Nymph swimming past him and she jumped down a cliff into another lake below. As he leaned over his cliff, watching, he knew he would have to lose his kingdom if he jumped down to her lake to follow her. She was so beautiful that he cried over the edge of the cliff and that created a waterfall.
Scott Wood: A great story. A lot of artists do endorsements to supplement their income these days. What products would be a good match for Bat For Lashes?
Bat For Lashes: I don't know. Nice tea bags. Wolf masks. I could endorse a Halloween dress up shop. That would be quite fun.
Tune in to the interview show with host Scott Wood for more interviews with your favourite indie acts. Find us at www.cjsf.ca (Vancouver, BC, Mondays @4:30pm), www.radiocfxu.ca (Antigonish, Nova Scotia, Fridays @11pm-12am), www.cfru.ca (Guelph, ON, Tuesdays @3pm) and www.umfm.com (Winnipeg Winnipeg's Hit Free Radio, Tuesdays @8am). You can also listen to and download both new and old shows at www.winniecooper.net.