Karkwa are the Dark Horse
Karkwa take the 2010 Polaris Prize and prove English Canada is ready to give francophone artists their due.
At some point just past 11:40 pm, on Monday, September 20, 2010, Montreal band Karkwa, got a lot more famous in english-speaking Canada.
The band took home the fifth annual Polaris Music Prize, in which a jury awards the best album in Canada based solely on artistic merit, and not sales.
The event, which took place at Toronto's Music Hall in the Masonic Temple, last years winner Fucked Up announce Karkwa as the winner to a stunned room.
"That's weird. That's very strange." says the bands lead singer Louis-Jean Cormier. "We are holding a $20,000 cheque in Toronto without understanding anything."
The winning record, Les Chemins De Verre, was released in March of 2010 and was picked as this year's winner slightly past 11:00 pm. According to the show's co-host, CBC Radio 3's Grant Lawrence, this year was the longest it took for the jury to pick the winner.
"Who's going to win?" he said the band wondered, before the gala. "We don't really care because it is about 10 albums, that we like and that we listen to."
"When they opened the envelope, we were like 'it's a dream'. says Cormier.
The band said it was an "honour" to be the first francophone band to take home the prize. In years past, Montreal band Malajube has been nominated twice.
This year, Karkwa beat out a list of nine other artists, including indie-rock heavyweights, Broken Social Scene and Tegan And Sara.
The band says they have no immediate plans for the $20,000 prize, though Cormier did joke that they may hire a new tour manager. "A real one" he says, as their current one is the bands drummer, Stéphane Bergeron.
Les Chemins De Verre, which stands for "The Glass Paths", is the bands fourth album.
2010 Polaris Prize Field Notes
7:40 pm - I get to my spot on the balcony of the music hall in Toronto's Masonic Temple. This may sound strange, but I had no idea what to wear tonight. It is an awards show, so I wasn't sure if suits were appropriate. As it turns out, I made the right call by wearing black jeans, a black button-down shirt and red chucks.
7:45 pm - 15 minutes until show-time. The gala is being aired on Much Music so the media presence here is pretty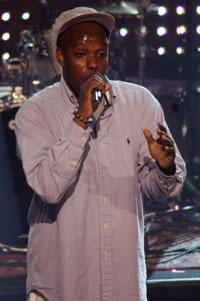 Shadimpressive. The crowd is a bizarre mix of people. Musicians hobnobbing with executives. Hipsters hanging with suits. I see nominee, Shad working the room. I can only assume it is to secure more jury votes. That said, I don't think he needs to worry.
7:47 pm - Random observation: Big surprise here, but media folk drink a lot. Most everyone in the surrounding area have at least two drinks with them. It's not like the bar closes during show-time.
7:49 pm - Is that Leaf's captain Dion Phaneuff?
7:52 pm - From my vantage point above, I am able to watch the artists below. Each table is adorned with a bucket-full of Steam Whistle beer, eight Red Bulls, and one bottle of red wine. There are only 10 people at each table. Tonight may get messy.
Oh yeah, I also forgot the gum. There are at least 12 packages of gum per table. I guess it is a contingency plan in case of a DUI.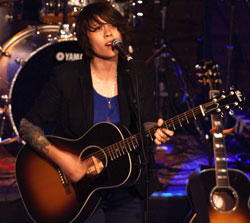 Tegan Quinn
7:54 pm - Gentleman Reg just walked in with nominee, and former winner, Owen Pallett. Reg is making me happy about my clothing choice. He is wearing a vest and pants.
7:56 pm - Hey, there's Tegan and Sara. They are much smaller then I thought they would be. It is just announced that for the first time ever, there will be busses transporting people to the after-party at The Drake Hotel.
8:00 pm - Showtime.
8:01 pm - I spot Besnard Lakes lead singer Jace Lasek in the crowd. I have seen them play a few times now and he is always wearing the same shirt, or at least a very, very similar one. He's Canada's Billy Corgan, but with better (or any) hair.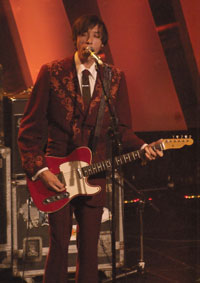 The Sadies
CBC Radio 3's Grant Lawrence, and Much Music's Sarah Taylor are tonight's hosts again. They take to the podium and start the festivities. They announce each artist on the shortlist and by a wide margin, it would appear that both Shad and The Sadies get the loudest applause.
8:06 pm - Seeing Alan Cross speak = mind blown. He introduces Broken Social Scene (BSS).
8:09 pm - Between songs, BSS's Kevin Drew says "It's going to be a fun night. We are all already winners."
8:23 pm - During the commercial breaks the stage crew has to tear everything down, and set up for the next act. The PA is playing songs by the nominated artists. The Sadies are up next while their record plays throughout the hall. I hope they weren't planning on playing this song.
8:23 pm - For my money, The Sadies are Canada's best live act by a very wide margin.
8:36 pm - "It was Tommy Hunter's" says The Sadies, Dallas Good, about his maroon, what looks like suede, suit.
8:49 pm - Radio Radio are on stage. They are like watching a rap version of Revenge Of The Nerds. Sara Quinn is bouncing around in her seat to the band. Shad is sitting still.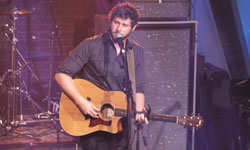 Dan Mangan
8:55 pm - This song is about shoes. Yup, shoes.
9:06 pm - Dan Mangan takes the stage after a nice introduction by CBC TV's Laura Thompson. He is accompanied onstage by a string and brass section.
9:16 pm - Mangan gets the crowd singing "Robots need love too. They want to be loved by you."
9:17 pm - Suddenly, Mangan takes to the crowd and finishes his set on a table.
9:20 pm - Each band gets to play two songs, and say a quick 'thank you' before being ushered off stage so the stage crew can do their work. They are the busiest people here by a very, very wide margin. Between sets, the artists mingle and get more booze.
9:25 pm - Grant Lawrence is talking about a new tradition he hopes continues this year where the winners of the prize give him a big kiss after accepting the cheque. This year, he is hoping for a "hot sibling pair." Last year, it was Damien Abraham planting one on Grant. "I think you all know who I am talking about...Dallas and Travis Good!" The crowd laughs while Tegan and Sara sit very still.
9:40 pm - The Besnard Lakes only get to play one song due to its length. I sort of lose myself during it. I can't focus during psychedelic music at all. At the end, Jace Lasek, gives Grant a little peck and thanks the crowd.
9:44 pm - Turns out it wasn't Dion Phaneuff unless he moonlights at a videographer.
9:56 pm - Karkwa is onstage. I am a sucker for any band featuring two drummers.
10:05 pm - "We are excited" says the bands lead singer, Louis-Jean Cormier after accepting a commemorative print from Grant. Each artist gets a really nice print along with the nomination. Much Music is selling the prints online to raise money for charity.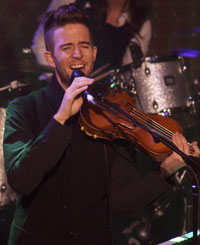 Owen Pallett
10:18 pm - Setting up for Owen Pallett is taking forever. It has been just under 15 minutes. In other words, it is taking considerably longer to set up for him then it will for him to play. Grant takes to the podium and announces that both Triumph's Mike Levine and hockey guru Dave Hodge are in attendance. Hodge, as expected, gets the larger ovation.
10:20 pm - Random observation 2: The food for the evening are grilled cheese sandwiches along with dumplings.
10:27 pm - Seeing Owen Pallett is always a treat. What he does with a synthesizer is immensely impressive. For his second song, he is joined by a six-piece brass section.
10:34 pm - Again, the scant mention of Shad brings the room to loud roars. No clue whether the jury has decided or not, but I hope they can hear the crowd.
10:38 pm - I see BSS's Kevin Drew working the room. He seems to know everyone here. Likely because most are in his band.
10:53 pm - Grant gives a well deserved shout out to the stage crew.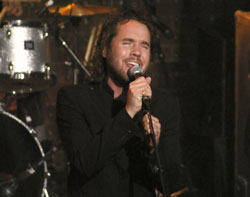 Kevin Drew
11:03 pm - The crowd serenades Tegan and Sara with a rendition of "Happy Birthday." It was their 30 birthday yesterday. Owen Pallett joins them on stage.
11:08 pm - There are suddenly three or four more people in the photo area for Tegan and Sara taking pictures of their set.
11:13 pm - Tegan has the room laughing with here post show banter. When talking about turning 30 and being a musician Sara adds "I'm living the dream."
11:25 pm - I think people are ready for the winner to be announced. The beer buckets have been restocked a few times and people don't want to sit down any more. A sock-laden Caribou takes to the stage as tonight's final performer.
11:32 pm - If it were not for these tables, Caribou's set would have turned this place into an all out dance club. People are trying to contain their seated dances.
11:40 pm - One more commercial break and then we get a winner. I really like the fact that they are giving each artist a chance to say 'thanks' after their set. Even though there can only be one winner, everyone gets their moment in the spotlight.
11:45 pm - And the winner is... KARKWA!!!!!!!!
12:00 pm - Press conference on the third floor of the Masonic Temple. The band is late and Grant Lawrence is running though his stand up routine. Most jokes are about Dan Mangan changing his name to AIDS Wolf in hopes he would win. Two of the previous winners have changed their names over the years. He says his shortlist included Tegan and Sara.
After a brief press conference, where Karkwa seemed genuinely shocked to be holding the cheque, I headed home.
All in all, it was a great night of music and a great way to celebrate the Canadian music industry. There will be some that will accuse the jury of playing the 'politics' card by naming a francophone artist as this years winner. In past years, there have been complaints in certain media circles about the lack of diversity amongst nominees. This year, I hope that doesn't happen.
I have to believe that the band won because they happened to release the best record in Canada and not because they happened to speak french.
When I got home from the awards show, I was getting into bed when my wife asked me who won. She had watched the show on Much Music, but like most of english-speaking Canada, had no idea who Karkwa was. Tired from a long night, I quickly mused that they were "some french band".
Thinking back to that now, I regret saying that. They shouldn't be pigeonholed by the language they speak, or by the province in which they reside. French artists have it considerably tougher making a name for themselves in North America, and I truly hope that this award helps to change that.
If a Icelandic band like Sigur Ros can become huge in Canada, why should it be so difficult for a Canadian band to get to the same level?
I guess, at the end of it all, all I can say is congratulations Karkwa.
Enjoy the prize for all its worth.