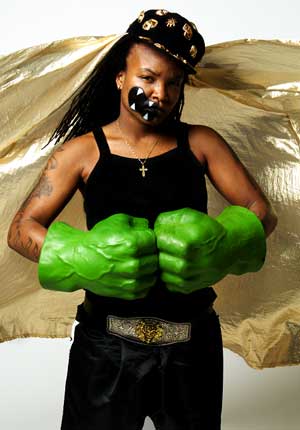 Shunda K is working to develop a
different image for her solo career and is
collaborating with a stylist.
"I'm not gonna wear no dress
Shunda K is Still Yo Majesty
Expressing herself with renewed focus, fierceness, and faith, Shunda K is ready to rock the mic like never before.
I sure as hell wasn't ready for
Shunda K
, the front woman of
Yo Majesty
. Ready or not here she is with her debut solo project, The Most Wanted.
Shunda K, the outspoken, out-of-the-closet lesbian, hip hop MC, has been through a tempering fire and is putting things back together since the demise of Yo Majesty. The Florida group tore up the underground circuit with their party down, booty shaking, fist pumping sound. The hip hop lyrics were peppered with their interpretation of the good Lord's word, and a declaration of their sexuality, all the while displaying their macho femaleness in the most riotous way imaginable. Layer this over seismic electro beats and you have what Shunda K refers to as "sonic hip hop".

I believe my solo sound is totally different even though I can rock the sonic hip hop.

After the acrimonious breakup of the group, Shunda K began picking up the pieces and reached deep into her faith, to help focus her energy into her solo career.
"I'm rebuilding from the ground up, know what I'm sayin'. It's very humbling," she says. "You know I'm not gonna curse God and die, I understand what's goin' on." Shunda K says by understanding the past events, she is better equipped to deal with any future situations and be able to maneuver. "I'm just tryin' to keep my knowledge game tight you know, for real. That's the power. Knowledge is power," she states with conviction.
Shunda K doesn't only talk the talk but she walks it as well. She received both academic and athletic scholarships to college. She has a degree in Business Administration and is in college now working towards her Bachelor of Entertainment Business.
The debut album The Most Wanted is a project that shouts her confidence in who she is today. Shunda says her music is her own. "With Yo Majesty, I had to share those thoughts with someone else, so it's not just my thoughts. Whereas Shunda K is what I believe in, how I get down. I believe my solo sound is totally different even though I can rock the sonic hip hop." Shunda K explains how the album was constructed. "How I picked the album was I had a library of songs, say 60-70 songs and I actually was going to do a double album, 40 tracks. The label said it may be too overwhelming for the people so I took the 40 that I sequenced and picked the songs that were relevant and would tell [my] story." The songs are collaborations from around the world.
There are 20 tracks on the album and they deal with sexuality, God, acceptance, love, knowledge, commerce, sex and politics. The beats keep your feet on the dance floor, and the slinky electro vibe buzzes your head. There is some rock 'n roll and some soul. Shunda K is on the mic and is better than ever with a flow that is acrobatic. She has stuff to say, and no punches are pulled in the delivery. When asked if the songs didn't seem just a little too swank, with titles like "I am Yo Majesty," "I'm Da Best," "Here I Am To Save The World" Shunda emphatically clarifies what it is about. "No I say confident, not conceited. Like I said, with hip hop I have to stand my ground. So this is me lettin' you know who I am, so you don't have to ask any more questions. I'm puttin' it out in the forefront, I'm not conceited, I'm just da best." In the song "I am Yo Majesty" she tells of the very beginning, when she started Yo Majesty as a solo artist. She has come full circle and is letting people know that she laid claim a long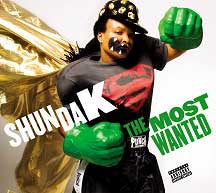 Shunda K believes in collaboration.
The Most Wanted features fresh
new artists from around the world. time ago. "Here I Am To Save The World" is her mission to break down barriers and share the truth as she knows it, so people can free themselves of limiting beliefs and become the best they are. She collaborates with Shon B (Yo Majesty) in "I'm Da Best". When asked in view of her past experiences, was she cautious with this collaboration? Her response was immediate. "Oh I'm really cautious and I really mean business now," she says. "You know what I'm sayin', I'm not gonna play around. I have this vision, God gave it to me and I'm going to execute it the way I see fit. If you're not down with how I wanna roll, then..." she trails off, considering the question then continues, "I'm not tryin' to be in control of anybody either, but this is my vision and I'm not goin' to take it lightly. It's a second chance. Me and Shon, we have an understandin' The people loved Yo Majesty, I love Yo Majesty, that's my baby."
When Shunda K was asked if the people were ready for her, this is what she had to say.
"I do believe the people are ready. You know people are hungry for the truth, you know what I'm sayin'. Even myself, I'm constantly seekin' the truth and what's real. That's what I display in my music. It's from my research, me bein' a livin' testimony, and testin' what's real, what I been through."

It's gonna be more than me showin' these people that I can spit, they already know that.

Is Shunda K ready to bring it to the people?
"I'm ready," she says, "You know when Yo Majesty first came out, I never thought about it. I just said give me my mic. Now I'm thinkin' it through. It's gonna be more than me showin' these people that I can spit cause they already know that. Now, it's what is the story, what do they need to get out of this." There is fierceness and determination in her voice. "I'm takin' more time puttin' my shows together and makin' sure I can tell that narrative so they understand. Life is not a game, you can have fun, but take charge of yourself and your destiny. You have the power to be the best you can be."
There is probably some misunderstanding of who Shunda K is. "There is, there is," she agrees. "But you know what, you know who's standin' up for Shunda K?" she asks, "The people." She laughs, "Now that's who I'm talkin' about. Now that's redemption, for real. When the people got your back to the point they can make the other people who's in charge of things, change their mind, that's powerful. So do what you do people, I got y'all back too."