a playlist for 2011 by Andy Gronberg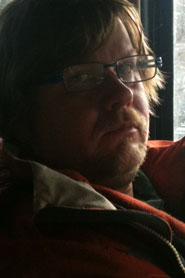 Andy Gronberg
CIVL Abbotsford, BC
My name is Andy Gronberg and I am the host of Andy's Attic on CIVL in Abbotsford BC. My show airs every Saturday from 8:00PM to 10:00PM.
http://www.civl.ca
Twitter:
@civl
13 Lucky Songs
This playlist is kinda like my show. The first hour features a mix of old time, Celtic, country and world music. The second hour kicks into high gear with punk rock and heavy metal. This is why my playlist starts mellow and ends heavy! I know my friends will love this compilation of tunes as much I do. Thirteen is my lucky number hence the 13 songs.
It sounds like it can't work. But it does.
April Verch - "Old Sport"That's How We Run (Slab Town Records):
Old time meets bluegrass. Too many good tracks to choose from, but this is one of my favourites.
Steve Martin & The Steep Canyon Rangers - 'Hide Behind a Rock"Rare Bird Alert (Rounder Records):
He's a wild and crazy.... banjo player! This tune by the SNL alumni has a nice blend of banjo and fiddle.
Calvin Vollrath - "Fiddle Nation" (Calvin Vollrath Music):
Canada's "fiddling sensation" wrote this medley for the Vancouver 2010 Winter Olympics opening ceremonies. If you watched it, you heard this tune. This is off his 53rd CD. Wow!
Patti Lamoureux - "Curtis & Ivan's Two-Step/My Other Brother Darrell Polka"100% Danceable (Patti Lamoureux):
Patti has an amazingly smooth style of fiddle playing. This tune shows it well and will get your toe tapping along. Probably your feet and other body parts too!
Celtic Pink Floyd _ "Hey You" Celtic Pink Floyd (Stoutheart Entertainment):
What a concept, transform Pink Floyd songs into Celtic numbers. This particular song is an amazing rendition!
Ashley MacIsaac - "Mermaids" Crossover (So Plaid Music):
Great song showing off both vocals and fiddle playing. Very mellow compared to some tracks on this album, almost hypnotic.

Barb Wire Dolls - "Street Generation"F**k the Pussies (Barb Wire Dolls):
Stripped down punk rock with great vocals by Isis Queen. Basic yet very enjoyable.
U.K. Subs - "Radio Unfriendly"Work in Progress
(Captain Oi!):

Not unfriendly at all. In fact I've played this on the radio. One of the hardest working punk bands of all time give us yet another excellent album.
Anvil - "Running"Juggernaut Of Justice (The End Records):
I wasn't crazy about this album, but this track sticks way out of the pack. A fast riff filled Motorhead inspired tune.
Ancients - "Built to Die" Ancients EP (Ancients):
You can find this two song EP online for free (just Google it). I've listened to this endlessly since getting it a few months ago. Very heavy music with a doom influence.
Em Ruinas - "Morbid Pits"...From the Speed Metal Graves (Mutilation Records):
How can you not like a song that starts off saying: "speed metal"`. This song is the highlight of the album that is thrashfest. The Brazil metal scene has always been strong... and this proves it.

Cannibal Corpse -"Make Them Suffer" Global Evisceration (Live) (Metal Blade):
You just can't go wrong with Cannibal Corpse. Extreme death metal can be good or bad, in this case it's way beyond good!
Mortal Sin - "Down In the Pit" Psychology Of Death (NoiseArt Records):
An amazing thrash metal song. I've never thought of Australia for it's thrash, but I better start looking because if there's anymore of this kind of stuff I'll be one happy head banger.
Note:
* - Canadian artist