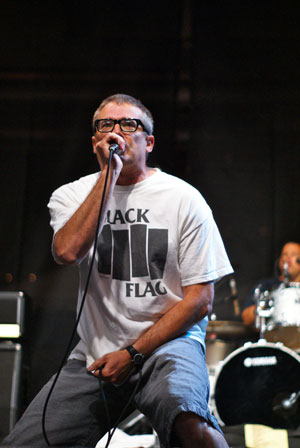 Milo Aukerman of The Descendents
at Yonge & Dundas square
North By Northeast: A Field Guide
650 bands and 40 films is a big deal. Scott does his best to check it out even if he could have stopped at the Descendents and been happy.
Each year, for at least the past five or six, I have found myself wandering the streets of Toronto in the middle of June, for the annual North By Northeast music festival. For those who have never been, it is a week long festival that showcases 650 bands and 40 films. The bars stay open late. The drinks flow until the wee hours, and you are never sure how your weekend will end up. Hell, this year, I ended up on a boat cruise around the harbour, but more on that later.
Here then, are my field notes. Sure, this could have gone on Twitter, or some other form of social media, but I can't stand texting at shows. Also, I was without a phone charger, so there would not have been much of a point.
Thursday, June 16 -
5:32: I have my press pass. I have my hotel. I have my Brooklyn Lager. Now, I just need to kill a few hours and then finally get to see The Descendents again.
5:39: Problem. I have no bottle opener. This hotel is too nice to try and use a counter. Fuck.
6:16: Crisis over. Opener has been secured and will take up a permanent residence in my room. Beer has been consumed, and things are starting to look very promising for the evening.
7:11: I have been waiting 14 years to buy a Descendents hoodie. I no longer have to wait. Good Christ, I am happy right now. Sure, I could have ordered one online a decade ago, but where is the fun in that. It's all about the journey, kids.

Fucked Up at Yonge & Dundas square

7:15: Rusty is on stage at Yonge and Dundas Square (YDS). They reunited for two shows over this weekend and sound exactly as they did 15 or so. That's not a bad thing either. The dreadlocks are gone, and the guys look older, but that's the only real noticeable difference.
7:45: I get to the photo pit for Fucked Up. It is a pretty large area at the front of the stage that will also house the security and the copious amount of crowd surfers that will likely find their way to the front. I get three songs in the "pit" and then I am out of there. I really hope it's not like for The Descendents, because it could potentially be a really, really short photo session. Seriously, that band can easily play three or four songs in under 30 seconds flat.
8:20: If there were a roof in this public square, it would be long gone. Fucked Up's Damian Abraham spent about 45 seconds on the stage. Since then, he has been in the crowd. It's pure madness up here. Holy Fuck, what a set. (For the record, he did go back onto the stage twice more. Once was for about 15 seconds, and the other was to say goodnight)
9:19: Off! @ YDS - If punk rock was like pickup hockey, singer and punk legend, Keith Morris would be my first all around pick overall. He is without question, the greatest frontman in punk rock.
10:00: THE DESCENDENTS!!!!!!!!!!!!!!!!!!!!!!!

Descendents fan at Yonge
& Dundas square
Note: During the first three songs, I was in the photo pit. Luckily, the band played three that actually lasted two minutes each. I should also explain that they are possibly my favourite band of all time. I saw them at a Van's Warped Tour many years ago (more on that later), but they don't really tour, or make music that often, so I never really thought I would have the chance to see them again. During their second song, "Hope", I stopped taking pictures for a second. Not intentionally mind you, but because I was singing too much to focus on anything else. I turned around and looked at the crowd for a second, and they were happier than any one I have ever seen.
11:00: They just finished up. Seriously, that was one of the best times of my life. After taking pictures, I dropped my camera off with my ever loving, and understanding wife, and headed for the front. The people in the back were singing, but not to the same level as the kids up front. When I was 17, one of the defining moments of my teen years happened at that Descendent's Warped Tour stop. During "Bikeage", which is possibly their best song, or at least my favourite, everyone in the crowd came together and sang so unbelievably loud, and with such passion that it nearly knocked me on my ass. It was a testament to the way the music connects with people. Hell, it was a testament of how punk rock can speak to people. This was a band that sang about your life, and now was the time to sing it back to them. I remember putting my arms around a friend and just singing. In 2011, at Yonge and Dundas Square, I got to relive that exact moment. Shit like that doesn't happen that often, and when it does, you just have to say thanks to the people who organized it. No matter what happens this weekend, it will always be remembered as a great one.
12:07: Drinking a pint at The Tequila Bookworm on Queen St West before heading to The Bovine Sexclub for CJ Ramone's set. We were going to go straight to the Bovine, but when we got there, we realized that we needed a few beers before fighting our way into a crowd that had guys with full face tattoos. You don't do shit like that sober.
1:01: CJ Ramone @ The Bovine - Holy fuck, what a night. Cj is being joined by Ramone producer, and songwriting partner, Daniel Rey, who sounds unnervingly like Joey. We barely make it into the venue. Literally, we are at the door. Luckily so is the stage, so we are effectively watching this set from beside it. The crowd is going nuts.
1:11: "Pet Cemetery" was just sung and I could not be any more pleased than I am right now. I don't know quite how to explain this, or whether it will sound believable or not, but this is as close as you can possibly get to seeing The Ramones now and everyone is having such a great time. The Bovine is just cramped and dank enough to almost mimic CBGB's. Even the girls working the door are dancing.
2:36: We are at the Legendary Horseshoe Tavern on Queen West. I always end up there at nearly this time every year. They always serve until 4:00. This may be the best night of music I have ever seen. First Fucked Up tore the place apart, then a chance to see Keith Morris do what he does best and let's not forget The Descendents and that set by CJ Ramone. It's like the festival organizers had me in mind when they planned this night!
2:37: Our friend leaves for a date with a doctor. No, it wasn't planned either. He was dropped onto a sewer grate at Yonge and Dundas earlier in the night, and wants to go there for precautionary reasons. (trooper that he is, he was back in action two nights later, back to normal)
2:45: 3rd pint of 50 down, and I am headed back to the hotel.
Friday, June 17 –
6:20: It has been a long day. Sure, I got up at 11:00 and immediately headed for the hot-tub and pool, but I also had to interview Off! today, an what a strange interview it was. Keith Morris is as intense to talk to as he is onstage. It is hard to tell whether he was cracking a joke, or being dead serious, but when he is talking about smuggling goat blood into Canada, he has to be joking, right? The goal for the evening is to catch the band's set at the Horseshoe Tavern.
On the way back to the hotel, I nearly got hit by a car. There was no traffic. There was no reason to rush, but there was a reason to look left when you are pulling out of a parking garage; Me! I am walking and don't want to get crushed by your dirty ass car.
10:06: From the "Only in Toronto" files: I am outside of the Rivoli on Queen West. I just watched a woman open a tetra pack of red wine and chug the entire contents of it. She then slammed the box to the ground and bent over and clutched the tops of her knees. She rested there for a second, before emerging upwards with a thrust, putting on her sunglasses and exclaiming for all to hear "I AM THE ALMIGHTY."
She then quietly walked away.

I hope I see her again.
Off to the Horseshoe…
10:17: The Black Lungs are on stage. The band is the side project of Alexisonfire's Wade MacNeil. They sound nothing like his other project, and I am happy about that. They sound somewhat like a Rancid-type street punk band. I have seen them before, so I am nursing a pint in the front bar and watching the Blue Jays game on the television. This place is not nearly as busy as I figured it would be. Off! are one of the festivals headliners, and this is a club show. I figured it would be packed. On the plus side, this place smells great. There is a complimentary BBQ happening outside, and rumours of free rum shots being handed out later. Damn you vegetarian beliefs! Why must you curse me????
11:04: Ian Blurton and his band, C'mon, are on stage and blasting through their second set. It was somewhat surprising to see the exodus of people after Black Lungs finished up, but I guess I forgot to account for the size of a fanbase that Alexisonfire have. C'mon is a great band to drink cheap beer to, so I order two pints of Labbatt 50, and find a table at the back of the room.
11:??: The free rum has arrived! Someone gives you a wooden token. You give that to the bartender, and they give you booze. It's like 1850 up in here with all of this wooden money being passed around. The best part is that people are accepting their tokens and then giving them away when they realize that the prospect of a shot of rum doesn't sound too appetizing. My wife just ended up with three shots, and a glass of Pepsi, which was also purchased for her.
11:46: In the Horseshoe Tavern men's room - Off! bassist, Steven McDonald, walks in with his bass in hand, and heads for a stall. And here I thought the homeless lady on the street was a strange site. Who brings a bass guitar into a men's room stall? This place is a piss covered wasteland. Should I hyphenate piss-covered?
12:25: Off! at the Horeshoe Tavern – Some random pit-goer comes on stage and wanders around for a minute, and then promptly walks off it. No stage diving. Nothing
"You came all of the way up here to do whatever kinda of dance that was? We have had six year olds crowd surf" – Keith Morris
12:41: Off! were insane. Guitarist Dimitri Coates stage dived, with his guitar, and nearly crushed me. My friend lost his shoe in the pit, and was the focus of much of Keith Morris's banter for the set. What a great performance.
12:53: Apparently, he lost his shirt too!
1:13: In front ofLa Patette, some French restaurant/bar on Queen Street. There is a some gipsy band playing on the bars and the tables. The front of the place is open to the street. When I say "on the bars and tables" I mean it literally. They are called the Lemon Bucket Orkestra, and I think I saw them do something similar last night. While this may not be a NXNE sanctioned event, it is great.
1:46: It is a becoming a tradition. Every year, at about this time, on about this day, I find myself inside The Cameron House nursing a drink. Usually they have a band on, but I think I just missed the set. Tonight, instead of having a few, I am restricting myself and heading back to the hotel early. Don't judge me. I'm nearly 31.
Saturday, June 18 –
1:30: We are attempting to board a rather large boat for a three hour tour of Toronto harbour. It is a NXNE party being thrown by the website Brooklyn Vegan and by the M Is For Montreal music festival. There are a bunch of bands on board and a bunch of booze. If we get on, it is going to be awesome. It is a beautiful day outside. Barely a cloud in the sky.
2:03: I am on the boat! Beer in hand. There are a shit-ton of unwashed hipsters on this boat. I guess hanging out near the water is the same as actually being in it, right guys?
2:07: I see Off! bassist, Steven McDonald on board and talk to him for a few minutes. I completely forgot to ask about the bathroom, bass guitar sighting from the last night. Some things are better left a mystery I guess.
2:46: It wasn't until about five minutes ago that I realized that the bands were in the basement. I am sure there is some nautical name for it, but I have no idea what it is. I was standing on the top deck waiting for the bands, wishfully hoping that they were playing outside.
3:18: The only complaint I have, and I really do mean, the only complaint I have is that it is a perfectly nice day outside and the bands are playing in a stuffy room a few decks down. If they do this cruise again, they should have the bands outside, if the weather is as nice.
4:09: Down under again. Fucked Up's Ben Cook is on stage with side other band Young Governor. This band is really, really good. As much as I do love Fucked Up, I sort of wish he would focus on this project a bit more.
4:11: Cook, dressed in his finest cruise attire, just said that today he has been told that he looks like both Michael J. Fox and Bernie from the "Weekend at …" films. I can definetly see the comparison.
Also, the tides are picking up and being under ground is making it worse. This place is hot, sweaty, and smelly. I don'think waves are going to help.
I really should learn the names for the various parts of the boat.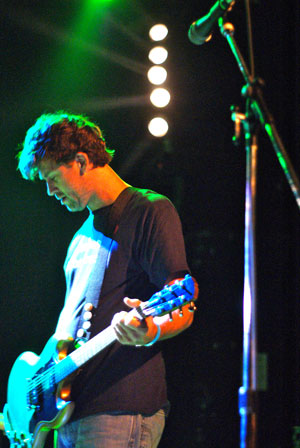 Chris Wollard of Hot Water Music

4:15: Comparing Young Governor to someone is tricky, but to say they sound like a garage punk version of Huey Lewis & The News wouldn't be too far off base.
4:20: Remember that scene from "Back To The Future" where Marty plays guitar at the prom, well this set is sort of like that. That said, you would have to swap out the suits for tube tops, but you get the idea. Whoever planned this cruise needs a large raise.
5:51: Back on in the hotel. After being on the water all day, and not being able to jump in, I really want to head to the pool, but there is no time. I have to get to The Opera House for Hot Water Music. I also just ate the largest apple ever created. Seriously, it was a fuji apple, which happened to be the same size as a coconut.
7:20: Meal of the weekend was just consumed at The Real Jerk on Queen Street East. Vegetable roti, rice, peas and coleslaw. It doesn't get any better.
8:12: On the balcony of The Opera House for the second band of the night, Kitchener, ON's Mockingbird Wish Me Luck. I love their recorded output, but live, I am not a fan. This is the second time I have seen them and the vocals always sound terribly forced. This band would be so much better if they actually sung, and didn't just scream everything, especially when neither of the front-men are Chuck Ragan.
9:03: A Wihelm Scream at The Opera House. This place is going nuts. Personally, it's not my thing. I can appreciate the technicality of their playing, but this is a band that I have never gotten into. Still though, they are fun to watch from a sweaty-ass balcony.
9:16: Seriously, this is one of the worst "pits" I have ever seen. I use the quotations because calling this a pit would be a misnomer. There are about 50 dudes pushing each other forward, while a few jock-types slam meatheadily into each other. I say "pushing forward" but really, they are just rubbing up against each other.
No dancing. No rhythm. Nothing but a lot of open space on the dance floor.
10:??: I am not exactly sure what time it was. I am writing this after the fact. Hot Water Music hit the stage, and I was lucky enough to be in the photo pit for the beginning of their set. Never in my life have I ever heard something louder than the crowd for the first three songs. I was literally a foot away from the PA system. I was perhaps four feet away from Chuck Ragan and about seven feet from Chris Wollard and yet, I could not hear any of them. The crowd was that loud. I literally had to stop taking pictures in order to take it all in. I have gone to hundreds of shows over the years, and I have never experienced anything like that. It was one of those rare moments that make you realize how powerful music can be.
After the photo shoot, I headed back to my spot on the balcony to watch the rest of the show.
10:46: "Wayfarer" was just played. The crowd went nuts. Looking at them, large chucks of them seem to be ignoring the band during the song, and started hugging each other and singing. It's really cool to see. This is the second time, in this set, that I have gotten goose-bumps.
The Loved Ones, Dave Hause is touring with the band and just joined the band on stage to sing "Trusty Chords". It looks like he is walking on the crowd. He is doing a great job.
11:00: The show ends and we all file on the the street. What a set. This has been an insane weekend of music and I think they may have just topped it. I need a shower. I kinda feel like most of the people on the boat this afternoon looked.
12:38: After a very long cab ride, and a bunch of whiskey, we are attempting to find a bunch of friends who supposedly are also looking for The Handsome Furs somewhere on Dundas.
12:45: No dice on the show. The venue is packed and there are about 80 people in line. On to another bar.
1:16: We tried to find another NXNE event in the area, but everything seems full. Instead, we stopped at Sweaty Betty's on Ossington for a drink. I nearly got trapped in the bathroom, which smelled like fresh paint, yet clearly hadn't been painted in a very long time.
2:10: Just when I thought my musical weekend was coming to a close, I am back on Queen West and stumbled upon a guy playing "Somewhere Over The Rainbow" on a saw. Very cool, indeed.
2:28: I now find myself in the Parkdale area of the city and ordering some late night Poutine at The Stampeded Bison Grill. Even with a name like that, all poutine is vegetarian friendly. They also have beer and are somehow still serving! We are also listening to The Darkenss's first record, which is blasting throughout the place.
I love that HWM was so good that it made missing out on bands for the balance of the evening inconsequential. What a bloody night.
2:45: That poutine was unreal. If you are in the area, check this place out. The Pixies' "Where is my Mind" comes on the stereo. It's time for bed. It seems like a fitting track.
3:30: Back at the hotel. I swear, our cabbie must have used the batcave to get back here. I don't think he took a major road back here, and what should have been a very expensive trip was under $15. I think he just drove down alleyways the whole time.
Anyway, until next time…