The Twelves: Having It Both Ways
Brazil's The Twelves switched from guitars to turntables but that doesn't mean they can't rock out
The Twelves are João Miguel and Luciano Oliveira, a DJ and electronic production duo from Brazil. They are at their best when taking indie pop and tricking it out for the dance floor.
Take the time to find their remixes of A-ha "Take On Me," Metric "Help I'm Alive," Fleetfoxes "White Winter Hymnal," and Nirvana "All Apologies" to see how they refashion your favourite indie and classic tracks for maximum pleasure.
I was supposed to interview them the last time they were in town, but the boys had enjoyed the party a bit too much. So I emailed Luciano with 10 follow up questions.
Scott Wood: What is your nightmare interview?
Luciano: A nightmare interview for us is one where we answer the same questions that are asked all the time. We don't want really random questions that make no sense, but it would be good to be asked something other than where our name came from ;-D
Scott Wood: Worst interview ever?
Luciano: We were interviewed by a guy who kept on taking personal calls on his cell every five minutes. What should have been a 10 minute interview took almost an hour!
Scott Wood: How did you guys get together? What made you think you could work with the other guy?
Luciano: We were playing in bands and it didn't really feel right. There were musical differences and the band decided to go separate ways. Luciano and I always had a good relationship and shared a lot of influences from disco and funk so we decided to try it.
Scott Wood: You guys are at your best when you remix rock tracks for the dance floor: Metric, Fleetfoxes, Nirvana to name a few. Was this a conscious effort to stand out among remixers or just what came across your turntables?
Luciano: The rock tracks were all about weird studio sessions where we tried to break some monotony of listening to the same samples we had been working on and decided to try something new. We like to try and take tracks that you wouldn't normally hear on a dancefloor and make them more dance oriented. It helps the crowd because they already have knowledge of the track and attachment to it in one way or another so it is more recognisable and memorable.
Scott Wood: You guys were in a rock band before becoming "The Twelves"--how did that experience shape what you do?
Luciano: It made us realise we didn't want to be in rock bands. We still have a great deal of love for the genre, but for us the music lives electronically now.
Scott Wood: You guys both had previous "real world" careers to DJing. I read a quote of yours "We always wanted to do this, but didn't have the nerves." How did you get over it?
Luciano: I think every now and then you need to just take the plunge. We both had normal jobs that paid good money and if The Twelves hadn't worked out we would have been able to get the jobs back so it was a little bit of calculated risk. We knew if we didn't try it, we would wonder about what might have been for the rest of our lives.
Scott Wood: You guys talk about drinking a lot during your sets. What are you drinking and why?
Luciano: Hahahah! We drink beers and rum mainly. What is it they say about getting the creative juices flowing? That is basically it. We have a few drinks to lose the fear of trying something out and also to get over the nerves before a show. No matter how many times we play gigs, we are still nervous before the show, which is a good thing for us because it means we know we really care about how everything goes and want to make a good impression.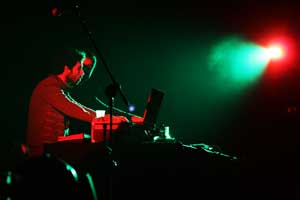 Scott Wood: You guys once said "Mistakes are the best thing to happen to production." Can you talk about a track where this occurred?
Luciano: It happens from time to time, but I couldn't tell you about a specific track. Almost every time we start making a track we will try something and then realise that it is wrong and will have to start all over. When you restart it you are so conscious of not making the same mistake again that you go completely the other way, and then sometimes magic happens!
Scott Wood: Dave from Soulwax told me my interview style needed to be spicier and that I needed to ask more interesting questions. He told me to ask, "Have you two guys ever shared a woman?" (Had a 3-way?)
Luciano: Wow! We've never been asked that before! I have to say no - João is married and I have no intention of having an awkward eye-catching moment with him in the bedroom. I don't know if we would be able to be "The Twelves" any more after an experience like that.
Scott Wood: What makes a good remix?
Luciano: Vocals. The vocals on a track are the best indication for us that we will be able to do something with the remix. If the track has a good vocal and melody structure, then half the job is done.

The Interview Show is everywhere.
Follow me on twitter @interview_show
Listen to The Interview Show on SoundCloud soundcloud.com/interviewshow
SoundCloud RSS Feed
www.cjsf.ca (Vancouver, BC, Mondays 4:30-5pm PST and Wednesdays 12:30am PST)
www.ckdu.ca (Halifax, NS, Saturdays 1:30-2:00am AST)
www.radiocfxu.ca (Campus Community Radio, Antigonish, NS, Fridays 11pm-12am AST)
www.cfru.ca (University of Guelph Radio, ON, Tuesdays 3pm EST)
www.umfm.com (Winnipeg's Hit Free Radio, Fridays 6-6:30pm CST)
www.caperradio.com (Cape Breton University Radio, NS, Wednesdays 3-3:30pm AST)
www.localfm.ca (Campus Radio Saint John Inc., NB, Tuesdays 11:30am and Fridays 3:30pm AST)
comments powered by

Disqus