NATSUMEN are playing on this year's Next Music From Tokyo Tour
Next Music From Tokyo
One man's passion is a boon for adventurous music fans as the Next Music From Tokyo tour brings Japan's underground to Canada
Serious music fans know that some special goes in the the underground music scene in Japan. And every now and again a band, such as Shonen Knife or The Boredoms, breaks though and achieves some measure of recognition and success on this side of the Pacific Ocean. And a number of Canadian bands have found acclaim and popularity in Japan. But mostly the barriers of language and national culture keep the two worlds separate.

It's no surprise Tokyo also has the world's largest and most diverse music scene

Steven Tanaka is a Japanese-Canadian who has made it his mission to bring some of the best underground Japanese music to Canada A few years ago on a trip to Japan, he discovered the thriving Japanese underground music scene and quickly became an enthusiastic, passionate fan and booster. His enthusiasm soon lead him beyond just following the scene and the bands to the dream of bringing some of them to Canada. That dream is now a tour, Next Music from Tokyo, that in it's third edition bringing highlights of Japan's musical underground to Canada and will be hitting Montreal Toronto and Vancouver in October..
Magnus Thyvold:This is Vol. 3. What has been the reaction to previous editions?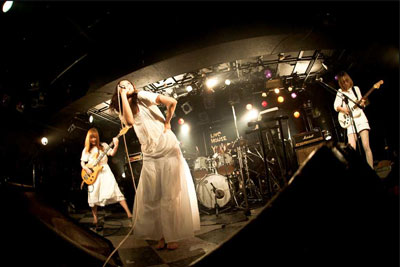 Akai Ko-en
Steven Tanaka: The reaction from people who have come to the shows has been overwhelmingly positive. The second tour was named best concert in Montreal for 2010 by two writers in the Montreal Mirror, including the music editor.
Many people have commented the shows as being the most entertaining they've ever been to. In fact the tour has even changed peoples' lives. One Torontonian assigned to work as our stage manager had no interest in Japanese music but ended up loving the show so much he decided to quit his job, move to Tokyo and audition to become the new guitarist for susquatch (one of the bands on the 2nd tour).
Magnus Thyvold: Who are the bands on the current tour?
Steven Tanaka: The participating bands are:
Magnus Thyvold: What made these bands stand out for you? Why did you choose them?
Steven Tanaka: NATSUMEN are truly a legendary band and arguably the best in Japan when it come to live performances. They have eight f%#king members and I pay the travel costs for all of them including their manager and PA person (10 people in all). So for me to shell out such an insane amount of money for one band they must be otherworldly and indeed they are one unequivocally phenomenal band.
I didn't want the entire tour to consist of bands with loud guitars so I invited Chiina to balance things out with a softer sound. Having said that, this band can be plenty bad ass with intensely fierce post-rock crescendos. The three girls and two guys that comprise Chiina are so talented you'll be picking your jaw up off the ground at the end of the show.
Hyacca raises the energy bar through the roof. They have perfected how punk music should sound. Intricate and cerebral but immensely raw and powerful without even a modicum of pretence. I completely geek out whenever I see them play, stage-diving and crowd-surfing like a madman (gently without hurting anyone.)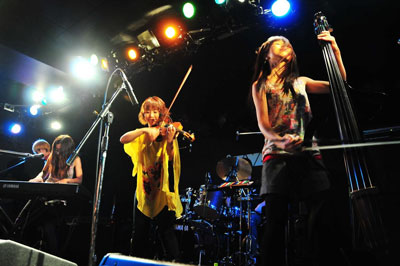 Chiina
Akai Ko-en is only the 2nd band I've invited without actually seeing them play live beforehand. So many underground heads (musicians and booking agents) whose opinons I trust implicitly have recommended this amazing band. So the minute I got my hands on their music and secret video footage it was a no-brainer that I invite this one-of-a-kind all-female band.
Magnus Thyvold: If a music fan is heading to Japan, what can they expect to find?
Steven Tanaka: Japan has many great cities to visit for its scenery and unique culture but for music your best bet is to stay in Tokyo. Tokyo is the largest city in the world so it's no surprise it also has the world's largest and most diverse music scene.

In Tokyo, there are so many great shows going on every night you'll wish you could clone yourself to make it to each and every one

For the most part the music industry is still dominated by manufactured pop groups and idols (Johnny's jimusho, AKB48 etc) but delve underground and you'll find thousands of bands pushing the envelope of progression to find new ways of sounding fresh and ebullient. Its important to note that the bands on the Next Music from Tokyo tours don't represent the absolute cutting edge and if you're looking for bands that are more avant garde you can definitely find more wtf than you bargained for in the recesses of Tokyo.
Magnus Thyvold: How do you find out what is happening? Where are the hotspots?
Steven Tanaka: An excellent resource for interesting shows in Tokyo is Tokyo Gig Guide. http://www.tokyogigguide.com/
It has a calendar of upcoming shows recommended by the webmaster Craig Exton who is an Australian musician, writer, filmmaker and music lover residing in Tokyo.


Hyacca One caveat is that the shows listed are skewed towards Craig's tastes, however, he is very open-minded and has excellent taste in music in my opinion. I say that even though the majority of shows I go to never get listed on his gig guide.
For me, the more valuable resource is the exhaustive list of live houses (venues) found on tokyogigguide with hyperlinks to homepages and often times a map and description of how to find the venue.
And as I mentioned earlier there are so many great shows going on every night you'll wish you could clone yourself to make it to each and every one. The hotspots for live music in Tokyo are: Shimokitazawa. Koenji, Shinjuku, Shibuya and Kichijoji. The majority of live houses are concentrated in these five neighboyrhoods.
Part of the fun and adventure of seeing shows in Tokyo is finding the damn venue itself. You are bound to get lost roaming Shimokitazawa looking for a live house even with Google maps on your smartphone helping you out. To help locals in this regard, there is a useful site with youtube videos that walk you to the venue from the nearest train station. http://www.livehousemap.net/. But most foreigners can't read Japanese so luckily Tokyo Gig Guide has hyperlinks to all the available walk-through videos in their live house section.
Magnus Thyvold: National and language barriers really do create musical silos. What Japanese artists should curious Canadian music fans be taking a look at?

I can't even fathom how many different bands I've seen on my numerous trips to Japan.

Steven Tanaka: Nisennenmondai, NATSUMEN, sgt., Special Others, Indigo Jam Unit, LITE, toe, and mudy on the sakuban are outstanding instrumental bands that obviate the need to comprehend the Japanese language.
For guitar-centric rock with vocals Rin Toshite Shigure, Zazen Boys and ミドリ (Midori) are awesome but I can guarantee a lot of people may cringe on hearing the vocals.
Clammbon, Tokumaru Shugo, Shiina Ringo, Spangle Call Lili Line, Nujabes (R.I.P) and Kashiwa Daisuke are examples of renowned groups and artists whose music is unmistakably excellent.
For more obscure underground flavour that most Japanese have never heard of I recommend: Owllights, the Mornings, グーミ (goomi), thai kick murph, DODDODO, Charan Po Rantan, 385, Artless Note, viridian.
Magnus Thyvold: Judging by your name, you are of Japanese heritage yourself. Can you tell me more?
Steven Tanaka: My parents are from Fukuoka, Japan but I was born and raised in Vancouver, BC. Although I went to Japanese school once a week as a little kid my parents had me focus primarily on English. At home we ate a combination of Japanese food and Western cuisine. My mom makes a mean lasagna and Philly cheese steak sandwich.
To be honest I did not have significant interest in Japanese culture and especially music until more recently in the last 6-7 years.
Magnus Thyvold: As understand it, this is a personal 'labour of love" for you. What inspired you to start this project?
Steven Tanaka: Travelling to Japan and watching so many great bands putting on awe-inspiring performances in total obscurity made me want to share Tokyo's amazing underground music scene with my home country of Canada.
Nowadays, air travel is so expensive its cost prohibitive for most Japanese bands to perform outside Japan. Giving these bands an opportunity to experience other parts of the world and perform in a foreign country is a dream come true for them and it means alot to me to be able to provide them with this opportunity.
Magnus Thyvold: How do you select the bands? Do you travel to Japan frequently or do you have contacts you work with?
Steven Tanaka: I travel to Japan 6-7 times a year to watch shows. If there's a particular festival or if one of my favourite bands is playing an important show I'll try to centre my trip around those dates. Leading up to my trips I research extensively into what shows I want to catch. But the problem with Tokyo is that there are too many good shows playing on a given night and it pains me to select one band's event over another. More often than not, I will go to 2-3 shows in one night if the venues are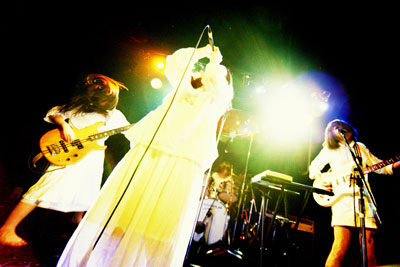 Akai Ko-en close enough to each other and the timetable allows for it. I can't even fathom how many different bands I've seen on my numerous trips to Japan. If a band catches my interest I always try to talk with them afterwards and will always buy their CDs if I don't have them already. Just by going to shows I've developed contacts with a pooload of bands and booking agents.
In terms of selecting bands for the tour, I will usually pick two of my favourite bands and then select a couple more that play a different style that still complements the overall mix. I choose bands based on the strength of their live performance. They don't have to be wild, jump on top of speakers and break their instruments but they should play with a lot of energy and passion. I also try my best to invite bands that have some sort of unique quality that you wouldn't see going to shows in Canada. But on the other hand I won't invite a band just because they have a novel gimmick while their music is bullocks. Also, since I'm paying for the entire tour I want to choose bands who I'll enjoy hanging out with and who appreciate the sacrifices I make to make this tour happen.
Magnus Thyvold: What is your background in the music industry? Is this something you do full time?

Steven Tanaka: Up until last year organzing the tour I had absolutely no previous experience working in the music industry. I work full time as an anesthesiologist. Occasionally I get to pick the music being played in the OR. So i guess you can call me a part time DJ. hahaha.
Magnus Thyvold: That's a pretty big jump to go from zero to intercontinental tour. Where did you get the idea for such a bold step? Did anyone tell you you were crazy?
Steven Tanaka: About three or four years ago I had a pipe dream of bringing my three favorite bands at that time to Canada. The bands were Chatmonchy, Rin Toshite Shigure and Midori and by coincidence all three bands were signed to Sony.
Back then I still had a hefty mortgage and medical student loans to pay off and there was no way I could have afforded such a bold venture. Not to mention I would have had zero credibility and no reasonable means of enticing these big name bands to come to Canada... "where people live in igloos."
But now that I've saved up and have enough equity and my love for Japanese indie and underground music has grown even further I decided to revisit the idea of bringing my favourite Japanese bands to Canada.
I lose an enormous amount of money doing these tours. More money than some families make in a year. So yes, lots of people say I'm crazy but this project is something I'm passionate about and I have the time of my life hanging out with bands I truly admire and giving them a "dream come true" like opportunity to perform in front of an audience halfway around the world.
Magnus Thyvold: Do you plan to keep NMFT going? What are your plans for the future?
Steven Tanaka: I plan to keep NMFT going for as long as I maintain the same level of passion for the music. Up until now I have brought different bands each tour but I may consider inviting back fan favourites in the future.
There are a couple of bigger name bands like
toe
and
Clammbon
that I would love to have on the tour and I hope they're willing to participate in the future. I don't expect this tour to develop into anything big and I would never graduate to having the bands perform at large venues. An important appeal of this tour is seeing the bands play in small intimate venues just as you would when watching underground bands in Tokyo. I'd love Japanese indie/underground music to have greater visibility in Canada but overexposure is never a good thing and I happen to like the underdog role and "against the odds" attitude this tour naturally assumes.
Photos by Steven Tanaka
comments powered by

Disqus

Natsumen